The Alabama political scene continues to hammer away at U.S. Sen. Tommy Tuberville's (R-Auburn) statements at a Nevada political rally hosted by former President Donald Trump on Saturday.
Tuberville's comments came as he addressed what he perceived as a supportive attitude towards crime by Democratic politicians.
"Some people say [Democrats] are soft on crime; no, they're not soft on crime," Tuberville said. "They're pro-crime. They want crime. They want crime because they want to take over what you got. They want to control what you have. They want reparation because they think the people that do the crime are owed that. Bullshit! They are not owed that."
House Minority Leader Anthony Daniels was quick to attack Tuberville's comments, calling them "extremely racist and divisive."
While Tuberville said nothing about reparations for slavery, his statements have been interpreted in just that way by many in state and national media and by Democratic politicians.
See also: Alabama media, Democrats misquote Tuberville to bolster racism accusations.
"If Sen. Tuberville truly believes what he said about reparations, it's time for him to be put into concussion protocol and taken off the playing field," Daniels said. "No one in their right mind could make such an insane statement about an issue that means so much to so many.
"As a former coach, he more than most should understand the importance of fighting for a level playing field. We will continue our march until we get there."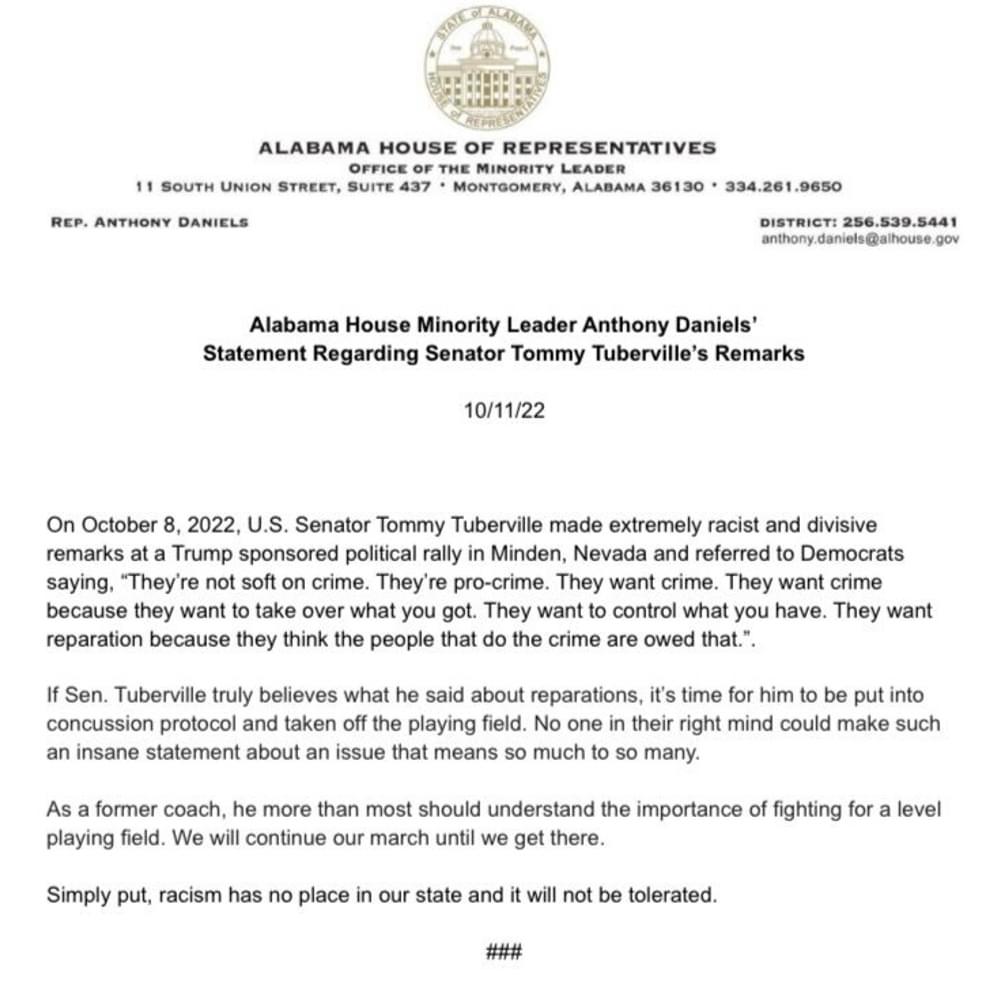 Tuberville has yet to address the outrage that has ensued from his statement.
To connect with the author of this story, or to comment, email [email protected].
Don't miss out! Subscribe to our newsletter and get our top stories every weekday morning