The North Alabama Athens-Limestone Republican Women organization invited all of the contenders in the Fifth District Republican Primary race to replace Republican incumbent Congressman Mo Brooks to participate in a public forum on Monday, May 2. Only candidate Dale Strong declined to participate in the forum. The Fifth District runs across the entire Alabama-Tennessee border and includes all of Lauderdale, Limestone, Madison, Morgan counties, as well as most of Jackson County. Republican incumbent Mo Brooks is not seeking reelection in the Fifth District after deciding to run for the US Senate.
The forum was moderated by Athens-Limestone Republican Women Vice-President Tracy Smith, who read questions submitted by audience members prior to the event. Forum participants at the Valley Event Center in Athens included Andy Blalock, John Roberts, Paul Sanford, Casey Wardynski, and Harrison Wright.
While the policies and record of President Joe Biden and the Democratic Party were the primary targets of criticism from all of the candidates who stepped up to the podium, fellow Republican Dale Strong was also criticized for declining to show up and participate in the forum. Andy Blaylock drew applause when he complained, "We have an empty chair here tonight. That's our number one problem right now. Folks, at the last forum, that chair was empty too, and at the end I was disappointed because I really hoped to see his face as I talked about the corruption that he's been in."
Former military leader and Huntsville School Superintendent Casey Wardynski used his opening remark to warn that, "…our Constitution is under attack. In 2020, the leftists attacked the ballot box and stole an election. They attacked the soapbox and took the President off of Twitter and his ability to communicate in ways people understood."
The five candidates who did show up at the event center for the debate were in universal agreement on their disdain for the federal government's handling of the pandemic, particularly the shutdowns that punished small business owners and families across the state. Former Assistant Secretary of the Army Wardynski said, "COVID was designed to destroy America. It was a test run (by China). We shut down not only businesses, we shut down the military. The military trained from home for six months. We can't go through this again... They (the Chinese) closed down travel in their country. They allowed travel to other countries."
Harrison Wright agreed with Wardynski, and said, "What we saw was an engineered collapse as middle-America, small-town USA was destroyed so the big box stores like Walmart and Target and the big distributors like Amazon could make a profit. They had their best years in decades while everyone crumbled."
As a former state senator and restauranteur, Huntsville native Paul Sanford used his opening statement to emphasize his belief in term limits by pointing out that he returned to the business world and family life at the conclusion of his second term as a state senator in 2018. The former barbecue restaurant owner set the overall tone of the forum in his opener by declaring, "America is not what it was in 2018. The President, the Speaker of the House, the leader of the Senate, and the rest of Congress, it feels like, is slowly dismantling the country that I so dearly love and care for." Sanford touted his "…proven business experience and proven legislative experience writing bills, amending bills, passing laws, stopping laws. I don't think Washington, D.C. is a good place to be a training ground. I'm ready to hit the ground running."
Educator and professional horse trainer Andy Blaylock responded to a question about teachers' unions and whether or not he would accept political contributions from a teacher's union by pointing out that he quit the Alabama Education Association only three years into his 15-year teaching career after concluding that, "I shouldn't be in the AEA. If I'm doing my job, I shouldn't need them, so I have not been a member for twelve years. I would not take any donations from them." Blaylock also went after forum participant Casey Wardynski for having been the Huntsville City Schools Superintendent when "…we (Huntsville teachers) were forced to have Critical Responsive Training as far back as when Casey Wardynski was Superintendent there."
Wardynski responded to Blaylock by pointing out that during his tenure as Superintendent he had to fight the AEA in order to implement his successful plan that raised the systems' "… graduation rate from 66 to 88-percent, scholarships for college went up by 70-percent, National Merit Semifinalists up by 60-percent, nine failing schools down to one, zero Blue Ribbon schools up to nine, and one School of Distinction... despite the union."
Blaylock responded to Wardynski's accomplishments by claiming that, "It's easy to talk, Casey, about increasing graduation from 66-percent to 88-percent when I get an email from my principal that says we can't give our kids zeroes, that we have to give them an extended amount of time to turn in work."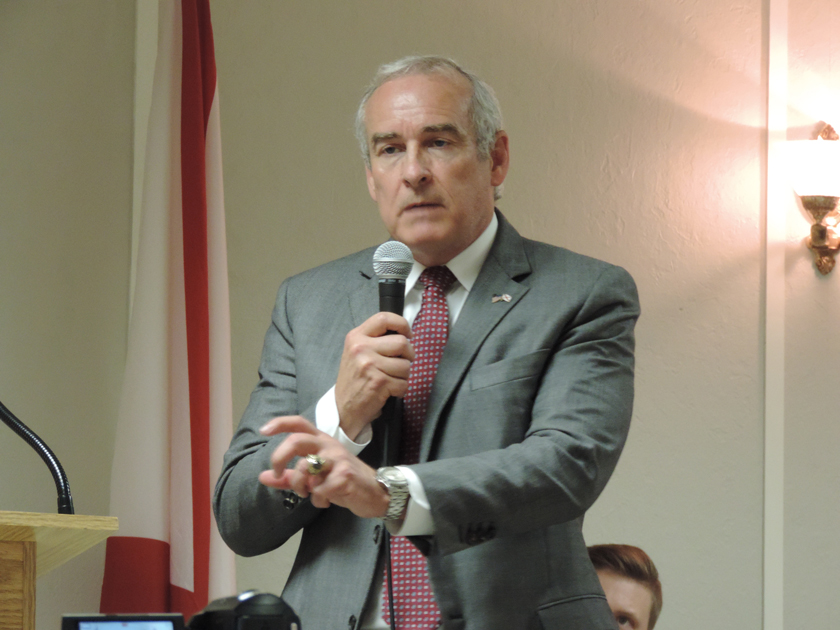 Candidate Paul Sanford also went after Wardynski on his record as school superintendent by claiming that Wardynski had supported the controversial Common Core program and that "if the legislature had even outlawed it, that he (Wardynski) still wanted to implement Common Core because he thought it was that good."
Wardynski fired back, saying, "You (Sanford) didn't do anything about the Common Core. This District in Huntsville is under Federal control. You never involved yourself in that. That was a state law that brought the federal government in. The state legislators never did anything about it and you're a blowhard about the whole thing. And you didn't terminate yourself. People asked you to go home… This state adopted the Common Core in 2009, while you were in the Senate."
Sanford used his next turn at the podium to point out, "What I did was I sponsored a bill to eliminate Common Core and I fought the leadership of the Republican Party to put it on the floor of the Senate." That bill ultimately failed to pass.
Twenty-four-year-old Harrison Wright, host of a streaming talk show called FEAR THE BEARD, singled out that the teachers' union (AEA) supported Common Core curriculum as a threat to liberty. Wright said CRT "…is underlying Marxism."
"The federal government is only good at doing one thing, ruining everything," Wright said. "In the words of Milton Friedman, if they were in charge of the Sahara Desert, in two years there would be a sand shortage." Wright told the audience, "What we can do at the federal level is take back the controls that the (U.S.) Department of Education has put on the state by phasing out the Department of Education and giving that control back to the state and take the federal funding away from the state because we can be completely free from it." Wright suggested that the "Federal government is the worst thing that has happened to us, because they centralize everything and put the power in one spot. So, what we have to do is return to what the Founders wanted - decentralized, state-controlled government."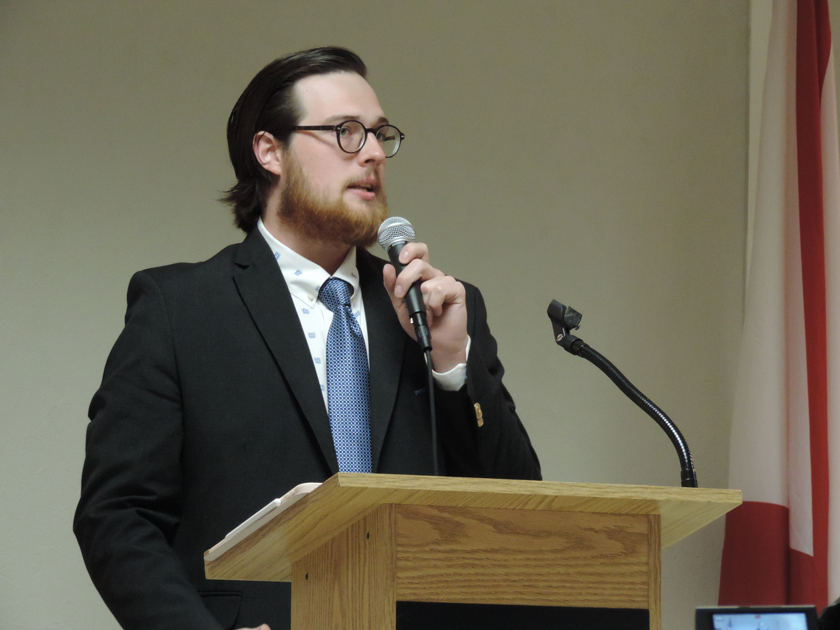 Hartselle's John Roberts, who shared his experience as one of the founders of a workforce training center for people seeking jobs in the construction trade, pointed out that he and his wife are expecting a child when answering a question from the audience about the issue of abortion. "Pro-life is at the very tip-top of my priority list because the unborn is deserving of every liberty that we experience here. They are a life and life begins at conception," Roberts said. The 30-year-old University of Alabama graduate pointed out that his family had "stepped up" by fostering dozens of Alabama children, and emphasized that, "I believe, as a Christian, that we have to step up for those that are born into difficult situations. If we're going to outlaw abortion, there's no doubt there's going to be tougher situations that come about, so what are you going to do?"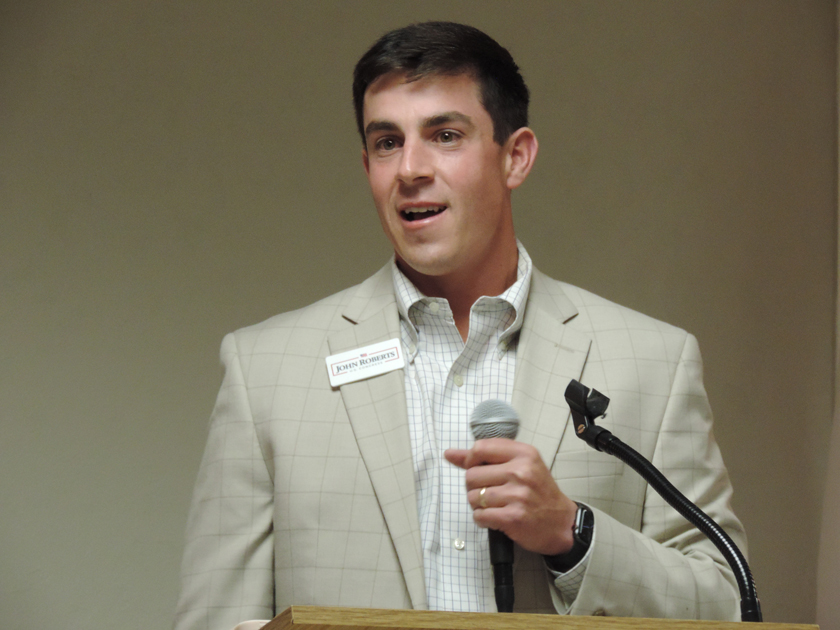 The entire panel of candidates agreed with Robert's views on the abortion issue, with Harrison Wright calling it "genocide." Wright also called for the defunding of Planned Parenthood.
Blaylock summed up the candidates' unity on opposing abortion by pointing out that "If we were any different (on the abortion issues), we wouldn't be on this stage. I believe if babies could vote right out of the womb, the Democrats would be pro-life as well... It's the (same) reason why we see illegal immigrants come in and go to New York and they're allowed to get a license and register to vote."
Both Sanford and Wardynski, the former President Trump-appointed Assistant Secretary of the Army, emphasized the importance of protecting the Fifth District's vital military and civilian defense, space, and cyber, jobs from liberal, out-of-state Democrats who would like to see those jobs moved elsewhere in the country.
Sanford warned that, "I think the biggest problem our district has currently is the threat of losing funding on Redstone Arsenal, Marshall Spaceflight Center, and the FBI."
FBI spokesman Adam Rhodes announced in 2021 that, "We want the FBI Redstone to be the epicenter of the FBI's technology development, and we want to standardize and consolidate advanced trainings that are across the country right now in Redstone and create a graduate school for the FBI training program."
"Redstone Arsenal is a target for those (budget) cuts," Wardynski said, adding "In 2018, the Army created the Army Futures Command, which is located in Austin, Texas. They control the Arsenal. They have their eye on the Arsenal. The Four-Star (General) on the Arsenal does not. …. The Arsenal takes care of the new weapons and that's been the driver for economic growth in this area. That's under threat. We need to do something about it, and the next steps need to be focused on space, Space Force, (getting) the Space Force Academy here, and Space Command. Having built the Army budget, I know how to do that. I know how to bring that work to Alabama and protect what we do here, because it's done best here."
The Fifth Congressional District is home to Alabama's largest city and tens of thousands of jobs in the defense, aerospace, technology, science, agricultural, and computer/cyber sectors. With the nearly 60-square-mile Redstone Arsenal at the heart of the district, all matters affecting active and retired military personnel and their families living in North Alabama register with the voters there. All five candidates expressed their desire to improve healthcare options for military veterans and put an end to the well-publicized quality of care issues and very long wait times that veterans experience when they seek medical treatment and attention at a Veteran's Administration hospital.
Blaylock lamented that veterans "…don't receive as good as care as some of the illegal immigrants. It's a shame."
Paul Sanford shared a more personal, family perspective on the issues with VA hospitals, recalling that, "My father was in the military, and he had his eye put out, but he never went to the VA (hospital) because he said it took too long. (He said) 'I can't sit around and wait all day. I have a business I have to run.'"
John Roberts said, "We have to take care of our veterans. They sacrificed so much that we have to stand up for them… we do need to privatize and make it (VA Hospitals) run like a business… That is the most efficient system. That is where we're going to give them the quality of care that they deserve."
CORRECTION: Contrary to the report originally published in this story, an endorsement of Strong by the FARMPAC political action committee posted on the Athens-Limestone Republican Women Facebook page by the organization was "informational" and was not intended as an official endorsement or rubber stamp approval of that endorsement by the Athens-Limestone Republican Women organization.
To connect with the author of this story, or to comment, email Jim.McDade@1819News.com.
Don't miss out! Subscribe to our newsletter and get our top stories every weekday morning.