The Franklin County Watermelon Festival is this weekend in Russellville.
The Watermelon Festival began in 1981 and has grown to include a car and truck show, 5K and 1 mile "fun run," a children's entertainment area, live music and a variety of festival food and vendors.
Earlier this year, the Watermelon Festival was voted Best Adult and Children's Event in the Tennesee Valley in a reader's choice poll conducted by the Franklin County Times, according to northalabama.org.
The festival always takes place on the third weekend in August on Main Street. It will run from 6 p.m. to 10 p.m. on Friday and from 10 a.m. to 10 p.m. on Saturday.
Opening ceremony and music lineup
On Friday, the festival will kick off with an opening ceremony. The Watermelon Pageant Queen will cut the first watermelon.
The Watermelon Pageant Queen is the winner of the 18- to 21-year-old age group of the Watermelon Pageant.
Sophie Hill won Watermelon Festival Queen at the pageant on July 23, along with eight other winners of age groups ranging from birth to 21 years old. All pageant winners will be presented at the opening ceremony.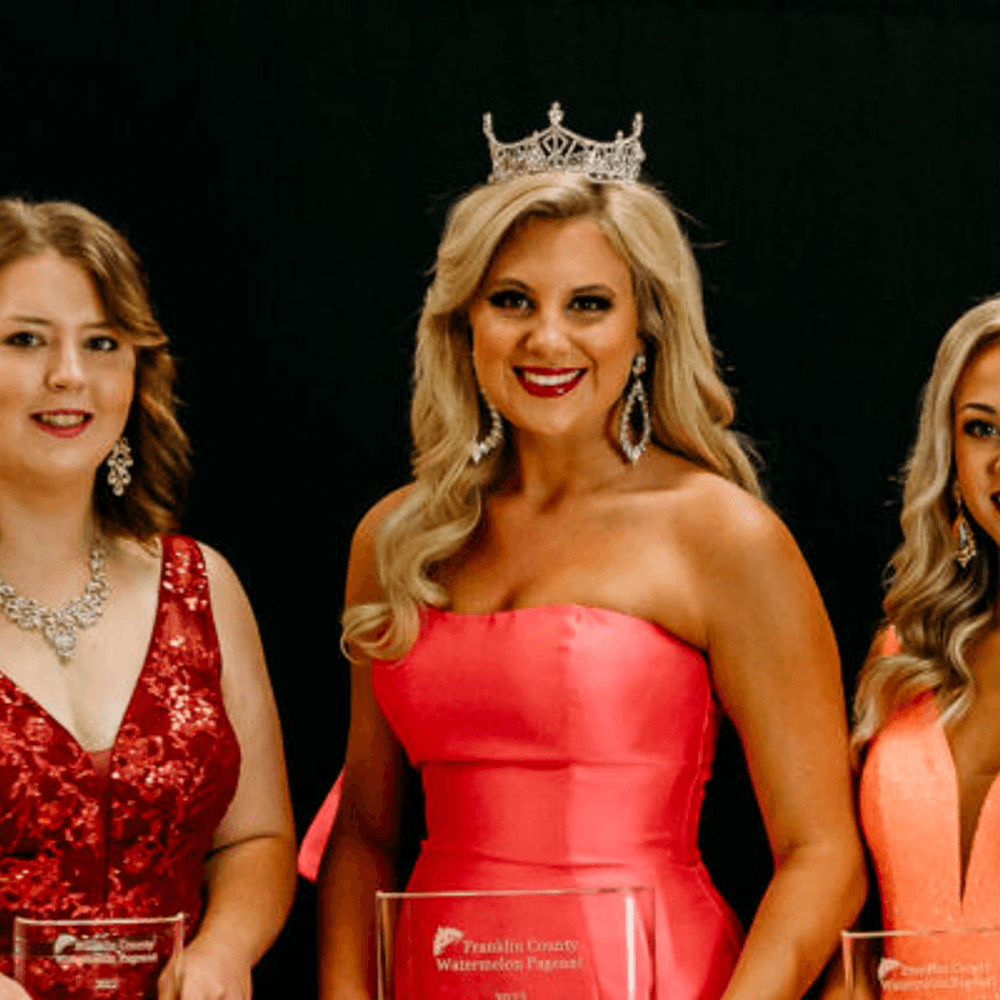 Festival goers will be free to enjoy musical performances at the Historic Roxy Theatre. This year's music lineup includes popular artists such as Thompson Square, the Velcro Pygmies and Cody Bowen.
Watermelon Contest
Watermelon contests will take place Saturday, and prizes will be awarded to the largest weighing watermelon, the most unusual watermelon, the best tasting watermelon and the best-dressed watermelon. There will also be a seed spitting contest.
Watermelon contest registration will begin at 10 a.m. Weighing and judging will start at 11 a.m., and the winners will be announced by noon.
Rules for the watermelon contest can be found on the Franklin County Chamber of Commerce website.
Fundraisers
The 5K and 1 Mile Fun Run will both begin on Saturday at 7:30 a.m. at the Russellville High School Field House. It is a fundraiser for the Russellville High School cross country team.
Runners can register on the day of the race beginning at 6 a.m. or online.
The race-day registration fee is $25 for the 5K and $20 for the one-mile race. Those who register in advance will only have to pay $20 for the 5K or $15 for the one mile.
Everyone who preregisters for the race will receive a t-shirt. Those who register on the day of the race might receive a t-shirt, pending availability.
The top three overall males and females, the master male and female and the first, second and third males and females in each age group will be given an award after the race.
There will also be two car and truck shows, one on Saturday at 7 a.m. and one at 6 p.m. The Saturday night show will be only for cars with light kits. Both shows are fundraisers for the Russellville marching band parents.
In the past, car show winners have been awarded cash and door prizes.
Logistics
All ages are welcome at the festival. However, pets are not allowed.
Franklin County Chamber of Commerce executive director Cassie Medley said that there are no parking restrictions but asked festival-goers not to block alleys or park in front of barricades or fire hydrants.
Medley said she expects attendance to be around 25,000 people if the weather permits. She said her estimation was based on attendance in previous years.
Last year was the festival's first year since the COVID-19 pandemic. Medley said it was canceled halfway through the second day due to a tornado warning, so they didn't have a "true festival."
"[The festival is] almost like a family reunion too because some of the same vendors have been here pretty much decades," Medley said. "... It's just a good thing to bring people out, a family-friendly event that's free."
To connect with the author of this story, or to comment, email will.blakely@1819news.com or find him on Twitter and Facebook.
Don't miss out! Subscribe to our newsletter and get our top stories every weekday morning.