1819 News recently sat down with the son of former Gov. George Wallace to discuss his new book, highlighting aspects of his father's less-known life and noting the famed separatist's change of heart later in life.
"George Wallace: From Segregation to Salvation" is the most recent work from George Wallace Jr. about his father. It is the first, however, to ever be picked up by a publisher. Much like his previous book, the most recent work focuses on George Wallace's life through his son's eyes. The book is published through Barringer Publishing in Naples, Fla.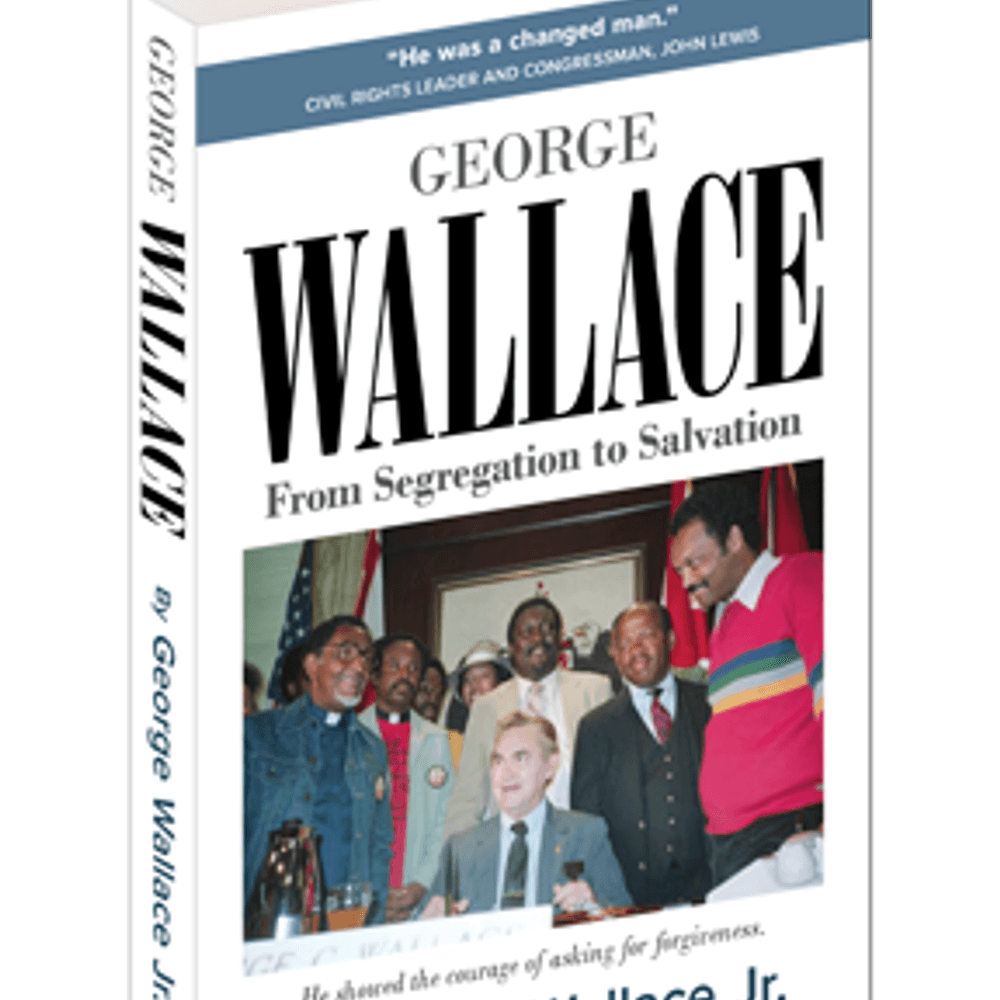 According to the younger Wallace, his wife motivated him to write the book after she had learned so much about his father throughout their marriage that is beyond common knowledge.
"At her urging, I started sending it out a few months ago to publishers around the country," Wallace told 1819 News. "And to my surprise, I got many good offers from publishers who suggested that this story has never been told; the entire story of his life and all he did to bring us together, especially in his later years."
"It's an introspective look at his life, both personally and politically, and the changes he went through. I've tried to clear up some untruths that have been spread about him for many years about a couple of things that were very important to him, especially at the end of his life."
He continued, "I tried to chronicle his entire journey, personally and politically, what he went through and all the changes he went through. Which are changes our country was going through. He wasn't alone. He was a part of that."
The elder Wallace was one of the most prominent figures in American 20th-century history. His staunch resistance to integration, populist views and support of "separate but equal" policies during the national civil rights movement has led posterity to take a dim view of the man.
He took the Alabama Governor's office as a Democrat in 1963. He gained national attention that same year when he famously stood in front of the University of Alabama's entrance to block the enrollment of two black students, defying federal desegregation orders. He served four non-consecutive terms from 1963 to 1987.
Wallace said he believes that his father's support for segregation was motivated not by a hatred for black people. Instead, it was a common view of the time, inspired by a desire for a more flourishing cohabitation amongst the races. Wallace would go on later in life to recant his segregationist views.
"My father was defiant in his manner of standing against the federal government," he said. "And at one time in his life, he supported segregation. And I think that defiance has been read that he disliked black people. You know, rendering moral judgments in retrospect is really hazardous. It's a different era, a different time. Beliefs were different; they were evolving. My father was told as a child, born 104 years ago, that segregation was in the best interest of both races. They didn't embrace it with ill will, ill feeling or malice in their heart. Some people did and do to this day. But generally, his family and the people of the South did not. They believed anything other than separation would cause adverse relations between the races."
George Wallace was governor during the infamous events at the Edmund Pettus Bridge in Selma on March 7, 1965. Hundreds of voting rights advocates attempted to march across the bridge when they were assailed by state troopers and county law enforcement, including mass amounts of recently deputized residents. Wallace Jr. said that much of what is portrayed about his father's role in that event – including a recent depiction in the blockbuster film "Selma" is inaccurate.
"Most people don't know that his orders at the bridge were disobeyed by the law enforcement officials there," Wallace Jr. said. "Those officials lost their temper. His orders were to let the marchers march. 'Don't impede the march.' When they crossed the bridge, he said, 'I'll call President [Lyndon] Johnson, and we'll figure out how to protect these people. Because there were rumors that there would be folks in the woods on Highway 80 with guns, and he wanted to protect the marchers."
He continued, "Bob Ingram, who was the writer for The Montgomery Advertiser who wrote about it — he said he'd never seen a man in his life as enraged as my father was when he learned about what happened at the Edmund Pettus Bridge. And that's not known that well."
According to Wallace, when his father was injured during an assassination attempt during his 1972 presidential campaign, his father began to reevaluate his role in causing the racial divide. A revelation that led to another less publicized event highlighted in Wallace Jr.'s book. In 1979, the elder Wallace went unannounced to Dexter Avenue Baptist Church in Montgomery. The same church Martin Luther King pastored in the 1950s.
"Once he was injured, everything was heightened," he went to Dr. King's church one night, unannounced, and told the congregation that he had been wrong and asked for their forgiveness. That's why 90% voted for him in 1982. They knew he was sincere. And that's a great story for today with what we see going on in the country."
Wallace Jr.'s book says his father's apology was received graciously from Reverend Joseph Lowery, the "dean" of the civil rights movement, who thanked Wallace "for coming out of your sickness to meet us. You are a different George Wallace today. We both serve a God who can make the desert bloom. We ask God's blessing on you."
The former Alabama governor's change of heart rang true during his final term, appointing a record number of black Americans to state positions, according to Wallace.
George Wallace Sr.'s Legacy is defined by a quote delivered in his 1963 inaugural address: "Segregation now, segregation tomorrow, segregation forever."
According to Wallace, his father will never escape that legacy, but the six-word phrase, later recanted, cannot be the sum total of a life.
"I think he will. Forever be known by that phrase," he said. "He'll be known for that. That was part of his life. So, can't the other part, where he worked to nurture our humanity in so many ways and worked to bring us together, shouldn't that be highlighted as well? But those on the far left don't want to do that, and that's their choice to make, but it's not the total story."
To connect with the author of this story or to comment, email [email protected].
Don't miss out! Subscribe to our newsletter and get our top stories every weekday morning.