A whistleblower in the Auburn University Black Student Union (BSU) claims to have retrieved a Google Doc from a group message associated with the organization, which lists over 250 racial slurs for white people, including "failed abortions," "diseased neanderthals" and more.
The whistleblower sent the document and screenshots of the group message on the popular group messaging app GroupMe to Auburn student Jaden Heard, who leaked the information to Turning Point USA (TPUSA), a conservative campus organization. TPUSA published a short article about the findings on its website last week.
1819 News spoke to Heard on Thursday morning. Heard said he's not the whistleblower himself, but rather the whistleblower came to him about the information. The whistleblower chose to remain anonymous.
"From my perspective, it looks like they were just joking around, trying to have a laugh," Heard said. "But I'm also imagining if the roles were reversed … I'm going to give them the benefit of the doubt, that they were just trying to joke, but at the same time, it was a university-funded organization, and that's pretty wild."
The document, titled "Creaker Names," contained seven pages of a single-column list of racial slurs. 1819 News obtained a copy of the document from Heard. According to Urban Dictionary, "Creaker" is another word for "cracker," used particularly when referring to an old white man.
Some of the names on this list are labeled "favorite" in parenthesis, such as "Sour Cream Citizen," "bleach demons," "sugar sardines," "dandruff demons," "elbow crust," "dandruff paper," "copy and paste," "skin stealers," "deformed dna," "decomposing form of humanity," "delusional lice," "bobble head white," "ashy, but you can't see it," "untamed beasts," "crest 3-D whitening strips" and several more.
A PDF version of the document can be seen below.
Warning: this document consists of vulgar material.
Heard also obtained screenshots of the group message that a group member shared the Google Doc in the message after saying, "Here's a google doc of names for the Neanderthals."
Another group member replied, saying, "Now if any of them try to play we got the names on command."
The group then proceeded to brainstorm more slurs.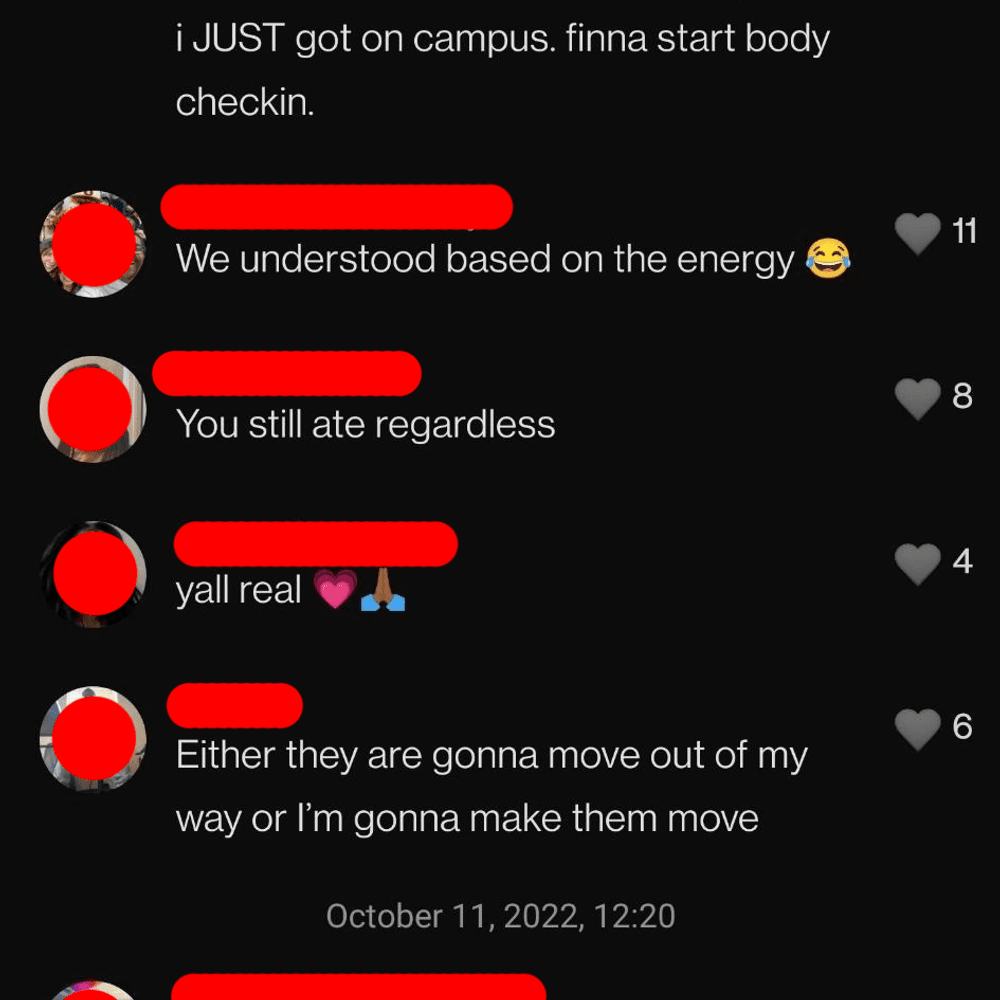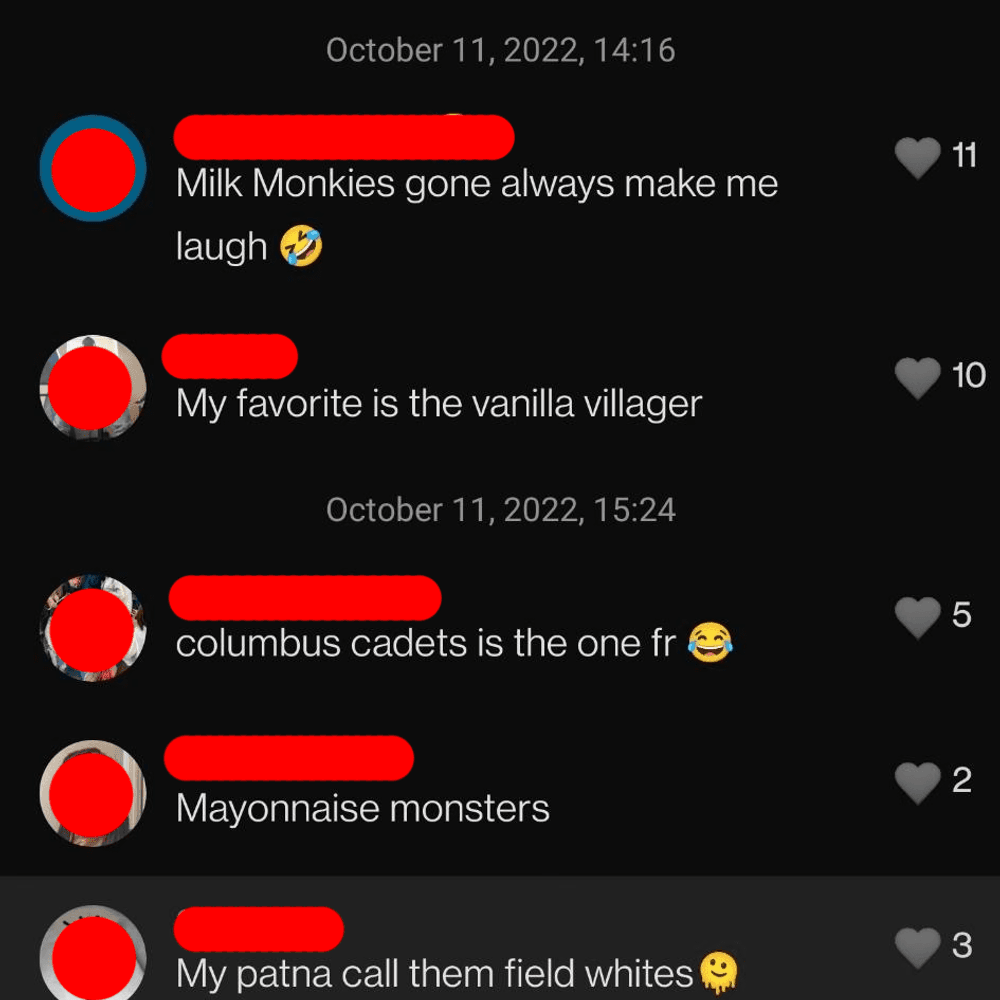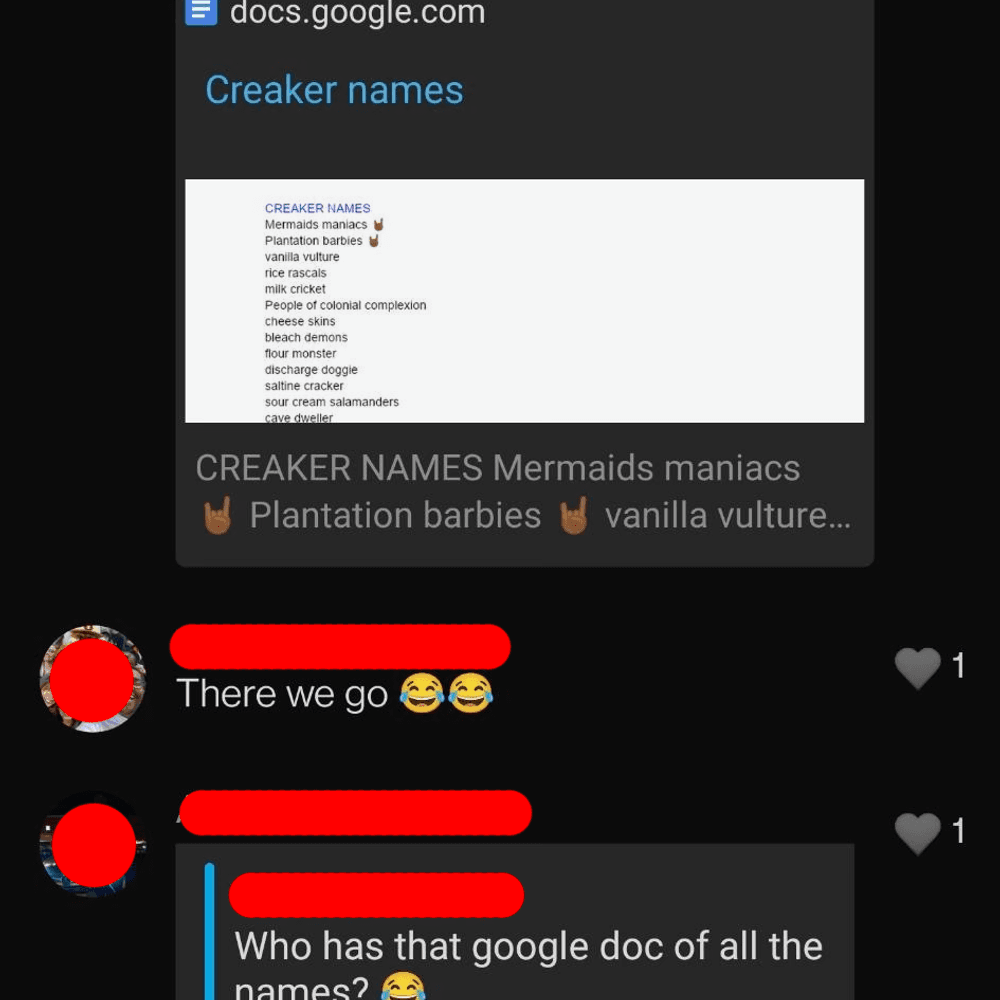 The whistleblower told TPUSA last week that he got tired of "anti white racism shown in the left."
"I have two other black friends who [are no longer members of the BSU] because they bullied them out for having different opinions than what was acceptable," he said. "BSU needs to learn to be more welcoming and inclusive to the white community. The BSU motto is 'unity through education,' and they are currently failing at that."
Heard said he was kicked out of a group chat for black freshmen when he was a first-year student. He said he still attends BSU events sometimes but that BSU faculty and student members are hostile toward black conservatives.
Heard even claims he's been threatened by members of the BSU.
A comment on the TPUSA article claimed that the group message was not associated with the BSU. However, Heard said that the chat contained BSU alumni and members and included members of the BSU executive committee. Further, he claimed that the whistleblower said the chat had either been deleted or he had been kicked out since the Google Doc was leaked.
Auburn University issued the following statement to TPUSA last week:
On Tuesday afternoon, Auburn University was made aware of a GroupMe chat that used discriminatory language that is allegedly being circulated among some students. The university is committed to providing a working and academic environment that is free from discrimination and harassment and works to foster a nurturing community founded upon the fundamental dignity and worth of all its members. The university prohibits harassment of its students and employees as outlined in our Policy Against Discrimination and Harassment.

The university takes these matters very seriously and the alleged behavior does not represent the values of Auburn University. The appropriate administrators are examining the issue and considering appropriate actions. This matter will be treated in the same manner with which any issue of discrimination or harassment is addressed.
On Thursday, 1819 News reached out to the Office of Student Involvement, which oversees the BSU. The office declined to comment.
To connect with the author of this story, or to comment, email [email protected] or find him on Twitter and Facebook.
Don't miss out! Subscribe to our newsletter and get our top stories every weekday morning.