Tyrus is returning to South Alabama this fall, and the show is already selling out. The retired wrestler, best-selling author and Fox News Channel contributor will be in Gulf Shores on October 7.
"Tyrus Live" came to the area in May as part of a spring comedy tour, and the show sold out. So, Tyrus decided to come back as part of the Nuff Said Comedy Tour.
"Gulf Shores treated me and my family very well, I mean, they even gave me my own day," Tyrus told 1819 News. "May 19 is now Tyrus Day."
The show will include new material but will include the same common sense approach Tyrus is known for.
"The Baldwin County Republican Party supports Tyrus and have just been thrilled at the events to be able to afford him and be there for him and sell tickets," said Baldwin County GOP chairman Patrick McWilliams. "We think he's doing a great job with just common-sense values for American people, and that is something that I think we all need to hear. He is salt-of-the-Earth, and we appreciate his views here in south Alabama because it resonates with us in Baldwin County."
Tyrus said McWilliams and his wife were a huge part of getting him to the area, along with the fact that his own wife, Ingrid Rinick, vacationed in Gulf Shores as a child.
"My wife chooses the cities, and she grew up vacationing there and has fond memories," he said. "We even take our kids to the same go-cart track."
Rinick has been an integral part of Tyrus' success in tours. She schedules his appearances and keeps up with the business side of things. The couple said they hope to explore more of Alabama in 2024 but did not specify a location.
Tyrus uses his own experiences growing up and as an adult to deliver a no-nonsense and authentic show that covers social topics such as race and activism.
While he is mostly known for his appearances on TV and in the ring, Tyrus said he likes taking the stage without cameras because he gets to be his real self.
"I get to speak for longer than three minutes at a time," said Tyrus. "Speaking on television you have to fit into tight time slots and share that air time. With my shows, I get to speak my mind on my own time."
While there are a lot of moments in Tyrus' show that make you think, he told 1819 News the show will not be very political.
"I have my set list of jokes, but I always intertwine current events to stay relevant to what's going on in our great country," said Tyrus. "I prefer to leave politics at home."
The most obvious takeaway from most of his shows has been the fact that his wife, Ingrid, is the backbone of the family and the hard worker who keeps everyone going.
Tyrus became a New York Times and Wall Street Journal Best-selling author after his release of "Just Tyrus." His upcoming book "Nuff Said," is set to be released November 21.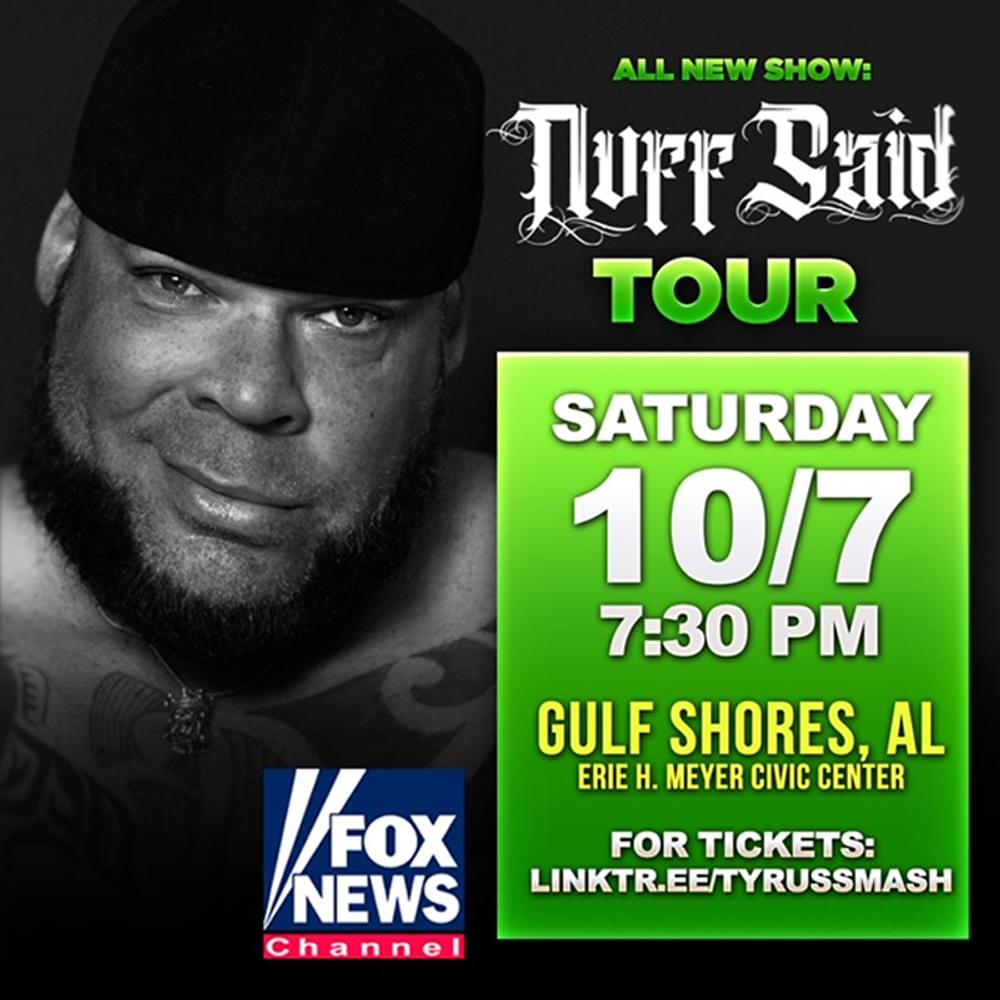 The show will be at the Erie H. Meyer Civic Center at 7:30 p.m. Tickets for the show and meet and greets are available online and are selling out quickly, with only about 40 still up for grabs.
After the Alabama show, Tyrus will head to Virginia, Tennessee, South Carolina, Georgia, Louisiana and Texas.
To connect with the author of this story or to comment, email [email protected].
Don't miss out! Subscribe to our newsletter and get our top stories every weekday morning.