Several prominent Democrats in the Birmingham area have endorsed David Silverstein for Jefferson County Commission, District 5. However, Silverstein is a self-described "nonpartisan," and the ballots won't list candidates' party affiliation.
Former Jefferson County commissioner Steve Ammons announced in May he would be stepping down to become the Birmingham Business Alliance CEO.
Ammons' resignation leaves two Republicans and two Democrats on the five-person commission. Residents of Ammons' District 5 — comprised of Mountain Brook, Vestavia Hills, Homewood and Hoover — must now choose between two candidates for the open seat: former Alabama Supreme Court Justice Mike Bolin and Silverstein, a Birmingham-area real estate developer.
Unlike regular elections for the Jefferson County Commission, candidates in the special election will not have a political party by their name.
However, Bolin is a self-proclaimed conservative Republican. Silverstein has branded himself a nonpartisan candidate but donated over $130,000 to Democrats like former U.S. Sen. Doug Jones (D-Mountain Brook) and U.S. Rep. Terri Sewell (D-Birmingham).
Mail ads from the Committee to Elect David Silverstein show Jones endorsing Silverstein for the position. Jones, whose image and signature are featured in the ads, praised Silverstien's supposed ability to recruit businesses to the Birmingham area and his plan to bring a "new life-sciences research center" to the county.
An almost identical ad also showed Birmingham Mayor Randall Woodfin endorsing Silverstein.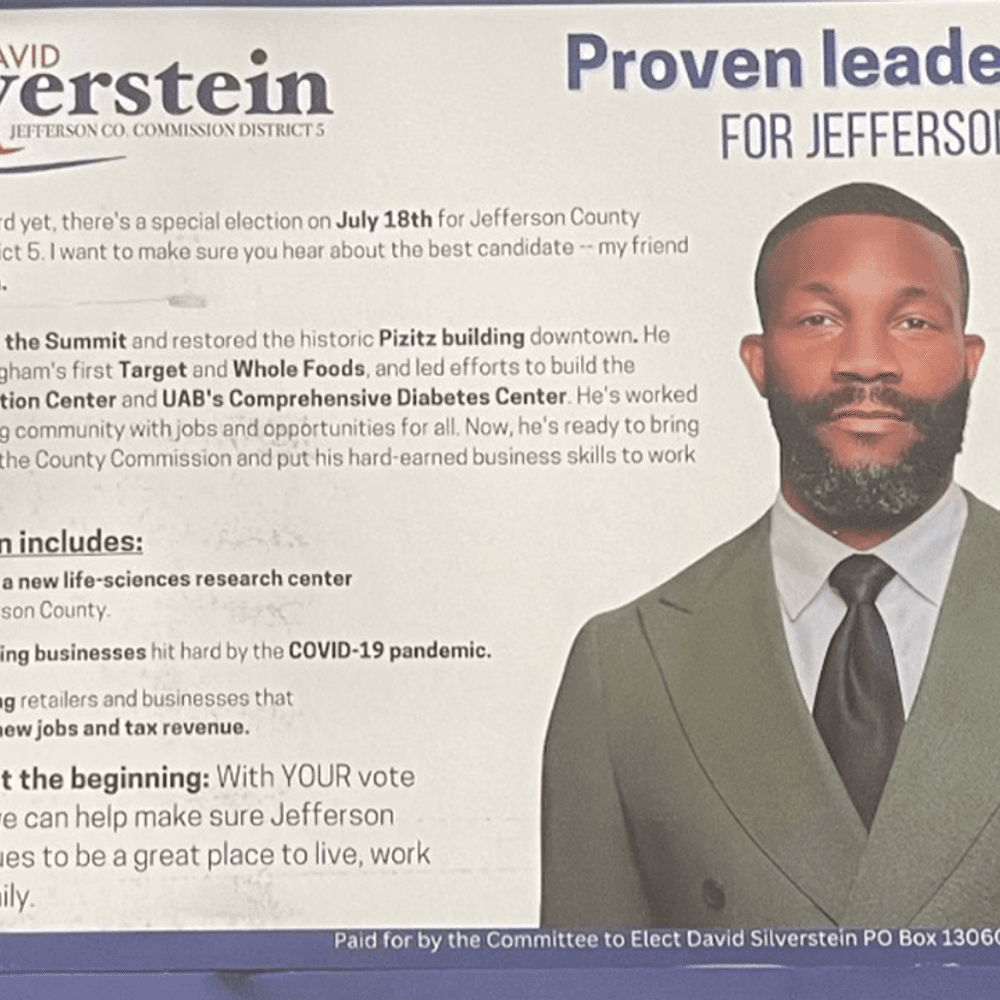 Initially, Birmingham-area urologist Brian Christine and Mountain Brook resident Jeff Wise also were running for the commission. However, Christine withdrew in June, and Wise withdrew Thursday. Both offered their support to Bolin.
The special election will take place on Tuesday and will be open to voters from District 5.
To connect with the author of this story or to comment, email will.blakely@1819news.com or find him on Twitter and Facebook.
Don't miss out! Subscribe to our newsletter and get our top stories every weekday morning.