When the U.S. Department of Justice charged and convicted State Rep. Fred Plump, Jr. (D-Birmingham) of conspiracy and obstruction of justice, his District 55 seat was subject to a special election. Sylvia Swayne, a 26-year-old transgender woman, was one of seven Democrats who ran for his seat. She made it to the Oct. 24 runoff election, facing Travis Hendrix, a sergeant with the Birmingham Police Department.
Swayne lost to Hendrix and lost resoundingly: 65% to 35%.
Presented without comment: https://t.co/BxiAJFoTY9 pic.twitter.com/Ph2DDOaByj

— Kerry Slone (@thereal_SnS) October 25, 2023
I suspect that Hendrix's lifetime in the Brickyard community and his record of service rendered these results. "I told myself at a very young age that all I want to do is do everything in my power to improve the quality of life for the people in the district," Hendrix said in an interview with WIAT Birmingham.
Swayne was gracious in her loss, but a bit preachy as well.
Much hay was made over the fact that Swayne was the first transgender to run for an Alabama House seat, even though Swayne insisted that being a first and making history was not the reason why she chose to run. However, in a Sept. 25 interview, Swayne also said:
"I'm running to show folks, one, that young people can have an elected official who resonates with them and activate them, but also show people that at the end of the day, trans people are people just like anybody else, and we don't have to be this distraction from the big issues, the things that affect all of us."
Swayne's campaign also made a big deal about representing all Alabamians and caring about local issues, claiming in one campaign video that she would tackle the division between Montgomery and the rest of Alabama.
Yet, Swayne's platform read like a national campaign, focused majorly on issues that are the purview of our national representatives, such as Medicaid expansion.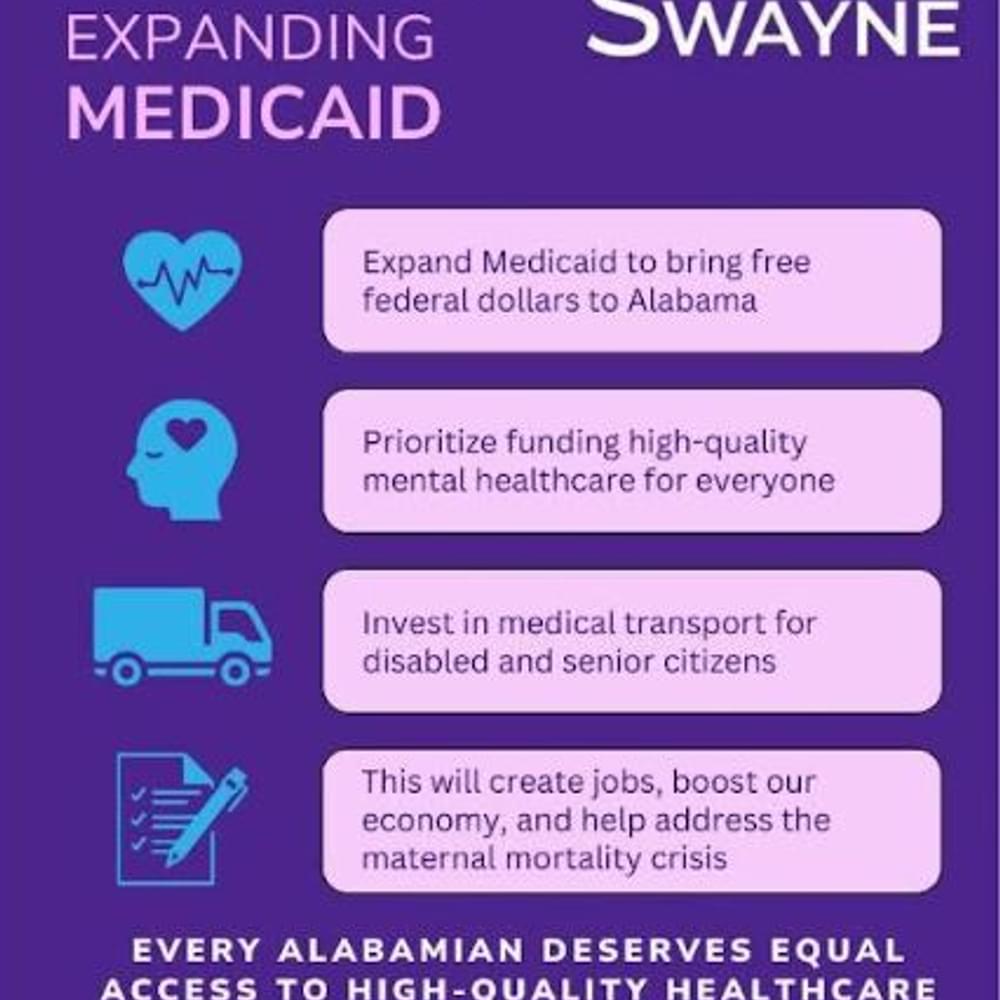 Expanding Medicaid is a federal matter for elected Alabama representatives like Sens. Tommy Tuberville and Katie Britt. Part of the reason people don't want Medicaid expanded is the overreach and corruption from the federal government. Alabama believes in federalism, from every city, state, and local county. This stance of trying to bring more statism into a state that rejects it wholeheartedly has always been a non-starter. Certain segments of Alabama may want more federal overreach in healthcare decisions, but the majority do not.
For someone supposedly focused on Alabama, Swayne's endorsements, funding, and "grassroots" team came from many sources outside the state, as 1819's Daniel Taylor covered:
"Although Swayne had no political experience in the state, he beat out six local Democratic leaders in the primary. Swayne, who would have been the state's first transgender lawmaker, reportedly received tens of thousands in out-of-state contributions from several LGBTQ organizations funding his campaign, including from activist David Hogg."
Swayne was deceptive in this, declaring that her funding came from "individual contributions," not PACs:
"For transparency, ALWAYS follow the money. We are running a people powered campaign, which means thus far we have ONLY received funding from individual contributions rather than from PACs and special interest groups."
See this Instagram video by @swaynefor55 https://t.co/pod0Kv5Su7

— Jennifer OO (@joliveroconnell) October 28, 2023
This was obviously NOT transparent.
Swayne received endorsements and funding from the likes of the LGBTQ Victory Fund, whose goal is to elect "pro-choice LGBTQ+ candidates across the U.S." (emphasis added), and Equality South Action Fund, which specifically targets the Southern states of Oklahoma, Texas, Louisiana, Mississippi, Arkansas and Alabama in order to "recruit, support and elect LGBTQ+ and community allies in local, county, tribal, and statewide offices."
Nothing individual or local about this support.
Then there is Leaders We Deserve, gun-control activist David Hogg's organization, whose sole goal is to get progressive young people into national office. Hogg alleged that Swayne's loss was about her transgender status, and not because she was simply not a credible candidate.
Electing a trans woman in the Deep South was always going to be an up hill battle. Sylvia Swayne ran a hell of a campaign and Leaders We Deserve was proud to support her. Unfortunately she did not win tonight. While she may have been the first openly transgender person to run for… pic.twitter.com/dP9Pe8APUL

— David Hogg 🟧 (@davidhogg111) October 25, 2023
These are all national organizations, who wish to inject a national agenda into local communities that may not want such an agenda. Most communities simply want their representatives to take care of what matters to them, and what matters to them may not matter to the rest of the nation.
Hendrix's win over Swayne was not about gender, sexual orientation, or race, but about Alabama values. Alabama is not California, Texas, or Georgia, and I am thankful for that. Alabamians, even in a deeply blue area like District 55, will not be dictated to or swayed by people who do not live in the community and do not have its community concerns at heart. Alabama community values are more a reflection on why Travis Hendrix won the seat over Sylvia Swayne than any other.
Jennifer Oliver O'Connell, As the Girl Turns, is an investigative journalist, author, opinion analyst, and contributor to 1819 News, Redstate, and other publications. Jennifer writes on Politics and Pop Culture, with occasional detours into Reinvention, Yoga, and Food. You can read more about Jennifer's world at her As the Girl Turns website. You can also follow her on Facebook, Twitter, and Telegram.
The views and opinions expressed here are those of the author and do not necessarily reflect the policy or position of 1819 News. To comment, please send an email with your name and contact information to [email protected].
Don't miss out! Subscribe to our newsletter and get our top stories every weekday morning.