The National Oceanic and Atmospheric Administration (NOAA) Geostationary Operational Environmental Satellite (GOES-T), will be launched on March 1, 2022. GOES-T will be launched into space on an Alabama-built United Launch Alliance Atlas V 541 rocket from Space Launch Complex-41 at Cape Canaveral Space Force Station in Florida.
GOES-T is the Western Hemisphere's most advanced weather observing and environmental monitoring system. NOAA manages the GOES-R Series Program through an integrated NOAA-NASA office. GOES-T is the third of the GOES-R series. NOAA will administer its own ground system contract, operate the satellites, and distribute its data to users worldwide.
GOES-T will be renamed GOES-18 once it reaches geostationary orbit. Following a successful orbital checkout of its instruments and systems, GOES-18 will go into operational service as GOES-West. In this position, the satellite will provide critical data for the U.S. West Coast, Alaska, Hawaii, Mexico, Central America, and the Pacific Ocean.
The launch is being managed by NASA's Launch Services Program based at Kennedy Space Center, America's multi-user spaceport. NASA's Goddard Space Flight Center in Greenbelt, Maryland, oversees the acquisition of the GOES-R satellite and instruments. Lockheed Martin designs builds and tests the GOES-R Series satellites. L3Harris Technologies provides the main instrument payload, the Advanced Baseline Imager, and the ground system, which includes the antenna system for data reception.
NOAA's GOES-R Series is the Western Hemisphere's most sophisticated weather-observing and environmental-monitoring system. The GOES-R Series provides advanced imagery and atmospheric measurements, real-time mapping of lightning activity, and monitoring of space weather.
NOAA said that GOES-West will provide critical data for identifying and tracking environmental hazards of particular concern to the western U.S. GOES-West will locate wildfire hot spots, detect changes in fire behavior, predict the motion of fires, estimate a fire's intensity, and monitor smoke output and air quality effects from smoke. GOES-West can identify the lightning strikes most likely to ignite fires and characterize pyrocumulonimbus clouds that threaten the safety of firefighters. Coastal fog is a particular hazard in San Francisco and parts of the Pacific Northwest. Not only will GOES-West provide high-resolution, real-time imagery of fog conditions, but the satellite's rapid scanning capabilities will also help forecasters predict when fog will clear. GOES-West data will also be important for detecting volcanic eruptions and monitoring ash and sulfur dioxide.
Warm sea surface temperatures are a contributing factor in the formation of tropical storms and hurricanes. Data from GOES-West can help forecasters provide early warning that a hurricane is forming. Sea surface data from GOES-West will also contribute to monitoring and tracking marine heatwaves, which are becoming an increasing influence on fisheries and marine life.
GOES-T will extend NOAA's operational geostationary satellite observations through 2036.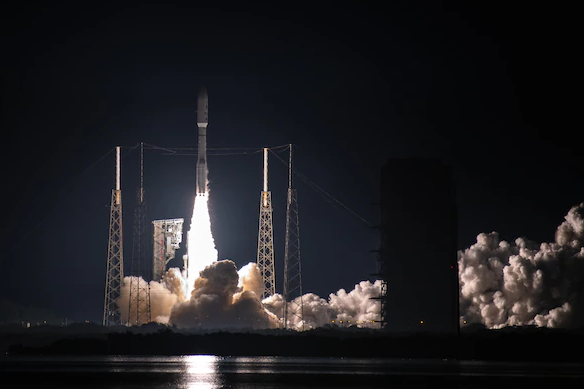 United Launch Alliance builds their Delta series of rockets at their facility in Decatur. The Atlas V 541 rockets have a length of 60 meters (197 feet) and a diameter of 3.8 meters (12.5 feet). The Atlas V 541 was first launched on Nov. 26, 2011. Since then the Atlas rocket has been launched a total of seven times with seven successful and zero failed launches.
ULA's Atlas rocket is a workhorse for the U.S. military, intelligence community and scientific researchers. The Atlas was developed as a modular vehicle. Each rocket is tailored to the needs of its payload by adding as many as five side-mounted solid rocket boosters for increased lift performance and a variety of available payload fairings in various diameters and lengths to protect satellites during atmospheric ascent. The high-energy Centaur upper stage, which has been used to send spacecraft to every planet in our solar system, is incorporated into the rocket to deliver the payloads to their intended destinations.
ULA was founded in 2006 as a joint venture between Lockheed Martin Space Systems and Boeing Defense, Space & Security. ULA combined the knowledge and experience of the existing teams at these companies to provide spacecraft launch services to the government of the United States. ULA launches from both coasts of the US. They launch their Atlas V vehicle from LC-41 in Cape Canaveral, Fla., and LC-3E at Vandenberg Space Force Base, Calif. Their Delta IV launches from LC-37 at Cape Canaveral and LC-6 at Vandenberg. The Vulcan Centaur will be the newest rocket in the ULA family.
To connect with the author of this story, or to comment, email brandon.moseley@1819News.com.