FOLEY — The cost of eggs continues to soar after a record price jump in 2022. Industry leaders have blamed the spike on avian influenza and feed prices as reasons to increase prices drastically.
According to the U.S. Bureau of Labor Statistics, the average price of large, grade A eggs increased by 66 cents from November 2022 to December 2022, and that trend is expected to continue well into 2023.
But not all farmers, including egg producers in Alabama, are buying the theory that a dozen eggs should cost up to $8 a dozen. There is a call for the Federal Trade Commission (FTC) to investigate the real cause of the price increase.
Farm Action, a research, policy development, advocacy campaign and political expertise network, is urging the FTC to look into possible violations of anti-trust laws by the egg industry. In a letter to the FTC, the group explained concerns over possible price gouging, price coordination and other unfair practices.
"Examining publicly-available financial data from the egg industry, the letter determines that the supply disruption caused by the avian flu outbreak had an apparently mild impact on the industry, as the average size of the egg-laying flock in any given month of 2022 was never more than six percent lower than it was a year prior," said Dee Laninga, with Farm Action.
South Alabama farm owner Kim Waltersam agrees that something isn't adding up. As the owner of Lay-A-Way Farm in Foley, Waltersam said she understands prices increasing because of feed prices, but she doesn't think the drastic increases are reasonable or necessary.
"I think they're blaming prices in grocery stores on avian flu, but I think it's crap," said Waltersam. "I really do. I think that they've had time to replenish, and I think they're getting what they can get because everything else is inflated, so why not eggs?"
Waltersam said if avian flu is a reason for price increases, farmers should be back to full production by now because warnings about the illness were issued a year ago.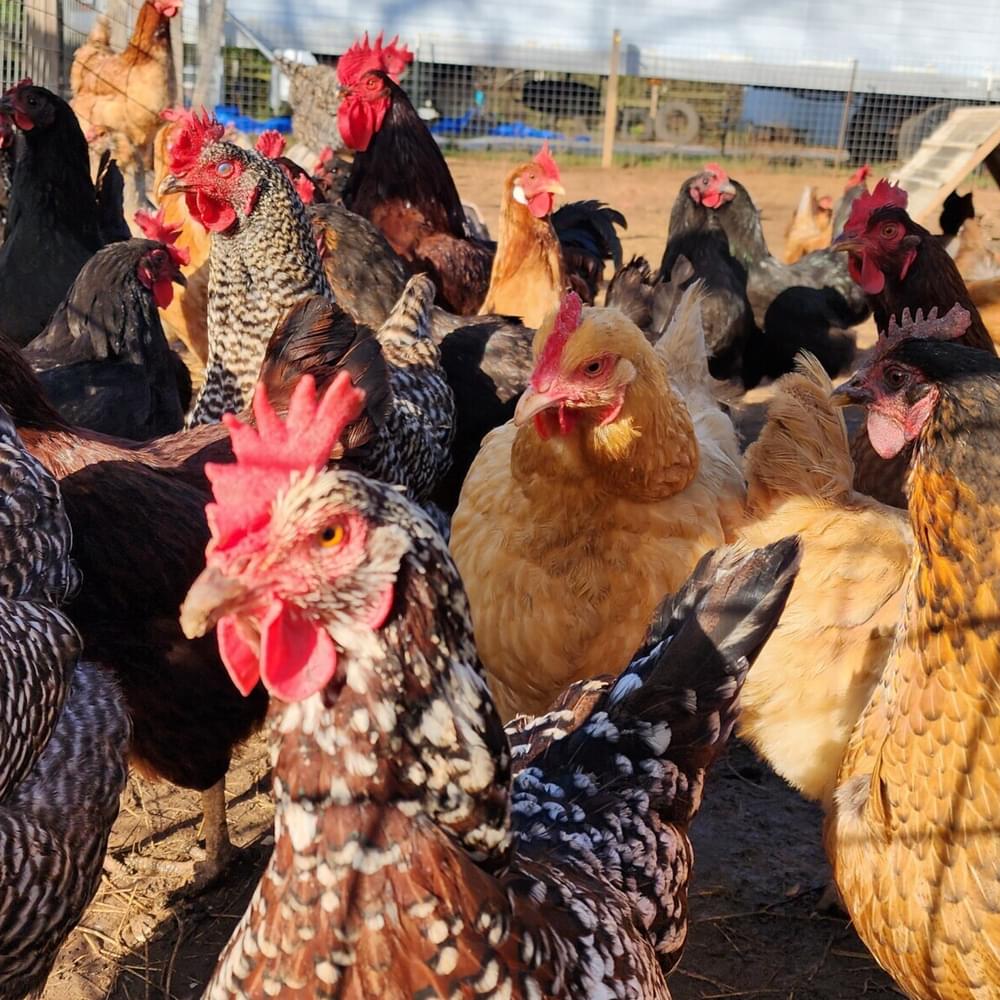 "Eggs hatch in 21 days, so if you have an avian flu outbreak in a barn with 1,000 chickens, 21 days from then, they can start over completely," she explained. "In six months at the most, those chicks are laying eggs. This has been going on well over six months, and there is no reason we are still experiencing an egg shortage."
Waltersam has noticed that farm fresh eggs in south Alabama have been increasing even at farmer's markets. She said other local farmers have called her angry because her prices are so low.
"I'm like, well, you go right ahead and do what everybody else is doing," Waltersam said. "I am not. I think that is just wrong. They are just doing it because they can. I'm not knocking anybody, it's whatever y'all want to do, but it's because they can. You look at the grocery store and see eggs are $6 a dozen, but they have farm fresh eggs, so they charge $8 a dozen because people who want farm-fresh eggs will pay it. I just think it's wrong."
While Waltersam doesn't make money off her yield, she does have to put time and money into caring for her flock. As a former feed store owner, she has a particularly unique insight into the business.
"I'm not bashing anybody for making money or feeding their farm," Waltersam added. "Feed has gone up, but I don't make any money here. This is not a money-making gig for me. I sell my extra eggs, whatever we don't eat, or whatever my kids don't take to feed their families. I sell my extra eggs out here. I am just blown away and pissed off by the prices, and I think it is a complete hoax."
The price for a dozen eggs at Lay-A-Way Farm is currently $4 a dozen. Waltersam said she plans to double her flock and continue to provide fresh eggs for her community.
"For most people who can't raise chickens in their backyard or can't grow a garden or who can't do things like this, they just have to accept it," she said. "They have to go to the grocery store or choose not to eat it. I mean, it sucks. Our food chain is broken. We need to learn how to go back to growing our own food and having our own food. That is the only way our world is going to get back on track … I'm not a conspiracy theorist or anything like that, but if you look at it, they're programming us to be OK with the gas prices, I mean, just accept it. That's what it is and that's what it's going to be. Next thing will be this, and the next thing will be that."
Farm Action is circulating a citizen petition to gain support for its call for the FTC to investigate the egg industry and specifically large egg producers.
To connect with the author of this story, or to comment, email erica.thomas@1819news.com.
Don't miss out! Subscribe to our newsletter and get our top stories every weekday morning.