June has left me tired. Maybe it's just because I work in the media, but it seems like every day this month we've woken to a new story about drag queen shows for kids, libraries promoting Pride Month in the children's section or something else controversial related to the LGBTQ movement.

Perhaps it's our collective awareness of LGBTQ events and controversies – no longer from "out there" places in the Northeast or California, but from right here in ruby-red Alabama – that's made this year different.

By now, most of us aren't surprised when we hear about Disney featuring their first non-binary (someone who doesn't identify with either gender) character in their latest children's film "Elemental." But when we see our library pushing LGBTQ books on children or our Target selling Pride baby onesies, there's a different level of awareness and concern.
1819 News has certainly been a reason, if not the reason, so many Alabamians now know that the LGBTQ movement has a hold on our state. We've covered the "family-friendly" drag shows, the library battles, and the parades and celebrations occurring in every major city. If you're reading 1819 News, you know that the things which were limited to the coasts 15 years ago have found a home in Sweet Home Alabama.
Most Alabamian Christians exhibit one of two reactions to the LGBTQ movement. The first is outrage. Over coffee, at church potlucks and in group messages, we bemoan our current state, encouraging each other's indignation. This is a favorite vice of those over 40.

The other reaction is indifference. We tell ourselves that we shouldn't be pushy with our religion, that we should just be quiet and let things work themselves out. This is the default for many under 40.

Whatever we're doing, it's not working. We're not winning back the culture by being angry at it. And, by all signs, things are not working themselves out. As the chart below shows, 1 in 5 members of Gen Z (ages 19 – 26) identify as LGBTQ. Compare that to the 11% of millennials (ages 27 – 42) and the 3% of Gen X (ages 43 – 58) who are LGBTQ, and it's obvious that the numbers are only increasing.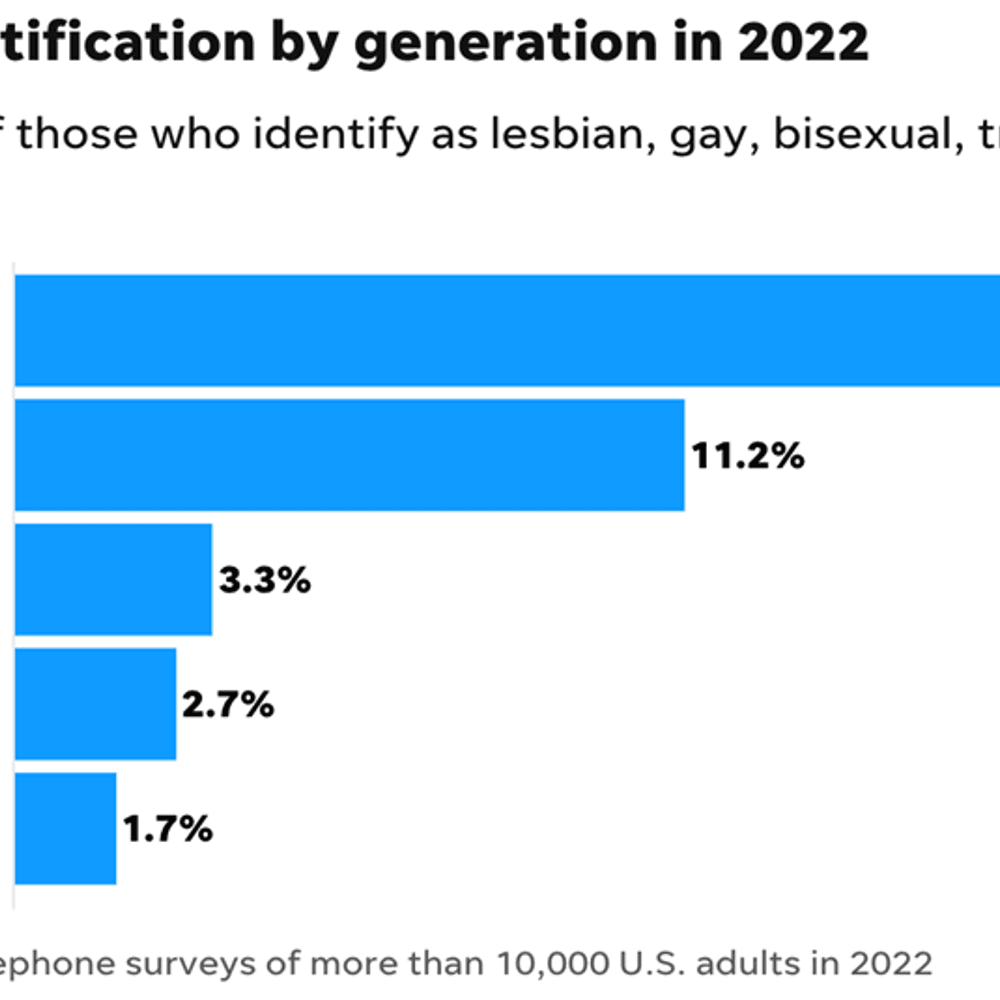 This reality leaves Christians with a decision to make. On one hand, we can continue to pound our fists at LGBTQ culture and the companies promoting it. We can continue to voice our frustration at the state of our nation on social media and at lunch after church. We can keep making gay jokes that make light of sin and ostracize those around us who are struggling with same-sex attraction.
Those of us tending toward ambivalence can continue to sit back and enjoy our Christian-ish spin on the American dream, not saying anything upsetting no matter how clear Scripture is on the topic. In short, we could maintain the status quo, with some Christians embracing anger and outrage while others ignore the Bible's clear teachings on sexual sin.

Or … we could be like Jesus.

I don't mean that in an abstract way. We don't have to guess how Jesus would treat sexual sin. Scripture shows exactly how he does it, and such clarity offers us no alternative.

In John 8, the Pharisees bring a woman caught in adultery to Jesus. They ask Him if she should be stoned as the law of Moses commanded. He responds with the line we all know: "Let him who is without sin among you be the first to throw a stone." After the accusers leave, Jesus asks her, "Woman, where are they? Has no one condemned you?" When the woman says there is no one there to condemn her, Jesus responds, "Neither do I condemn you; go, and from now on sin no more."

Jesus is modeling a response to sexual sin different from how most Christians respond today. His initial response is not anger. And if anyone had a right to be angry about sin, it is Jesus, the Son of God! Instead, He simply says He does not condemn her.

But Jesus doesn't ignore sin. He calls it as it is, telling her not to sin anymore.

This is the model we should follow, and it's extremely countercultural. It goes against our sinful inclinations toward self-righteousness, anger, and fear of man.

As Christ-followers, we shouldn't be afraid to call things like sexual sin what they are: sin. The prophet Isaiah reminded us not to be those who "call evil good and good evil" (Isaiah 5:20). But we must also be careful not to put ourselves in the place of God by becoming angry at people for their sin. When we do that, we determine that our wrath and our timing, not God's, takes priority.

Even so, we know that "the wages of sin is death" (Rom. 6:23). But when we condemn others and become outraged at those blinded by their sin, we forget half of the Gospel story. We forget that, just like those we are enraged by, we once were equally blind in our sin. We were also on a path headed toward an eternity without God in Hell.

If you are a Christian, your story is one of rebellion against God. The only difference between you and those who oppose Christ today is that God opened your eyes to your need for Him. Otherwise, you would also be living in defiance of God's rule and guidance.

This year's Pride Month reminded many of us just how present the LGBTQ movement is here in Alabama. More regularly, we will be forced to react to those who support what we know is against God's design. We must not be careless in our reactions. If we want to see a change in our culture (and even if we don't!), we must react more like Christ and less like ourselves.

All scriptures are cited from the English Standard Version.
Parker Snider is the operations manager at 1819 News.
Don't miss out! Subscribe to our newsletter and get our top stories every weekday morning.