Memorial Day brings with it a flood of thoughts and memories. Having grown up in a multi-generational Army family, my mind can get nostalgic, proud, sad and awestruck all at the same time.
It is an amazing thing to think that what we have, what we know and what we so often take for granted came at such a great price. Whether it was an expeditionary fight or a battle here on US soil, there have been generations of Americans who have given the full measure to ensure that the interests of others were protected above their own.
It is not enough that we as a people should say that we will always remember. We should be far more resolute and state emphatically that we will never forget.
My grandfather entered the service here in Alabama at the onset of World War II and served with distinction in the Glider Troops. He left home in 1942 and came home three years later. He continued to serve through Korea and Vietnam retiring after three decades as a general officer. He left many times, but he always came home.
Likewise, my father was a career Army officer who also entered the service here in Alabama. My earliest memory of him is like a black-and-white movie when I was three years old, and he arrived at the house earlier than expected from his first of two tours in Vietnam. He was highly decorated with multiple awards for valor in combat, but he always came home.
Coming home is distinctive. My own returns from Afghanistan and Iraq were relieving and joyous. They are memories that I will cherish for the rest of my life as I was reunited with my family. Detoxing from life in a combat zone can be trying, and for the longest time I found myself scanning rooftops while I drove around town and having the curious habit of carrying five things in my left hand but nothing in my right, as if I needed to keep that gun hand free. But I came home.
My son entered the service nearly a decade ago. I've had the honor to watch him become the next of four generations to choose voluntarily to put on a uniform. It was with great pride that I pinned on his Airborne Wings when he completed jump school and then again when I administered his oath to join the ranks of the commissioned Army. My son has already been away from home for training and deployments many times. But he has always come home.
We had a moment that I will always cherish on the day of his commissioning. My father, long since retired, put on his uniform and the three of us went to Nichols Hall at Auburn to visit the Hall of Generals where every general officer who graduated from Auburn University has their picture hung. The three of us stood next to my grandfather's picture so that four generations were, in essence, in one picture in uniform together. Four generations of coming home.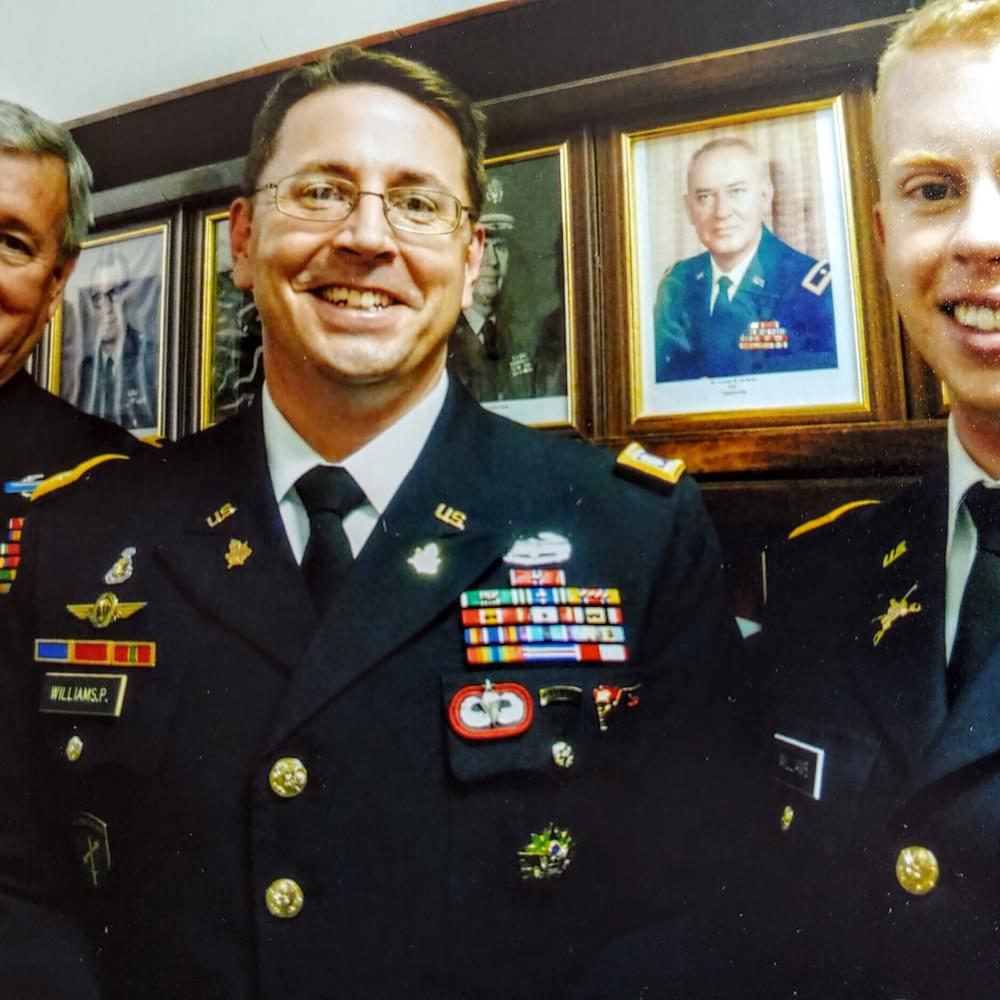 As grateful as I am for the Lord seeing fit to bring each of us home, I am more than mindful of those who did not return. I have attended funerals at Arlington and those closer to home of friends and colleagues who made that ultimate sacrifice, and I am determined to not only always remember but, even more so, that I should never forget.
I have another picture. It is not a photo of a joyous reunion like the first one I wrote of. But nonetheless, it is a picture that tells a story, and you can read the emotion in it. The picture was taken of my Battalion Commander at Patrol Base Volunteer in central Baghdad in 2004 as he paused and laid a unit coin at the base of the memorial for three of our fallen.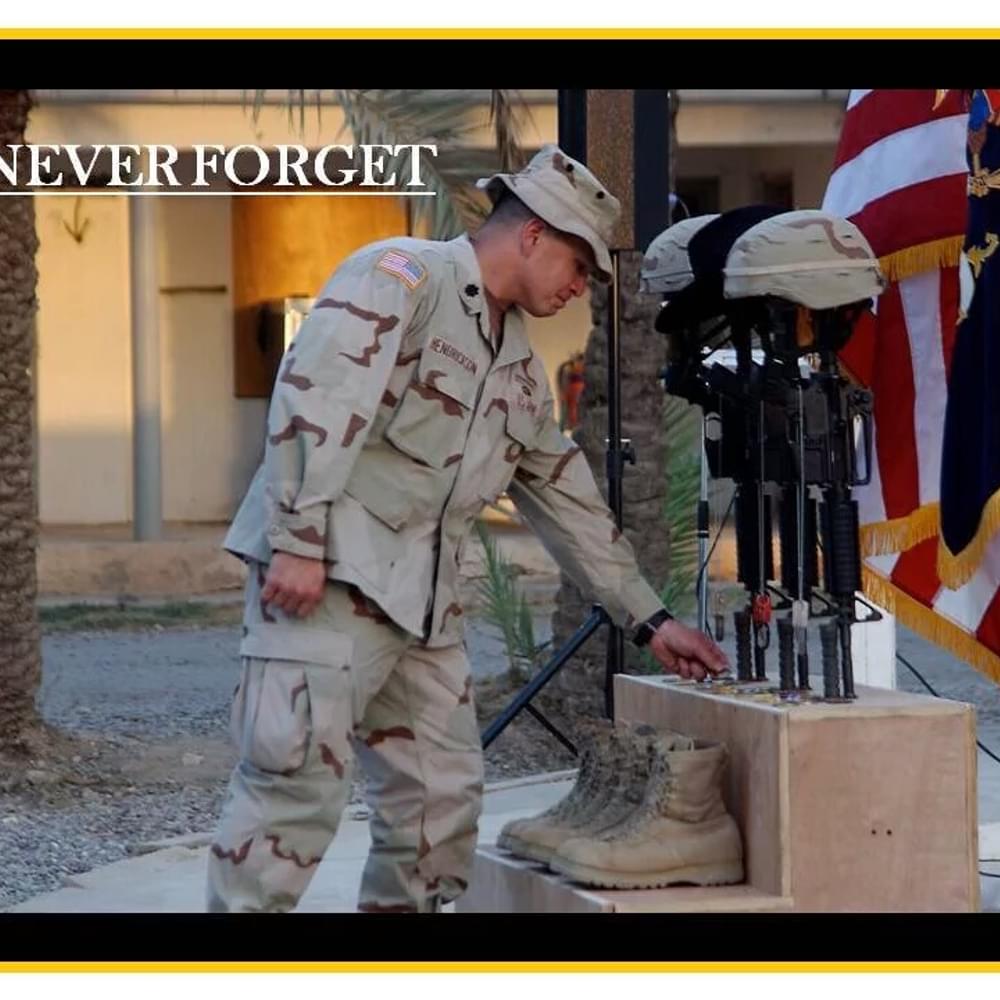 Just a day or so before I had spent some downtime getting to know one of those men who sacrificed it all. First Lieutenant McRae was younger then, in both age and rank, than my son is now. A proud young Cavalry Scout Platoon Leader, he had just married his sweetheart prior to deployment with D Co, 2-162nd Infantry. He had already earned his 1st Cavalry Division combat patch by that fateful day in late spring of 2004 when his patrol was hit by an improvised explosive device along Highway One in the capital of Iraq. When the lead vehicle was hit and disabled, it killed two young men instantly. Boyhood friends named Linden and Eyerley, who had signed up together, served together and died together. Immediately, 1LT McRae exited his own vehicle and rushed forward to his men and was hit with the second wave of a coordinated attack. He died trying to reach his men. McRae, Linden and Eyerley did not get to come home.
They were not the only ones we lost, but for reasons I cannot explain they are embedded in my memory. I am determined to never forget.
We have so much here at home for which to be thankful. At every turn in this country, we have more than we need and much of what we want. We have freedoms, we have rights, we have security, we have so, so much. The smallest and least equipped grocery store in the smallest town is better stocked than much of the shelves in bazaars and markets around the world. The darkest alley in most US cities is better than the main roads across much of world. By and large when we flip a switch the lights come on, and when we turn the tap clean water comes out. Generally speaking, we can say what we want, go where we want, worship how we want and associate with whomever we want.
This is not by chance. This is not because of politicians or pundits. The freedoms and prosperity that we know as a nation are made possible because of the lives of so many who never came home. We are free and are kept free because good people went to great lengths to go to hard places to do dangerous things.
We exist as a nation because of those that we must never forget. 
Phil Williams is a former State Senator, retired Army Colonel and combat veteran, and a practicing Attorney. He has served with the leadership of the Alabama Policy Institute and currently hosts Rightside Radio M-F 2-5 pm on WVNN. His column appears every Monday in 1819 News. To contact Phil or request him for a speaking engagement, go to www.rightsideradio.org. The views and opinions expressed here are those of the author and do not necessarily reflect the policy or position of 1819 News. To comment, please send an email with your name and contact information to Commentary@1819News.com.