The Prattville City Council has banned the reading of LGBTQ+ books during council meetings, as has been the practice of those opposed to the local library's inclusion of sexually explicit books for minors.
For over a month, more people have gotten involved in the fight to remove from the library certain books deemed inappropriate for children.
In April, 1819 News reported on several mothers expressing concern with LGBTQ+ children's books in the Autauga-Prattville Public Library, available for any child to grab at will.
The mothers took five initial books to the library board, but the board delivered minimal changes in classification to three of the books, a decision that was less-than satiating for those that opposed the books. The library director has since resigned, with a replacement set to take the position within a week.
What began as a small group of local mothers expressing concern over the inclusion of dozens of books in the children's section has found growing support from the community. A large number of people continue to approach the Prattville City Council and Autauga County Commission to gain support in removing the books.
SEE ALSO: Voices growing as Prattville residents speak to city council for library's acceptance of LGBTQ children's books
During a city council meeting last month, those opposed to the books' inclusion began reading excerpts out loud to detail the content.
On Tuesday night, however, those who arrived to oppose the books were met with a new policy from the council.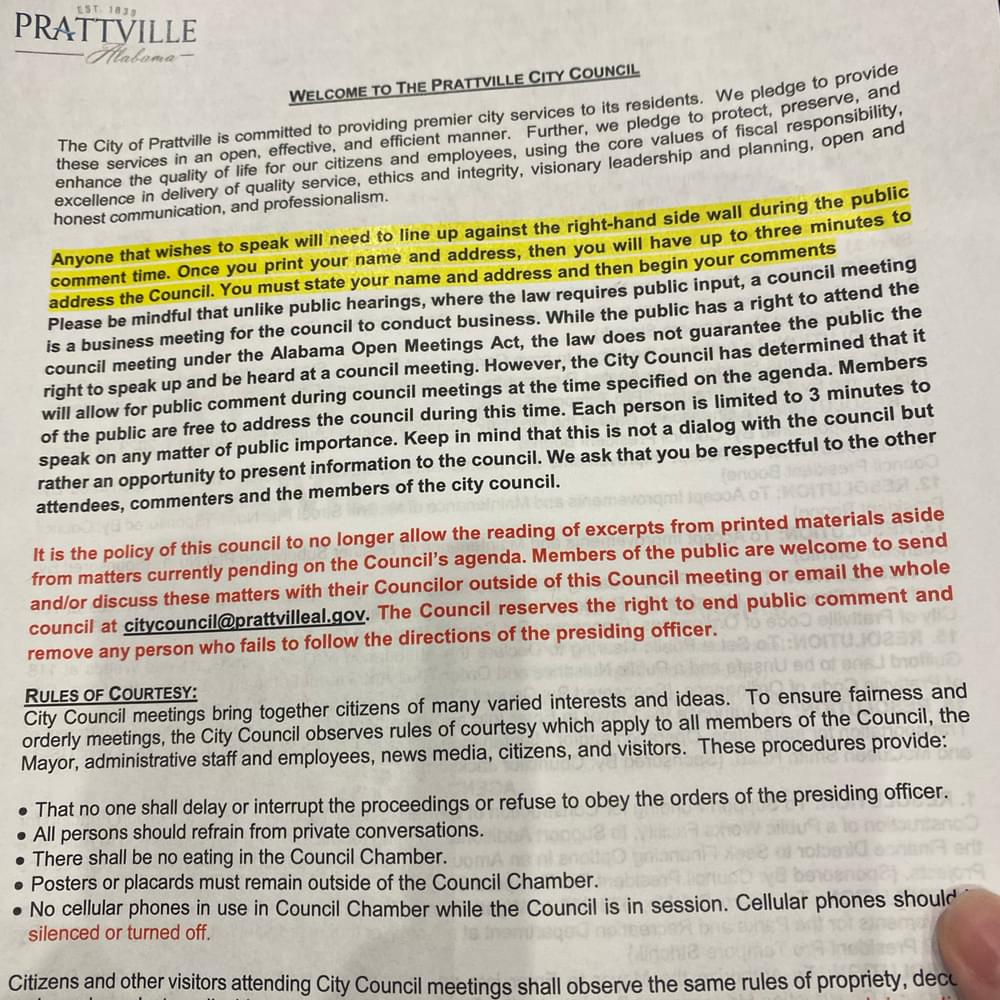 "It is the policy of this council to no longer allow the reading of excerpts from printed materials aside from matters currently pending on the Council's agenda," a printout from the council read. "Members of the public are welcome to send and/or discuss these matters with their Councilor outside of this Council meeting or email the whole council." "…The Council reserves the right to end public comment and remove any person who fails to follow the directions of the presiding officer."
Prattville Mayor Bill Gillespie spoke, decrying the reading two weeks prior, calling it "embarrassing." He asked the council to allow other department heads that share the building be permitted to leave so as not to be subjected to the books' contents.
"At the last council meeting, there was a reading done that, to me, was very embarrassing," Gillespie said. As I said to some, I'm 65 years old. I have not been a worldly traveler. But some of that reading, I was very red-faced embarrassed. Because, to me, in my opinion, at the last council meeting, there was a portion of a book read that crossed several lines of decent public comments. And to me, decent public comments are conforming with general accepted standards of respectable or moral behavior. Those comments crossed that line, in my opinion. This creates a very difficult work environment."
Lora Lee Boone, the council president, assured the mayor that department heads needed to be dismissed because police were present to assist in removing people who violated the new rule.
The public comments went forward as usual but with no readings from the books. This time, only one person, Angie Hayden, spoke in favor of the books, as she has for several meetings. Seven individuals spoke in opposition to the books' inclusion, including former Prattville City Councilman Tony Moore.
"I served on this council for eight years, and I know what you can do," Moore said. "You're giving us the silent treatment, OK? I can't believe I'm even [here]. This is the first time since I left this seat in District 1 I've had to come down here. But I'm doing this for my children and my grandchildren. We shouldn't have to ask you to cut the funding from the library. And please don't say you can't do it because we did it in other groups."
He continued, "I feel like you're just shunning us. And why are we even having this conversation? Morally speaking, I would think, and I feel like you're all good people, you can't even stand to hear it in this chamber yourself as adults. And I agree with what the mayor said. I don't like it either. But you're OK, it appears, to let our children read it."
To connect with the author of this story or to comment, email craig.monger@1819news.com.
Don't miss out! Subscribe to our newsletter and get our top stories every weekday morning.