A Prattville High School student allegedly began performing a sexual act on himself in the middle of English class and was allowed to continue for nearly 10 minutes before staff intervened.
One student who witnessed the event spoke to 1819 News with their parent; both requested anonymity. According to the witness, the male student was observed by several classmates with "his hands down his pants" while watching unknown content on his Google Chromebook.
"Two of the girls sitting next to him noticed what was going on; he was pleasing himself," the student told 1819 News. "He had his Chromebook over his area, but we don't know what he was watching on the Chromebook."
After reportedly being allowed to continue for five to 10 minutes while the teacher texted for assistance, the assistant principal removed the student from the classroom. This was when the teacher allegedly left the classroom while school administrators observed the classroom.
School leadership reportedly did not remove any students from the classroom while the male student concluded the act.
Several parents who had children in the classroom spoke to 1819 News about the incident, and more posted on social media.
None of the parents who spoke to 1819 News were notified about the incident by the school and learned about the incident from their children or second-hand. None have received information on the student's punishment.
Social media is abuzz with rumors suggesting only a 10-day suspension, while others say they have heard he will not be allowed in that class again.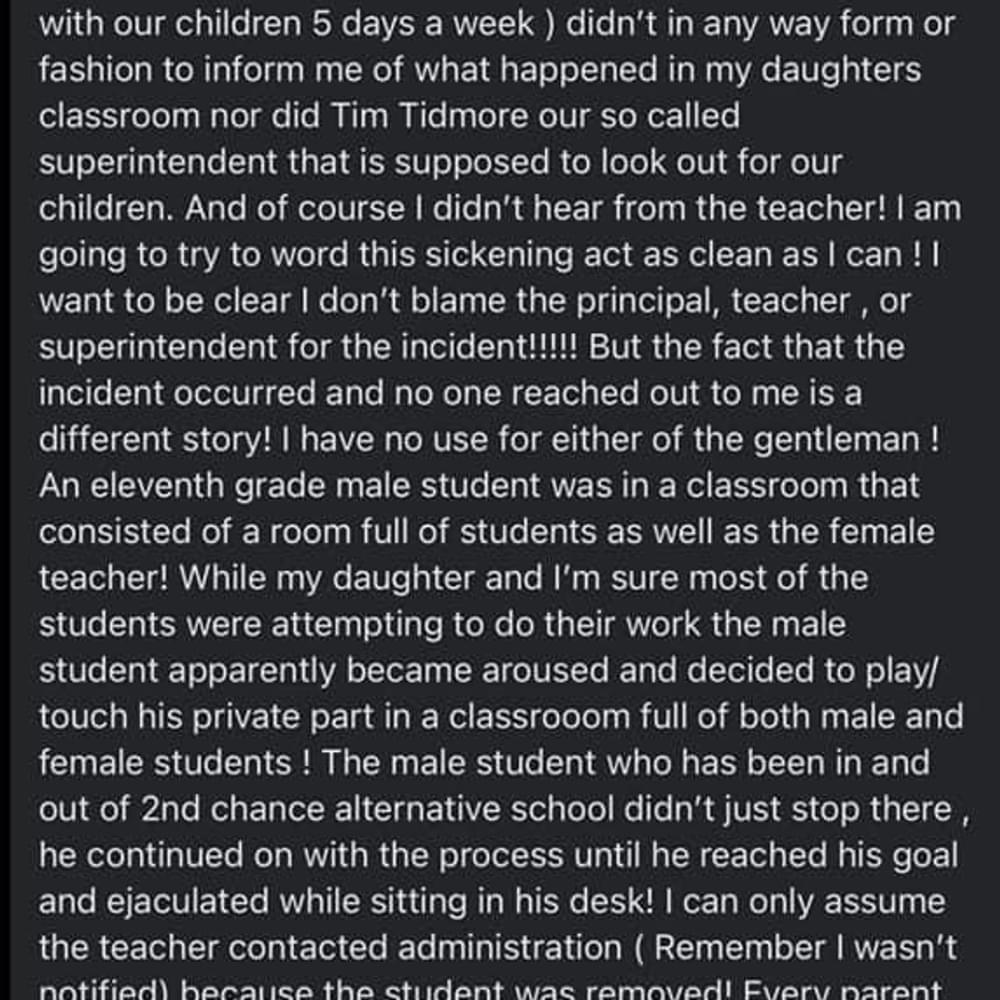 1819 News reached out to Autauga County Superintendent Tim Tidmore, who said he could not comment on discipline issues, so the student's punishment remains a mystery.
Regardless of the outcome, parents are disgusted that their children had to witness the event and even more disgusted that they were not informed about the event by school staff.
"I am just wondering what else can this guy get away with?" one parent told 1819 News. "Can it turn to where this guy is creeping on girls or pushing girls into the bathroom?"
Parents also suggested that school leadership had previously placed the male student in the Prattville Second Change Alternative School.
To connect with the author of this story, or to comment, email [email protected].
Don't miss out! Subscribe to our newsletter and get our top stories every weekday morning