Several concerned citizens are pushing back against progressive moves being made in the city of Fairhope. The group is planning an event to overshadow a pride festival planned for this weekend.
For the third year, there will be gay pride events in Fairhope to celebrate LGBTQ Pride Month. Prism United Fairhope, a non-profit organization that advocates for LGBTQ youth, is hosting Color Fairhope with Pride on Saturday and Sunday, which will end with a drag show brunch on Sunday.
The brunch is a ticket-only private event at Bay Breeze Café. The two-day festival will be at South Beach Park.
Brian Dasinger helped start "Keep Fairhope Family Friendly" on Facebook because he said he cares about his community and family values.
"I don't want it taken over by ungodly, immoral people," Dasinger said. "It's a gateway. You can see it happening all over the nation. It's happening in the bigger, liberal cities. Just look at San Francisco."
On the Facebook group, one concern was about a pride event banner that was placed over a United States Flag. The city has since removed the United States flag.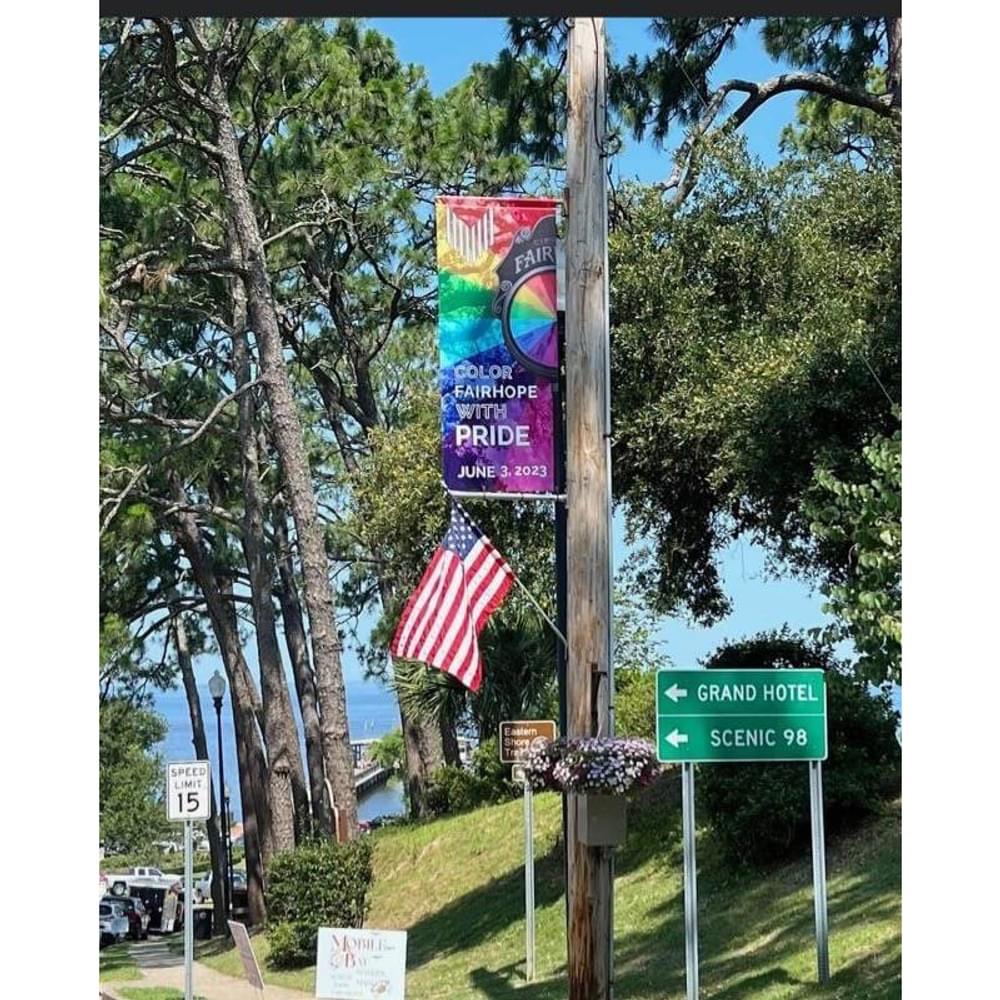 Fairhope Mayor Sherry Sullivan said the United States flags are always placed in nine locations for Memorial Day, Veterans Day and the Fourth of July. She said the flag's removal had nothing to do with the pride event. However, she did take measures to ensure another banner is never placed over the United States flag again.
"The flag always has to be in a position of distinction; I mean, I know flag etiquette," Sullivan said. "But we have employees who turn over all the time who put these flags out, and there are flag brackets all over town. I did remove that bracket from the pole so that never happens again, whether it's a farm market banner, a pride banner, whatever it is."
There are only nine locations for pole banners, and Sullivan said any non-profit can advertise events at three of those locations at any time. The City of Fairhope places the banners in the locations of the non-profit's choice.
The pride event at the public park has been a point of contention for some community members who previously spoke to the Fairhope City Council about their concerns over children being exposed to sexually-charged material and drag queens that will be at the event.
Dasinger said he is concerned that allowing these types of events will lead the city down the path to failure.
"I saw on a flyer they said they are bringing San Francisco to Fairhope. So, are they going to bring all their drug addicts and homeless, as well?" Dasinger asked. "San Francisco used to be a really beautiful city as well, and this is where it starts. So, if we don't take our value system here in Fairhope seriously now, then it could easily turn into any of these liberal cities that are overrun by crime and immoral behavior."
Lauren Carroll said as a Christian, she loves everyone and wants the citizens of Fairhope to be more accepting. She said it is important for her to support the LGBTQ community because "God is love."
"I think they should feel welcome and included and not judged," Carroll said. "God wants us all to feel love and not judged, and I just think we need to do as Jesus did and love."
Regarding concerns about children being exposed to inappropriate images or actions during a drag show, Carroll said it is up to the parents to tell the children what is happening.
"If parents are bothered by it, they can take their children away," she added.
Dasinger said Christians should love others, but they do not have to support their behavior.
"I am calling for a boycott of all those businesses, much like the Bud Light boycott," Dasinger added. "This is not representative of the majority of the residents of Fairhope. I and many other people want to protect the true values that Fairhopians hold."
Dasinger's group is hosting a prayer rally during the pride event Saturday. The rally at George Bluff Park, which overlooks South Beach Park, will begin at 1 p.m. and go until 3 p.m.
Citizens on both sides of the argument agree that the U.S. Constitution protects some activities in public as long as the public and children are protected.
To connect with the author of this story, or to comment, email erica.thomas@1819news.com.
Don't miss out! Subscribe to our newsletter and get our top stories every weekday morning.