"Gas and food costs are hurting me the most. I literally have to budget every penny."
Karen Everett, of Leeds, described her financial struggle, even after earning a raise this spring at her full-time job.
"Wouldn't know it," Everett said. "[I'm] in worse shape than before my raise."
Everett is feeling the impact many are experiencing from rising inflation.
Inflation is now at its highest level in more than 40 years, with prices increasing by 9.1% in June, according to the U.S. Bureau of Labor Statistics (BLS). In the South region, that measurement is even higher at 9.8%.
"If this inflation does continue, especially with these rates being the highest we've seen in 40 years, then if your wages aren't rising to meet that inflation and offset those increases …. ultimately each and every one of us will be a little poorer," said John Dove, a Professor of Economics at Troy University.
While prices are up across the board, the price of energy is seeing the greatest increase. This is resulting in higher prices at the gas pump, higher monthly power bills and higher natural gas bills for many Alabama families.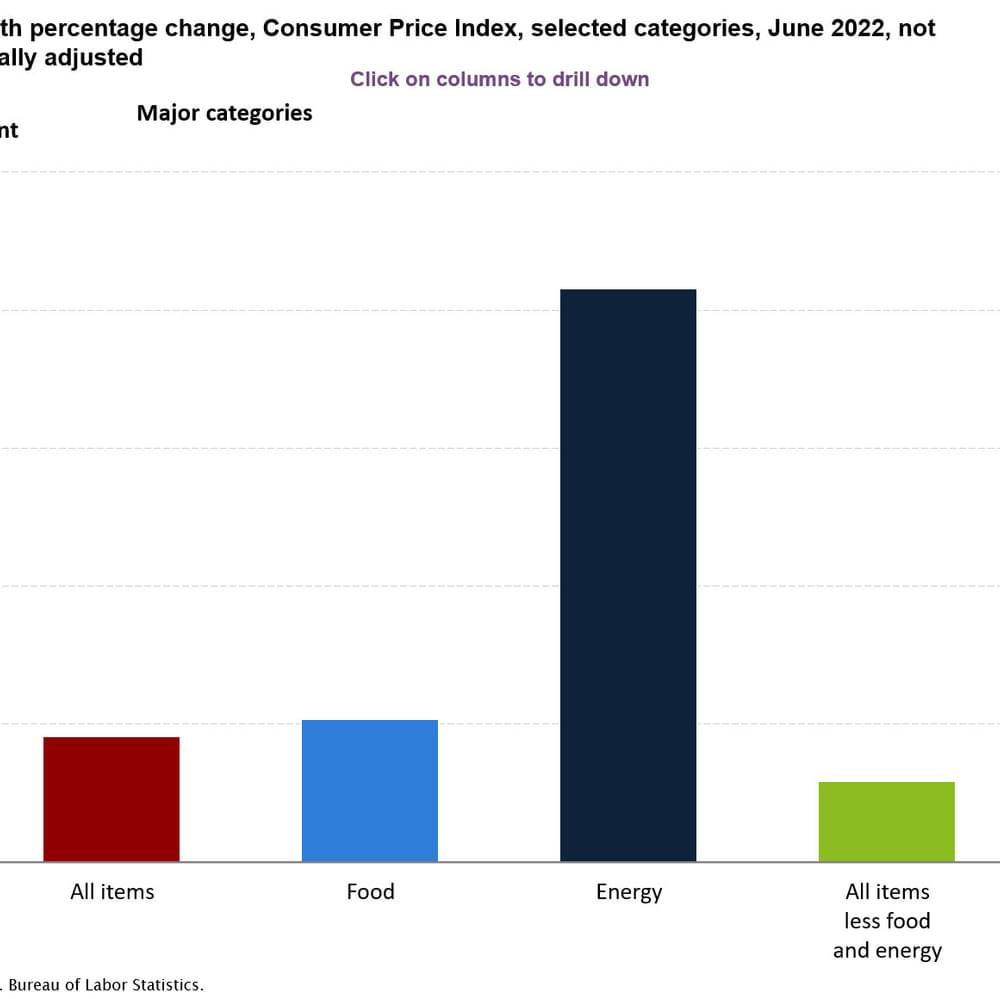 The price of energy is up 41.6% over the past year. Data from the BLS shows the price of gas increased by 59.9%, the largest 12-month increase since 1980. The price of electricity is up by 13.7%, the largest 12-month increase since 2006. Consumers are also paying more for natural gas, with an annual 38.4% increase, which is natural gas's highest jump since 2005.
"Currently it's a supply issue, plus the uncertainty caused by war in Ukraine, lack of Russian oil in the markets, high demand for oil, all are primary factors for rising energy costs," said Ahmad Ijaz, Director of Economic Forecasting in UA's Center for Business and Economic Research.
Paul Cleveland, a Professor of Economics at Birmingham Southern College, also attributes higher energy costs to federal environmental policies.
"When you impose regulations on energy businesses, that increases their cost of doing business," Cleveland said.
Utility Bills
In addition to paying more to fill up your car, Dove said Alabamians can expect to continue to see utility bills rise.
"What we're seeing here in Alabama more and more, a number of utility companies have come out and said that because of their rising input costs, they're going to have to pass at least some of those costs onto consumers," Dove said.
Alabama Power's 1.5 million customers will see their bills go up in August by about 5%.
"The rising cost of fuel has necessitated an adjustment to our rate," said Alyson Tucker with Alabama Power. "Beginning in August, the typical residential customer bill will increase by about $6 a month to cover this higher cost of fuel. Using diverse fuel types and sources has helped dampen the adjustment—which is lower than the current rate of inflation. We do not make any money from fuel expenses."
More than 500,000 Alabamians who get their natural gas from Spire have already seen inflation's impact on their monthly bills. Rates have increased three times since December 2021.
In addition to a 1% base rate increase in January, Spire's customers saw a 4% increase in December 2021, and again in April to cover the increase Spire must pay for natural gas.
"What Spire Alabama pays for gas is what a customer pays with no markup," Spire's Jason Merrill told 1819 News. "We do not profit from these costs, and they have increased all over the world."
Wastewater Bills
Alabamians could also see increased bills from wastewater companies. Several of them filed with the Alabama Public Service Commission, but those have not been reviewed yet.
Alabama's Public Service Commission is responsible for overseeing some of the state's utility companies and monitoring their prices.
The Commission has declined to answer specific questions from 1819 News for this story, including questions about rate increases and their approval process or the monitoring of utility companies' prices and profits.
After a week of emails and phone calls to multiple departments, the Public Service Commission continued to decline to answer specific questions and repeatedly referred us back to this statement from PSC President Twinkle Cavanaugh about the impact of inflation on utility prices.
"The Biden economy has made everything more expensive, including the fuel used to produce energy," Cavanaugh's statement read. "The cost of natural gas has more than tripled under Joe Biden after being as low as $2 per MMbtu under President Trump. The recent fuel adjustment at the PSC meeting reflects this increase in fuel cost. Fuel is a pass-through expense that rises and falls according to the market cost. Alabama Power is not allowed profit from the cost of fuel. Alabama Power's rate of return did not change. The Biden economy has made the cost of doing business more expensive for virtually every company in the country."
Why are energy prices up and what is next?
The energy demand decreased during lockdowns caused by COVID-19, "and as a result, what we saw and experienced not only in the U.S. but worldwide was oil producers significantly decrease their oil production," Dove said.
Now, the oil demand has gone back up.
"That's production that you can't just turn the spigots on," Dove said. "They can't just be turned on and start producing tremendous amounts of oil that can be refined into gasoline. It takes time, so that's something that's been an issue on the supply side, just returning to those pre-pandemic levels of supply."
Ijaz said this helps explain why energy makes up a large portion of the inflation America's experiencing.
"One reason is food and oil supply cannot be increased in a short time period. Therefore, both food and energy prices fluctuate the most when demand goes up," Ijaz said.
Dove also credited turmoil with Russia and federal policy changes to the increasing cost of energy.
"The exchanges in policy priorities we've seen coming out of the Biden administration, obviously there's not any new refining capacity that's being permitted," Dove said. "Refineries in the U.S. right now are pretty much producing at their peak and so if we can't increase the refining capacity any further, that's going to have an effect on the supply and the price."
Economists say consumers should be ready to continue to pay high prices.
While the Federal Reserve raised interest rates in an effort to combat inflation, inflation rates continue to be high.
"Inflation is still as high as it is, so what this suggests is the Federal Reserve is acting very conservatively and not raising interest rates to the extent that's needed to bring inflation down," Dove said. "Part of the rationale behind that, or the arguments made, is if the Federal Reserve were to act too hastily or increase rates too quickly or too much, then that obviously has the potential to cause a pretty significant, severe recession."
"Prices of some commodities have already started to fall due to declining demand," Ijaz added. "Inflation will most likely stay high for the remainder of the year but hopefully will start abating in the first half of 2023 as the economy begins to slow down. But in order for that to happen labor markets will have to soften and we may have to accept relatively higher unemployment rates."
To connect with the author of this story, or to comment, email news@1819news.com.
Don't miss out! Subscribe to our newsletter and get our top stories every weekday morning.