GULE SHORES — Each year, more and more people flock to Gulf Shores for the week of Independence Day. More people means more fun but also more safety incidents.
Rip currents and water safety
Over the past few weeks, first responders along the Gulf of Mexico have responded to multiple water rescues. In some cases, the person in distress did not survive. There have been at least 10 drownings across Florida's panhandle and Alabama's coast.
Grant Brown, the public information officer for the city of Gulf Shores, said there are things people need to be aware of when they visit the Gulf of Mexico.
"When people get to the beach, if they're not used to open waters, they probably don't take the correct precautions to make sure them and their families stay safe," Brown told 1819 News.
Rip currents can be identified by a channel of churning, choppy water or a narrow gap of darker, calmer water between waves.
"A rip current, basically, is water likes to go downhill," said Daniel Noah, Warning Coordination Meteorologist with the National Weather Service office in Ruskin, FL. "When breaking waves hit the shore, they get pushed up the beach. It's trying to find the easiest way to get back into the water. And it finds these rip current channels and it can rapidly move back into the Gulf or the ocean."
"The movement of water has a lot of force," he added. "It's dangerous for kids, it's dangerous for adults, it's dangerous for vehicles."
Brown said when people get caught in a rip current, they should not fight it.
"I think people freak out," he said. "They get panicky because they very quickly can sweep people out. Whether you're a good swimmer or not a good swimmer, it's very hard to get out of that current. So, you just have to ride it out then you can swim around and come back in."
Brown said children should wear a life jacket if there is a high risk of rip currents. Adults should also bring a float in the water if caught in a current. The size of a person or their experience in water does not protect them from the danger.
"No matter where you're from or if you have been around lake water, your whole life, it doesn't matter," Brown added.
Gulf Shores has the Beach Safe Campaign to inform beachgoers of the rip current potential. The flag warning system is a big part of the campaign. A red flag represents high surf and/or strong currents. Double red flags mean the water is closed to the public, and entering the Gulf of Mexico is illegal.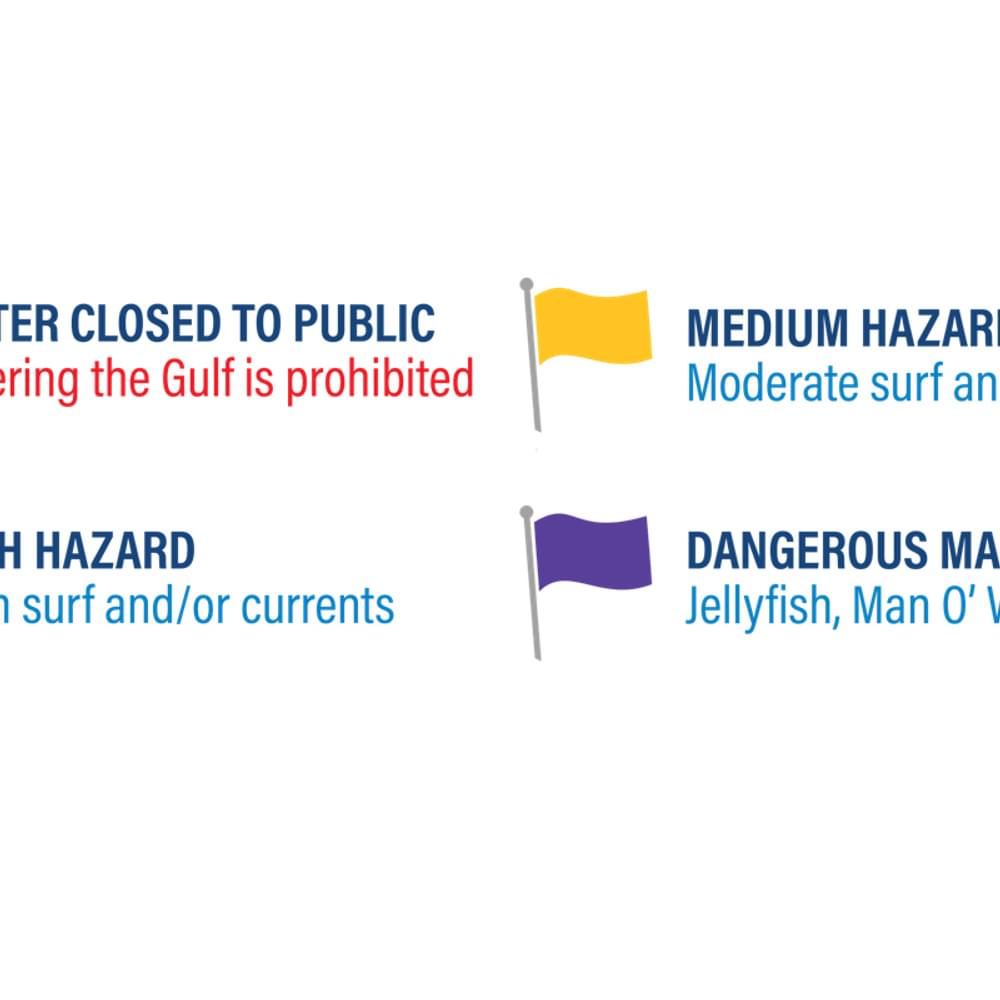 A double-red flag also means anyone in the water can be arrested and face a $500 fine and six months in jail.
Brown said this protects beachgoers and others who may try to jump in the water to save them. If you see someone caught in a rip current, notify a lifeguard and call 911. Do not enter the water but throw a flotation device and keep an eye on the victim.
Gulf Shores has also hired additional lifeguards this year. However, the lifeguards are not on the beach 24/7.
"A lot of the swimmer distress calls that I've seen are coming in the evening," said Brown. "So, our lifeguards come off the beach and around 6 or 7 at night our beaches are not guarded. People go out there in the evenings and go bouncing around in the waves and they get into trouble."
During holidays, the ALEA helicopter is launched to patrol and for emergencies.
"They will patrol the coast," said Brown. "They try to tell people to get further back in when they need to or clear the water if there are double red flags."
Sharks
Although rip currents are more likely to kill people than sharks, officials still want to warn beachgoers of the danger.
Sharks most often spotted in the Gulf of Mexico are the Atlantic sharpnose, the spinner shark, the blacktip shark, the bull shark and the tiger shark.
A video of a school of hammerhead sharks in the Gulf went viral earlier this year.
Also, a pregnant hammerhead shark washed up in Orange Beach.
"Sharks live in the Gulf of Mexico and everybody knows they live out there," Brown said to 1819 News. "The likelihood of there being a shark and human interaction is very, very, very rare. But they're out there."
Brown said it is important to watch for sharks and to use extra caution during feeding times. Those times are typically early in the morning or late in the evening. He also said to avoid swimming near smaller "bait" fish.
Also, if you wear jewelry, sharks may see the reflection and be attracted to you. Brown said shark bites are usually accidental.
"If a shark bites a person, it doesn't want the person," he said. "It's going to let go right away. 99% of the time, it has bitten you by mistake. It's not looking for us but you've got to be careful. That's their home out there. Just be smart when you're out there, keep your head up and try to watch. If you see a shark, come back out of the water for a while."
The flag warning system also warns beachgoers about the potential for dangerous marine life, such as sharks and jellyfish.
BEAR
A video of a bear in the Gulf shocked people earlier this year.
Although there aren't a lot of bear sightings in Gulf Shores, Brown said they have been in the area in the past. That's why Gulf Shores has the Bear Creek Community and Mobile's minor league baseball team was called the Mobile BayBears.
"Bears have been known to swim across Mobile Bay and have been in the state park area," said Brown. "We haven't heard of many bear sightings in Gulf Shores in the past several years but yeah, they're along the coast in some places."
Outdoor Alabama offers the following tips to help avoid black bear/human conflicts:
Place trash outside on pick-up days, and don't leave it out overnight

Remove deer and bird feeders at the first sighting of bear activity.

Feed pets inside; if pets are fed outside, only feed the amount that your pet will consume in a short time.

Store grills and smokers inside when not in use to avoid damage to your cooking equipment.
If you do encounter a bear at close range:
Do not run from the bear but back away slowly.

Stand tall and upright.

Avoid direct eye contact.

Make sure the bear has a free direction to escape.

Never purposely feed a bear.
Alligators are also a threat in South Alabama. A video of a gator in Dauphin Island had people talking more about respecting wildlife.
FIREWORKS SHOW
The city of Gulf Shores hopes everyone stays safe and enjoys the 4th of July holiday.
The city will host a fireworks show at 9 p.m. on July 4. The fireworks will be shot from the Gulf State Park Fishing and Education Pier.
The timeline of public access to the Gulf State Park Pier is as follows:
Tuesday, July 4
7 a.m. – The Gulf State Park Pier will close to the public for firework setup.

12 p.m. – The pier will reopen to the public 100 feet north of the firework launch site.

8:30 p.m. – The Fire Marshal will close the pier and on-site restaurant.

9 p.m. – The fireworks show begins.
Wednesday, July 5
6 a.m. – Pier reopens to the public.
To connect with the author of this story or to comment, email erica.thomas@1819news.com.
Don't miss out! Subscribe to our newsletter and get our top stories every weekday morning.