In 2013, the relationship between the Alabama Republican Party and the Alabama Education Association (AEA), the union representing Alabama's teachers, was so adversarial that the Party added a "standing rule" to its bylaws discouraging – if not prohibiting - members from accepting donations from the Alabama Education Association, an affiliate of the National Education Association.
The language of the rule reads "The Alabama Republican Party shall not accept money, in-kind contributions, or anything of value, directly or indirectly, from (i) the National Education Association (NEA) or (iii) any of the NEA's state affiliates or their related organizations. Officeholders and candidates are strongly admonished to follow the same rule and, because the NEA is a veritable adjunct of the Democratic Party, failure to heed this admonition shall be regarded negatively by the Committee."
However, despite this provision still being included in the state party bylaws, the AEA, through its' political action committee Alabama Voice of Teachers for Education (also known as AVOTE and A-VOTE), has increased its annual contributions to Republicans from four in 2013 to 68 total contributions made in 2021 through Feb. 2, 2022, according to data from the Alabama Electronic Fair Campaign Practices Act (FCPA) Reporting System.
Last year, according to FCPA records, AVOTE gave $440,000 to 40 Republicans (out of 104) in the state legislature. That's not as high as in 2018 when the organization contributed $918,087.98 to 64 members, but a far cry from 2013, the year after the ALGOP Standing Rule, when AVOTE made four contributions to three Republicans totaling $230,000, with Garreth Morris of Enterprise receiving $150,000.
In the first month of 2022, FCPA reports 11 Republicans have received $115,000 from AVOTE, an average of $10,454.55 per legislator.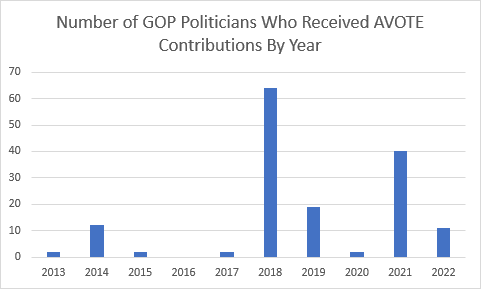 Current Republican legislators see the AEA as not carrying the same political reputation as in the pre-2010 years.
State Rep. Will Dismukes (R-Prattville), says the AEA is much more in line with GOP positions than when the rule was added to the party platform nine years ago.
"When you look at the stances they have taken, I line right up with them on almost every issue," Dismukes said. "They have taken positions that are in support of education in Alabama. That is neither a Republican nor a Democrat agenda."
Bill Armistead was Chairman of the Alabama Republican Party when the rule was created.
"It is unfortunate that many of our Republican legislators are taking funding and orders from AEA despite the rule by the Alabama Republican Party discouraging this," Armistead said. "It seems that the school choice bill will be the latest casualty in a long line of the AEA's undue influence over our legislature and our state."
Current Alabama GOP Chairman John Wahl said the key for Republicans in the state is knowing the values of the organization contributing to their campaign.
"We always encourage our Republican members to follow our platform, our bylaws, and our standing rules whenever possible," said Wahl. "Bottom line for Republicans when it comes to education (is), does an organization represent and share our values of limited government, opposition to common core and family values?"
See also Parker Snider: Some ideas are too conservative for many Alabama legislators.
State Sen. Jim McClendon (R-Springville), who has served in the Alabama Legislature (both House and Senate) since 2002, was asked how the relationship between Republicans and the AEA changed to an apparently much more collaborative relationship.
"I don't know what happened," McClendon said. "That is a good question. Back in (former AEA executive secretary Paul) Hubbert's day, they had all the power. Now they don't."
The conflict between the Republican Party in the state and the AEA can be traced to Hubbert and the period when the Democrats ruled the State House. Hubbert, who was also co-chair of the state Democratic Party, was so powerful in Montgomery that he was often referred to as "Governor Hubbert." He spent four decades at the helm of the AEA and helped transform the association of teachers into arguably the most powerful political force in the state, forming one of the first political action committees in Alabama.
At the height of his power, it was reported that state lawmakers would look into the gallery where Hubbert sat, seeking direction on how to vote. In the Legislature's budget committee meetings, he usually occupied a front-row seat and was frequently the first to speak on any proposals made.
But by 2010, Hubbert admitted that most of the teachers that the AEA represented in Alabama were Republicans, and the Democrat Party lost control of state government.
Hubbert died in 2014.
"An interesting comparison would be to the trial lawyers," McClendon said. "The trial lawyers were all Democrats and then they weren't. They gave up the fight.
"AEA did keep up the fight. But over time the animosity went away."
Scott Beason served in the Alabama Senate when the ALGOP standing rule was adopted. He is wary of the new closeness between the Alabama GOP and the AEA and offered insights into the AEA's influence.
"One of the reasons entities like this have influence is because regular people don't support campaigns," said Beason.
When asked whether it is a positive development in the relationship, Beason was skeptical.
"We have to ask ourselves, what is our philosophy towards education?" Beason said. "Are we for parental choice? Do their values align with ours? And if their values are diametrically opposed, we should ask 'then why are you supporting our candidate or do our candidates not support our agenda?'"
One GOP member, who asked not to be identified, was even more explicit.
Even some Republicans who did not accept money from the AEA think the organization is more compatible with GOP goals than they were a decade ago.
"Yes, Republicans are chummier with them now," said State Rep. Andrew Sorrell (R–District 3), who has not accepted AEA contributions. "But they are not the same AEA that they were 10 years ago. Not nearly as liberal.
"They realized they had to (change) or they would be irrelevant in Montgomery."
Former foes of the AEA, such as Ann Eubank, who is Chairwoman of the Alabama Legislative Watchdogs, have softened their stance towards AEA donations.
"We've had this discussion many, many years ago," Eubank said "That is an old part of the platform from when the AEA was run by Paul Hubbert. Eighty percent of Alabama teachers, maybe more, are Republican, so why shouldn't the AEA donate to the GOP as well as the Democrats?
"My attitude is that rule needs to be taken off because that rule is outdated. AEA does not have the influence it had at that time. If the AEA wants to give to both parties, that's fine with me."
Eagle Forum of Alabama describes itself as a lobbying arm of Eagle Forum and "works to protect Alabama's families in education and public policy initiatives." In a text message response, the organization said they would not be the best to comment on the issue since they had not seen any data or "been keeping up with campaign contributions."
Charlotte Meadows is a Republican representing the 74th District in the Alabama State House. She says the issue of accepting campaign contributions from the AEA is not a priority in the House, even with leadership.
"The leadership in the House does not tell people not to take money from the AEA," Meadows said. "It's not really that surprising, I don't think, that people do that. It would surprise me if our speaker and our leader haven't taken money from the teacher's union. "
Rep. Tim Wadsworth (District 14) said it's just a matter of working for the schools in his district.
"Well, I come from Winston Co. where we don't even have private school options," said Wadsworth, who records indicate has received $91,884.41 from AVOTE over seven years. "I can't speak for everyone else; I just know I'm going to do whatever I need to do for our public-school institutions."
Sen. Chris Elliot, who at $85,000 ranks behind Wadsworth in total money received among current legislators, says it reflects the support he has among his constituents.
"I'm proud of the support I've received from educators in Baldwin County, just as I am of the support I receive from home builders and dentists and farmers all of which comes from hard-working individuals in my district," Elliot said. "There aren't many Democrats in Baldwin County and that includes our teachers.
"Educators don't agree with everything I do or everything I support, like school choice, but I guess they're taking a page out of Ronald Reagan's playbook when he said, 'The person who agrees with you 80% of the time is a friend and an ally."
The issue has come to a head with the introduction of yet another school choice bill, this one introduced by Sen. Del Marsh in the Alabama Senate with a companion bill introduced by Meadows in the House.
Polls indicated that school choice is a popular issue among Alabamians, with one poll saying over 75% of the people of Alabama favor some type of school choice. That doesn't seem to matter to many of the individual legislators in Montgomery, however.
"It's parents' choice, not school choice," McClendon said of Marsh's original bill. "It is important to remember that.
"Del's parental choice bill is about as Republican an issue as there is, but a lot of Republicans are real squirrelly about supporting it. Del watered it down trying to get votes. He took the homeschoolers out of it. He phased it in gradually. He lowered the initial cost from hundreds of millions of dollars to just $23 million.
"We expect that the Democrats will filibuster it. I don't know if we have the votes to cloture so that we can even get to vote on it."

While Marsh has not taken money from the AEA, he said sometimes you have to vote against the donors and do what is best for the people you represent.
"I know folks take money from (AVOTE),'' Marsh said. "I mean I never have, but people take money from all kinds of places.
"I've been in this game for a long time, and I've received dollars from all different organizations. And there's been many times in my career where I've voted against an organization, I don't care if they gave me money or not. All we owe anyone is to listen to them, hear their point of view, and then do what we think is best for the people."
While the AEA has more friends among current Alabama Republicans, former Republican officials expressed wariness towards this softer attitude in regard to donations from the AEA and how that may impact other issues relating to education.
Bradley Byrne served in both the U.S. House of Representatives and the Alabama Senate. Prior to his service in the Senate, he served on the Alabama State Board of Education and later as Chancellor of the Alabama Community College System. He ran unsuccessfully for Governor in 2010, with Hubbert claiming credit for turning out Republican and independent members and pushing the election in favor of Robert Bentley.
"I'm just as concerned with what we may be facing going forward with issues like school curriculum and about how we're going to handle children getting the education they need," said Byrne.
Byrne was careful to distinguish between the need for bipartisan support of teachers with policy differences with the unions representing the teachers.
"There should not be an adversarial relationship between teachers and Republicans or teachers and Democrats," Byrne said. "The problem is when you start talking about their unions. The teacher's union does not equal the individual teachers. We should always be trying to find ways to be supportive of teachers but that doesn't mean we agree with their union on substantive policy issues."
State Rep. Mary Moore (D-Birmingham) was asked how she feels about AEA spending most of their money on Republican candidates.
"That's going to change," Moore said. "The AEA realizes that the Republicans are not their friends like the business community learned that they aren't their friends. The Republicans told AEA that they were going to save education, but they didn't. They are trying to destroy public education."
The AEA does keep an overwhelming presence in Montgomery, with 44 registered lobbyists (according to the State Ethics Commission). For comparison, Alabama Power has 10 registered lobbyists; AT&T has nine, the Business Council of Alabama has seven.
Robin Mears is the Executive Director with the Christian Education Association and has been a registered lobbyist in Alabama for 34 years.
"Yeah, we (CEA) have always been underfinanced and undermanned," Mears said. "We operate on what we believe to be a moral principle of what we do. A lot of those lobbyists are paid to get results and they are paid significant money. I don't resent one penny they get, that is not of any matter to me. But they are paid to get results, and I am not paid anything to lobby. I get a salary for what I do here at my job as executive director, and part of my duties within my job is to track legislation and lobby as needed.
"We try to be honest and upfront and sincere. We respect the legislators and their process and what they need to do."
Phil Williams is a member of the Republican Party who served in the Alabama Senate from 2010-2018 when the state GOP rule was enacted. While the current GOP may not seem to conflict with the AEA as the group of a decade ago, Williams is hopeful the spirit that led to the rule in the first place will return.
"In 2018, much of the 2010 class chose to retire from public life and that same willingness to fight seems to have dissipated," Williams said. "My sincere hope is that the fighting spirit of yesterday will return and that the current body in the House and Senate will again recognize that the AEA is a big part of why Alabama ranks 50th in the nation."
Given that fewer and fewer Republican legislators seem interested in adhering to the standing rule against accepting money from the AEA, Wahl was asked whether the bylaws were going to be changed.
Wahl indicated no plans were forthcoming.
"Our winter meeting is coming up and we've received no request to change the language of our standing rules in this area," said Wahl.
To contact the author of this story, email Sean.Taylor@1819News.com. Brandon Moseley, Craig Monger and Andrea Tice also contributed to this report.