The Alabama Legislature began the 2022 session in Montgomery on Tuesday, Jan. 11. Key issues on the agenda include COVID relief funding, gambling and teacher pay. The Eagle Forum of Alabama, a grassroots conservative organization lobbying for family rights, met at the Trussville Civic Center to discuss two of the main agenda items, gambling and COVID-19 policy.

Amie Beth Shaver, columnist for 1819 News, moderated the event, which featured Dr. Joe Godfrey, Executive Director of Alabama Citizens Action Program (ALCAP) and Dr. Jordan Vaughn, of Concerned Doctors.

Godfrey spoke on the issues of gambling and proposed lottery legislation. Gov. Kay Ivey supported a constitutional amendment on gambling in 2021, proposed by Sen. Del Marsh, (R-Anniston), but the bill failed in the Senate. Sen. Jim McClendon, (R-Springville), proposed a similar bill, which failed in the House. There are two proposals from Democrats expected to be brought up in this legislative session.

"There are already two lottery bills that have been introduced," said Godfrey. "They were introduced by Democrat representatives, House members, and they probably won't go anywhere."

Republicans are also expected to, once again, present gambling legislation in this session.

"What we're waiting for is Greg Albritton—Sen. Greg Albritton, Republican Senator—is planning to introduce a comprehensive gambling bill much like the one, we're told, that was introduced and passed the Senate last year but failed in the House," Godfrey said. "It failed in the House because of what we like to call 'greedlock. Not gridlock, but greedlock. You've got so many different groups that are wanting a piece of the pie and they can't agree, so they won't vote with each other. And that's what's really kept it out of Alabama over the last few years."

Albritton (R) represents District 22, which includes most of Baldwin County. He was elected to the Senate in 2014 and previously served as a state representative from 2002-2006.

"The argument I keep hearing in Montgomery from legislators is, 'We just want to restrict it. We just want to legalize it so we can put all of these restrictions on it and restrict it,'" said Godfrey. "That's like saying we've got a problem with prostitution, so let's legalize it and then put restrictions on it.

"If you're not restricting it while it's illegal, what makes you think you're going to restrict it after you legalize it? That makes no sense."
Godfrey cited Ivey's claim that illegal gambling is running rampant in Alabama but places much of the blame on Ivey and her predecessor, Gov. Robert Bentley.

"The reason it's running rampant, Gov. Ivey, is because you as the Executive of our state, will not enforce the laws," said Godfrey. "Robert Bentley before her took away the ability of the Attorney General to use state troopers to go in and shut down illegal operations, gambling operations, in the state."

Godfrey said Ivey did not reinstate that access to the attorney general when she took office, despite Attorney General Steve Marshall expressing his willingness to use state troopers to close gambling operations in the state.

"She has no one to blame but herself for illegal gambling running rampant," Godfrey said.

Godfrey gave examples of other states, like New Jersey, which promised to eliminate income taxes if voters allowed gambling legislation to pass but noted New Jersey now has one of the highest state income tax rates in the nation.

ALCAP lobbies the state legislature on a variety of issues and provides downloadable resources online. Godfrey briefly addressed recent marijuana legislation passed in Montgomery. ALCAP was a supporter of 'Carly's Law'—named after Carly Chandler—which supported research into the use of CBD oil for things such as epilepsy. However, Godfrey said recently, medical marijuana legislation went too far.

"A doctor cannot prescribe it (marijuana)," said Godfrey. "He can recommend it, or she can recommend it, but they cannot prescribe it. So then, instead of going to a pharmacy to get a prescription filled, you go to a dispensary. The person working at the dispensary may have been working at Walmart the week before. They know nothing about drugs and interactions.

"Oklahoma passed a similar bill a few years ago. And now, we're told, there are more dispensaries in Oklahoma than there are churches. Folks, that's where we're headed with this in Alabama and we are hoping we can get it repealed. If not, at least get some restrictions on it."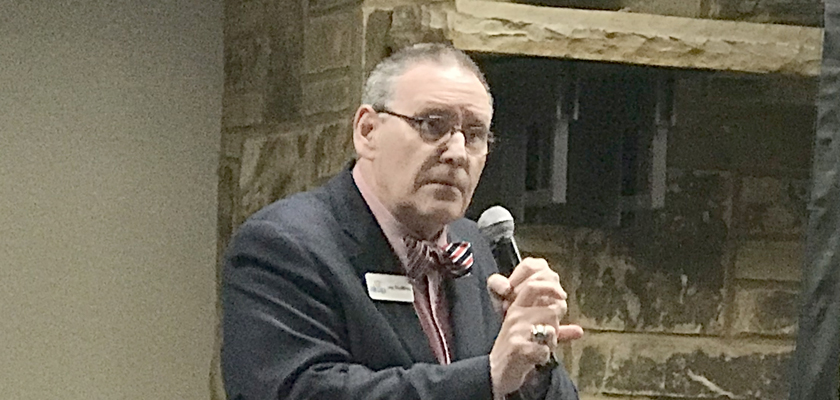 The next speaker was Dr. Jordan Vaughn, a private practice physician who owns MedHelp clinics, based in Birmingham. Vaughn is an outspoken advocate for doctor and patient's rights, particularly when it comes to medical privacy and protocols surrounding the treatment of COVID-19.
"I think coronavirus will, eventually, resolve itself," Vaughn said. "But, what you have to understand is what's happening to our medical freedom right now, if it does not reverse, the same things that frustrate you now will be just as frustrating for every other crisis, every other condition, every other medical visit you have."
Vaughn is part of Concerned Doctors, a nonprofit focused on advocacy for the rights of doctors and patients. He said the United States has fallen behind countries in Europe and other parts of the world in treating COVID-19 and he blames the public health focus on groups instead of individuals.
"The vaccine is a good example," said Vaughn. "One of the reasons they pushed the vaccine out to places where you drive up and stick your arm out is because they don't want you to talk to your doctor about it. They want you to just be compliant and trust the government's ideas for what needs to go in your body."
Most of the changes people have seen in medical treatment, privacy and physician employment are a result of changes dictated by the Affordable Care Act—Obamacare.
"Their whole goal was to centralize authority to dictate what care was going to be provided," said Vaughn. "You see that when your doctor is not able to speak freely, not able to prescribe what's best, not able to do what other countries are doing in terms of treating COVID."
Vaughn feels damage has been done to the traditional relationships between patients and doctors depriving both freedom to speak openly and seek the best treatment.
Vaughn took questions from the crowd of about 50 in attendance. He addressed concerns about the recent Omicron variant and cited an article in the Journal of Genetics which said Omicron is not directly related to previous variants and likely stemmed from laboratory mice, which resulted in a weaker virus that doesn't get into the lungs the way Delta and earlier variants did.
"It (Omicron) stays in the back of the throat, causes some sinus pressure, you have a headache, you have a backache, you might have a fever," Vaughn said.
Another question from the crowd was about the use of monoclonal antibodies. Vaughn said the treatment has been difficult for many patients around the country to get because the federal government is acting as the distributor for the drugs.
"It's the dumbest way to get medicine out," Vaughn said. "Markets are important and the government doesn't know how to distribute things."
Vaughn, along with Dr. Peter McCullough and others at Concerned Doctors, is an advocate for early treatment and said there are many treatments available for patients other than monoclonal antibodies.
"A lot of times the medicines we use every day started as one thing and we found other uses for it," he said. "Again, what most of the rest of the world has done is gone to their medicine shelf, understood the disease, and used those safe medicines to treat the different stages of the virus. If a physician says there is nothing you can do, find a new physician."
Asked about the controversial use of ivermectin as a treatment for COVID, Vaughn addressed the issue of prescribing the medicine for elderly patients or patients with comorbidities.
"Ivermectin has a lot of prophylactic properties," Vaughn said. "Usually the people that use it are people with high encounters and high exposures to the virus. Classically, it's people who work in a healthcare setting."
"The reality of the current virus is, everybody is going to get it," Vaughn said.
Vaughn suggested people should take regular doses of Vitamin D, Vitamin C, fish oil and other anti-inflammatory supplements to prepare the body to fight off the infection.
"God designed us to live in a world of pathogens," Vaughn said. "Health is important to fight off those pathogens but, in all honesty, we live in a world that needs to be exposed to pathogens. I've probably seen 5,000 people with COVID in the last two years. Never worn a mask." Vaughn said he did catch COVID from a relative.
"Constant re-exposure. They've actually done studies on healthcare workers in India," Vaughn said. "And their antibodies continue to go up as they treat COVID—like significantly. People think that's crazy, but that's actually what we've always known."
Vaughn said we live in a world that will always have germs. "To be pathogen-free means, I guess, what they want to do is isolate you for the rest of your life. That's unreasonable. That's ridiculous," Vaughn said. "God never meant man to be alone."
Vaughn expressed concern about the use of vaccine boosters that were not designed to fight current variants of the virus. He pointed out that the FDA voted against recommending boosters by a 14-2 vote but the White House began pushing them anyway.
"In 24 months, we know more about this virus than any other disease in the world," Vaughn said. "And they're still giving you the same crappy solution. The rest of the world has moved on. They know how to treat this. America has some of the worst mortality rates because, you know what, we have one person who says 'you can use this or not.'"
Speaking to 1819 News, Vaughn said patients have very limited legal recourse because the vaccine was given emergency use status and the use of vaccines in children.
"In vaccine legal world, if kids are required to be vaccinated for a disease, and it is on the pediatric schedule, your ability to sue that manufacturer of that vaccine is limited because it is so ubiquitous," said Vaughn.
He also said, as a doctor, he is not allowed to administer emergency use medicines to patients who say they are required to take the shot or lose their job.
"You can't do it under compulsion," Vaughn said. "Maybe a pharmacist can do it. As a doctor, I am [not] allowed to administer an EUA (emergency use authorization) medicine if the patient is under compulsion to get it."
To connect with the author of this story, or to comment, email news@1819News.com.