The late Mississippi comedian Jerry Clower had a story that began, "The first college football game I ever saw, I played in."
Brandon Aubrey has never heard the story, but he laughed when he heard the opening line.
Because it is not far from being true for the Birmingham Stallions' kicker, whose last football game before the first game of the USFL season was in middle school, where he was a wide receiver and kicker.
"The first game, I asked him, 'What are you focused on?'" said Birmingham Stallions coach Skip Holtz. "He said, 'Coach, I don't even know if I have my shoulder pads and helmet on right. I haven't worn these since the eighth grade.'"
The route the 27-year-old Plano, Texas native took to professional football had as many twists as a Jerry Clower story, but it eventually brought him to Birmingham's Protective Stadium and the season opener for the Birmingham Stallions, against the New Jersey Generals.
He had the opening kickoff of the USFL – his first football game since middle school – and has turned out to be the most consistent kicker in a league that has been plagued, at least early on, with kicking problems.
Aubrey leads the league in points scored with 60 and has made 14 of 16 field-goal attempts and 90% of his extra-point attempts for the Stallions, who remain the league's only undefeated team at 7-0 and have qualified for the USFL playoffs in Canton, Ohio.
Not bad for a first-round draft choice (21st overall) of the Toronto FC in the 2017 MLS (Major League Soccer) Super Draft.
New Orleans Breakers (5-2) at Birmingham Stallions (7-0), Saturday, June 4 at 2:00 p.m. CT on Fox Game being played at Legion Field.
"Football was never on my mind,'' said Aubrey, who was a four-year starter at Notre Dame in soccer, earning All-ACC and third-team All-America honors. "I was 100 percent soccer up to the point I was ready to retire. Even then, I still had not thought of football."
But once he went to work, using his Notre Dame degree in software engineering to write code for GM Financial in Dallas, he realized sitting in an office was not what he wanted.
"It was three months before I realized I really enjoyed professional sports more than sitting in an office,'' Aubrey said. "I couldn't go back to soccer. … My family has always been a big football family and watched a lot of football, including kickers. So, I went and got a football and went to a local football field to see what I could do.
"Then I found a kicking coach in Dallas to see what he could teach me, and eventually he told me to put myself out there in the free-agent cycle. I went to some [NFL] combines, worked with coaches to show what I could do."
 He wasn't an overnight success by any means. In fact, it took three years to finally land his first opportunity. Fortunately, his wife, Jenn, "has a good job and has been able to support me,'' he said.
"She gave me the opportunity to quit my job and come out here, knowing nothing is guaranteed."
It was while going from tryout to combine that Aubrey heard about the USFL.
"I was working with some other guys and heard them talking about a USFL showcase for specialists," Aubrey said. "I went and performed pretty well.
"My [kicking] coach is John Carney, who was the kicker at Notre Dame when [Stallions' coach] Skip Holtz played there. Coach Holtz had the last pick of kickers in the draft, and he went with me. I think he figured if I had John Carney's seal of approval, and that was good enough for him."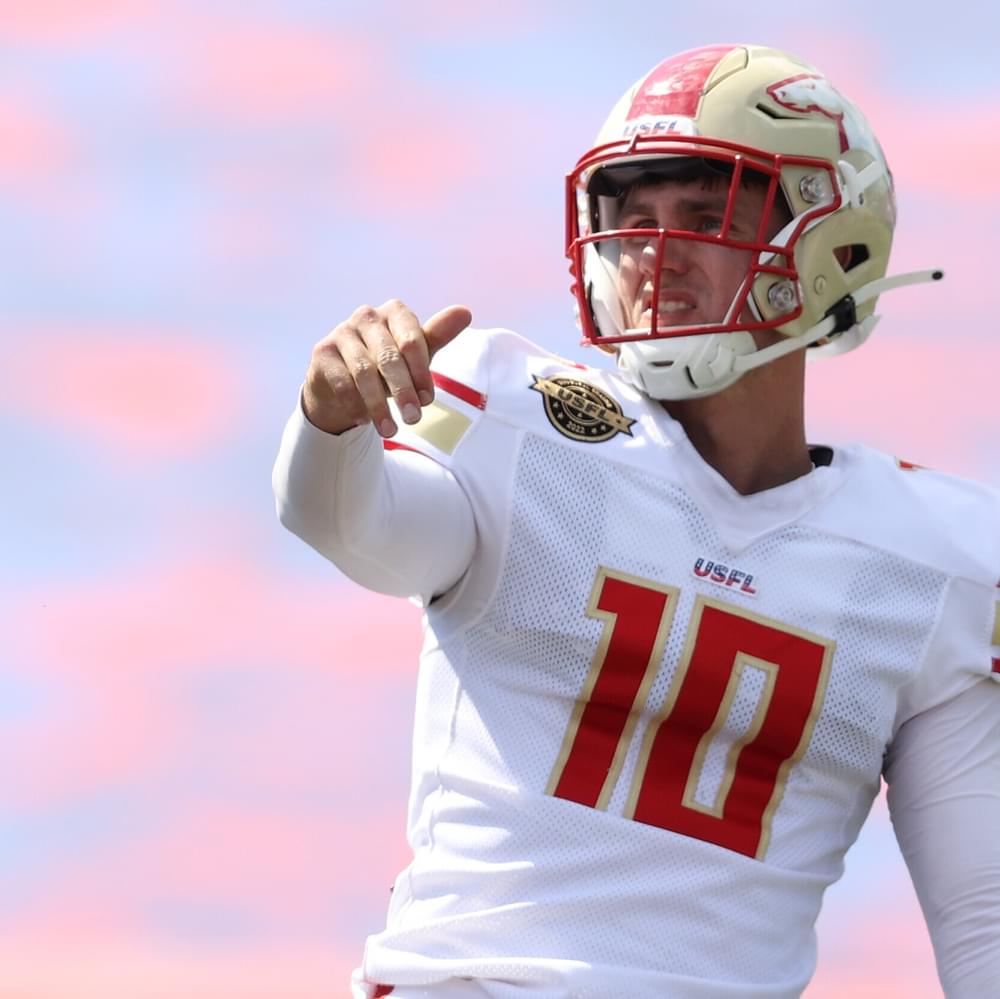 Holtz remembers that he had the last pick of kickers in the USFL draft. He called Carney, who conducted the USFL tryout for kickers, to ask who he would recommend. Carney gave him a list of names, of guys with experience and who might be available.
"I said, 'John, I have the last pick. Let me put it this way: if you had to pick last, who would you take?" Holtz said. "He said, 'Brandon Aubrey.' He said if Brandon could handle the pressure, he could be one of the best kickers in the league."
Ah, yes - the pressure. Aubrey had not played in a real game of football since middle school. He had never kicked a football in front of live fans, on national TV (the Stallions' first game was broadcast live simultaneously on FOX and NBC), with another team lined up against him.
What was he thinking?
"Fortunately, I had the opening kickoff to get my nerves out of the way for my first real kick,'' Aubrey said. "On a kickoff, it doesn't really matter where the ball goes so it's OK.
"On the first [point after touchdown (PAT)] attempt – I had been telling myself I had been kicking for three years prior to this point, telling myself I had trained for muscle memory, I've done it a thousand times on the practice field, so just turn my brain off and focus on the target: the ball, draw a line through the target, and focus on the spot on the ball you want to kick. Put your head down and swing through. I had to quiet my mind and kept saying the words, 'head down, swing through' over and over again.
"But, yeah, I watched [the ball] go through. It was a really good feeling."
Aubury went four-for-four on PATs in the first game. His first chance at a field goal came the next week, in a 33-28 victory over the Houston Gamblers. Aubrey was two for two on field goals, with a long of 37, and perfect on three PATs.
Kicking was a problem early on in the USFL. Even extra points were challenging in the first few weeks.
"Kicking is so mental,'' Holtz said. "Everyone else was missing. He could have started thinking, 'Why am I not missing?' Or what if he had missed that first kick? Demons get in your head. The kickers in this league all have talent. It's just mental.
"Brandon has done a great job of handling that. You don't get a second down or third down on a kick. You have one opportunity, and he's done it."
In soccer, Aubrey played defender and was always moving. If something went wrong, he could keep running and try to make it right – very different from being a placekicker in football. And the differences between professional soccer and professional football are distinct.
"It's very different,'' he said. "The major difference is practice. We [the kickers] are on our own. Sometimes we're even on another field, working on what we do. Then you join the team for four or five reps (repetitions), and that's the day.
"It's different for me to train for one moment, for being on the field for maybe 30 seconds, and have one motion to go through. Hit the ball, and everyone is happy. Miss it, you don't have a chance to make up for it. There is a lot of pressure for that one single moment. You don't get into the flow like soccer, where you keep running to the next play. In soccer, it's a long burn; here, it's a high-intensity moment. Physically, this is a lot easier than soccer. But mentally, it's a lot harder."
Even now, he can't quite get used to being on a football team.
"No, I still have days where I wake up sometimes and can't believe I'm playing professional sports again, especially that it's football, which is a lot more popular than soccer,'' Aubrey said. "To wake up and know I'm playing sports for a living … I took soccer for granted while I was there. I don't want to do that with football."
Just as big for Aubrey was making his first tackle. It was on a kickoff, and he admits he had not practiced or even really thought about having to tackle anyone.
"Yeah, that was interesting,'' he said. "I hadn't really thought about what I was going to do in that moment. I just knew I didn't want to shy away. I saw the guy break free and I knew I had to make a play, so I kind of blacked out and don't remember what I did. But the guys were pumped for me, excited that I was willing to put my body on the line like that.
"Since then, I've actually worked on my form. I got some coaching from my roommate, who is a linebacker. My form is better now."
With the success Aubrey has had in this league, his soccer agent put him in touch with an agent who would be better for him in football.
"I did sign with an agent after week three,'' Aubrey said. "I'm going to let him do what he can for me. The goal was always to get on to the NFL.
"Personally, I like to get the job done here and then worry about the future. All I can do is go and do the job I have in front of me. But [the NFL] is what I'm hoping for. If I could catch on and kick for a few years, I'd never have to work another day in my life in an office if I can make it."
To connect with the author of this story, or to comment, email Ray.Melick@1819News.com.
Don't miss out! Subscribe to our newsletter and get our top stories every weekday morning.