UAB coach Bill Clark announced his retirement on Friday.
The Blazers coach released a statement that he had to make the decision to step away because of his health. Clark said that he needs back surgery for long-term back issues.
"I have reached this difficult decision after consultation with a number of world-class medical experts and much family discussion, reflection and prayer. Because of long-standing back issues that grew more and more debilitating in the last year, I have been told I need a spinal fusion. Having undergone a previous back surgery, extensive physical therapy, shots and chiropractic therapy, I have exhausted all of my options. Due to the extreme physical demands placed on a head coach, it is clear to me. It's time to pass the torch and try and get well."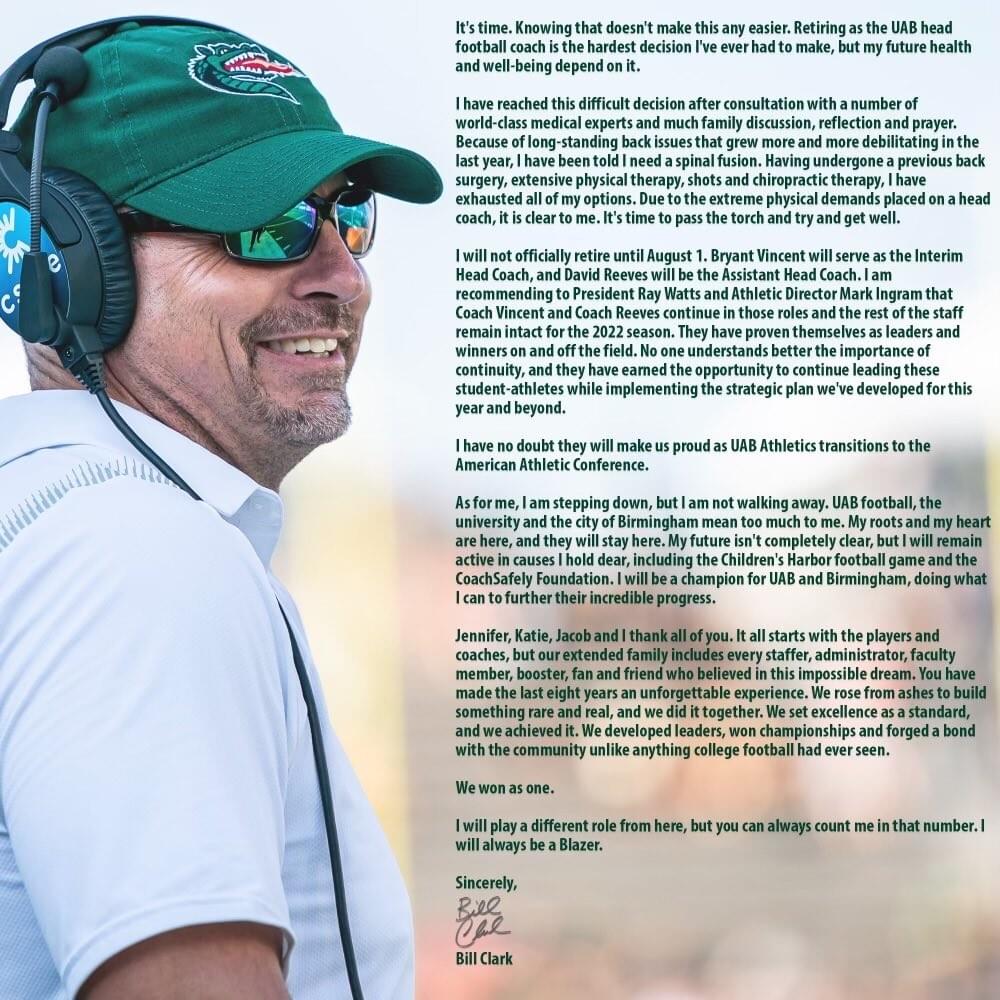 Clark issued a statement saying he will officially retire Aug. 1 and that offensive coordinator Bryant Vincent will serve as interim head coach and defensive coordinator David Reeves as assistant head coach. Clark recommended that Vincent and Reeves remain in those roles, with the rest of the staff staying together, for the 2022 season.
Clark spent eight years and coached six seasons as the Blazers' head coach. He leaves with a 49-26 record, three Conference USA West division titles, two C-USA league championships, four bowl games including two bowl victories. In what now was his final game as head coach, UAB beat No. 13th ranked BYU in the Independence Bowl, the highest-ranked opponent the Blazers defeated in program history.
But the most impressive part of Clark's tenure at UAB is the saving of the football program after the administration decided to discontinue the sport in December 2014, after Clarks' first season as head coach. Alumni and the Birmingham community rallied to save the program, which was reinstituted in June 2015.
With no games to play for the next two seasons, Clark led the effort to rebuild the program. In 2015 and 2016, Clark reconstructed a team from scratch, and when UAB returned to FBS competition in 2017 after two years away, he guided the Blazers to an 8-5 overall record and the team's first bowl appearance since 2004.
He helped form the UAB Athletics Foundation and the construction of an on-campus Football Operations Center, the first major building project in UAB football history. The support for UAB football was a major factor in the building of Protective Stadium in Birmingham's Uptown section. The façade on the multi-purpose stadium reads, "Home of the UAB Blazers."
Clark earned national coach of the year awards in 2017 and 2018.
Since returning to action in 2017, the Blazers have compiled the most wins of any team in Conference USA (43). UAB is 30-9 against league opponents during that span and 22-4 against C-USA West Division opponents.
Prior to UAB, Clark was the head coach at Jacksonville State in 2013 and led the Gamecocks to an 11-4 record, their most victories since the 1992 season. That number set an Ohio Valley Conference record and was also the most wins by a first-year head coach.
Jacksonville State earned an at-large berth in the FCS Playoffs and captured two victories -- including a second-round win over No. 6 McNeese State to reach the quarterfinals. The wins were the Gamecocks' first-ever in the NCAA Division I playoffs.
Clark became Jacksonville State's head coach after five outstanding seasons at South Alabama as the Jaguars' defensive coordinator. Prior to that Clark spend nine years as head coach at Prattville (Ala.) High School where he led the Lions to national prominence. He won a pair of Class 6A State Championships as his last two teams won 30 straight games, while the 2007 squad was ranked No. 2 in USA Today's national high school poll.
Don't miss out! Subscribe to our newsletter and get our top stories every weekday morning.