A group of Christians holed up in a basement in Kyiv, Ukraine raised their hands and praised the Lord Sunday, despite the mass chaos outside their church.
The congregation of Grace Church held a service Sunday, praying and thanking God for their blessings.
Pastor Dmytro Bulakh is friends with an Alabama man who helped build the church 10 years ago. Ronnie Dixon, the city manager for the city of Clay, and the Jefferson County Board of Education President, has continued to join his friend in prayer nearly 6,000 miles away.
Russian troops continued their assault on the capital city, and a large convoy was nearing the city as parishioners in the basement of the church hunkered down and gave their troubles to the Lord.
"Good, blessed Sunday morning," Bulakh posted on social media. "We are alive…Another night under the wings of Almighty. Russians troops around the city, bombing…We love you and sending love from Ukraine."
Monday morning, Bulakh was able to leave the church to go get food. He said the line was long, but he was able to get enough food for the 60 adults and 17 children the church is sheltering.
Bulakh also said the people of Ukraine are helping each other by giving blood. Although he tried to give blood Monday, he was told he would have to wait two weeks because of the overflow of donors.
"I love you the people of Ukraine!" Bulakh said. "Thank God that this is my land!"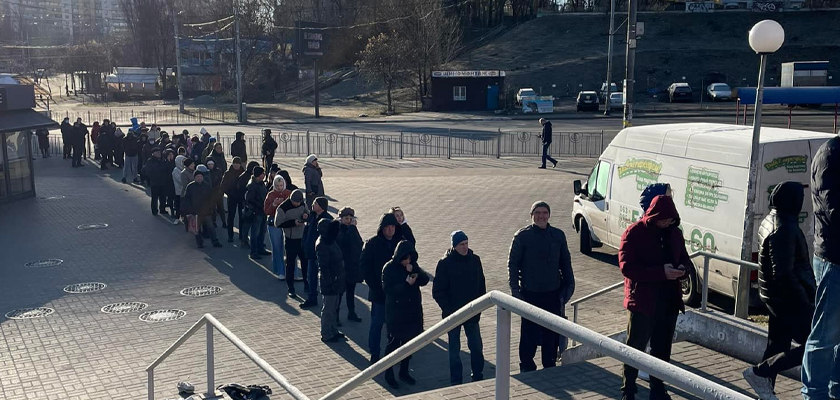 Russian forces continued their attack in the center of Kyiv Monday. Nine civilians were killed, including at least three children. The Ukrainians are putting up a fight, with soldiers and volunteers coming together to fight the enemy. Although they have put up barricades, there are reports that Russians have already infiltrated areas and are in hiding waiting to erupt chaos. Over 100 civilians have been killed as of day five of the war and 304 have been wounded, although leaders said those numbers are probably higher.
Peace talks began Monday and Ukrainian President Volodymyr Zelenskyy said he only expects those talks to continue.
The U.N. held meetings Monday and announced the U.S. discovered 12 Russian U.N. diplomats that were spying. Those diplomats were kicked out of the U.N.
As for the people of Ukraine, they plan to stand strong for freedom. Meanwhile, Bulakh said he will stay with his church family.
Donations for the people of Ukraine are being accepted in the U.S. NovaPoshta will send items from a warehouse in New Jersey. Donations can be sent to 27 Merry Lane NP100007070, East Hanover, NJ 07936.