After the U.S. Supreme Court's ruling in Milligan v. Allen requiring Alabama to create another majority-black congressional district, state legislators went to work drawing possible maps. There is speculation that parts of District 2 in Southeast Alabama and District 1 in the Mobile area may be combined, leading to a potential Barry Moore (R-Enterprise) versus Jerry Carl (R-Mobile) primary battle.
The potential district combination concerns some county officials in the Wiregrass.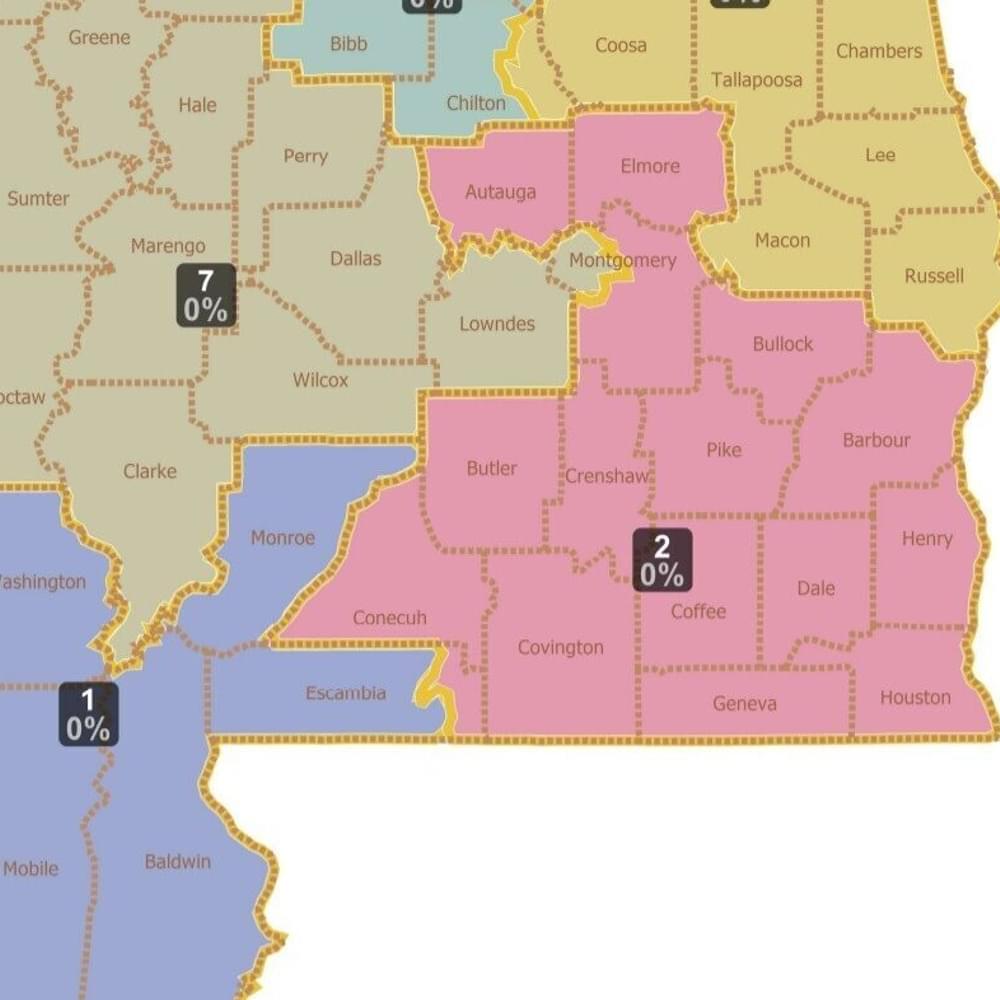 Geneva County Commissioner Weston Spivey is against redistricting and combining Districts 1 and 2.
"I'm going to say that I really, really hope it doesn't happen," Spivey told 1819 News. "I think the best thing Alabama's got going for it right now is the current congressional map we got."
He added that the disparity in population between the two areas would hurt the Wiregrass and diminish its voice in government.
"[W]hen you have Baldwin County, you know, a county that size versus Geneva County, Baldwin County is going to win every time or even Burke versus Houston County," he said. "[Baldwin County] is going to be the winner of all the good deals for economic development."
He continued, "[W] hat's going to hurt the most is we're going to become less relevant. And anytime you become less relevant, whether you're in business and someone's dominating your marketplace, and you're losing to your competition, you're losing money, you're losing value, you're losing business deals. And if you're a state and something becomes less relevant, that's bad. It's just the same concept. The same things happen [as in business]."
Houston County Commission president Brandon Shoupe echoed Spivey's concerns.
"District 2 is probably as ideal as it could get for southeast Alabama because we kind of share that district with at least part of Montgomery, and we feel like we have a voice in Washington," said Shoupe.
According to Shoupe, redistricting could hurt the Southeast more if it was split up.
"Probably the worst thing that can happen to us, beyond getting locked in with Baldwin County, is Southeast Alabama getting broken up," he said.
"I've seen some districts that they have a map drawn where it carves out part of this and lumps it in this district, and it carves out the rest of Houston County and lumps them in that district," he explained. "And you know, we want to stay together. I think Houston County, Geneva County, Dale, Henry, and Coffee, we just need to all be in the same district."
No matter what happens, Shoupe said, "We just want to be together to preserve our voice as much as possible. That is the best outcome for us."
To connect with the story's author or comment, email gnicktreglia@gmail.com.
Don't miss out! Subscribe to our newsletter and get our top stories every weekday morning.