Dating has always been a challenge for some but 2022 could be extra difficult for singles trying to find the right person. The internet, with a dash of politics and a pinch of COVID-19, is the perfect recipe for a non-love potion.
Brian Robinson is a 40-year-old single male.

"I started dating at 16 years old," Robinson said. "That's a lot of dating!"

Robinson is college-educated, has no baggage, no children, has a great job, and is debt-free.
His friends describe him as funny, thoughtful, and a kind soul.
Robinson believes in heaven, second chances, and true love.
But finding that true love is another story.

"My parents have been married for 46 years, so I think the bar is high," said Robinson. "I would love to get married and have kids, but I will not settle to check that box.
"I'm fine being a stepfather at my age, and I'm also fine with the reality that I may be single forever. But of course, I would love to meet a woman who lights up my world, and I can share this life with."

Like so many other singles, Robinson says dating is so hard in 2022!

"Let's start with COVID; that's a whole can of worms onto itself," Robinson said. "People choose who they date based on whether someone has been vaccinated or not! You might have fantastic chemistry with a gal, but before even agreeing to lunch, she wants to see your vac card. So, it makes things start as a business transaction out of the gates.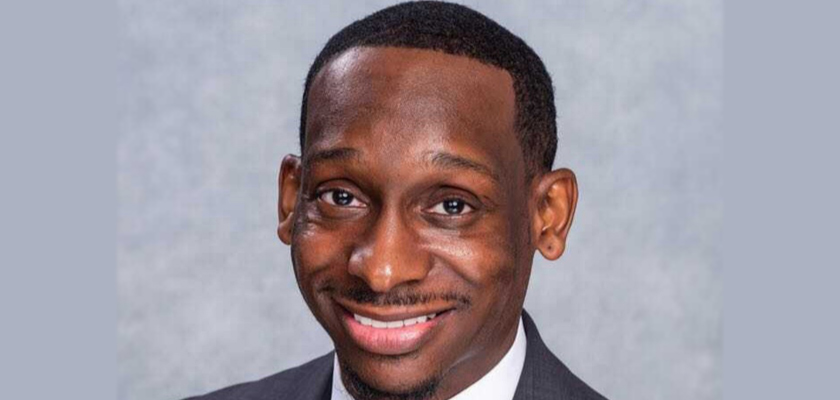 I've had a few ladies tell me, 'You're vaccinated; you're a sheep!' So much harsh judgment out there now."
We turned to relationship expert Dr. Misty Smith with Mind, Body, and Heart Wellness Clinic to get her professional opinion on the challenges of dating in 2022.
"COVID also made people lazy when it comes to dating," said Smith. "People don't want to work for the dates. They don't necessarily want to meet soon, so you run the risk of spending hours upon hours communicating with someone who is also spending hours upon hours communicating with 10 other people."
Beyond that, Robinson says, when you throw political questions on top of COVID concerns, it can exhaust you before you even begin genuinely getting to know someone.
"People want to know who you voted for and if you lean left or right immediately," Robinson said. "Geez, I mean, I have no criminal record, but sometimes dates these days feel like interrogations like I'm waiting, any second, for someone to roll out a lie detector test. I've also even been disqualified because I'm not 'the right' religion, even though I believe deeply in God. Everyone has an opinion they want to voice. We can no longer agree to disagree and still love each other. Now it's I am right, you are wrong. End of dating opportunity."
Humor is precisely how Robinson says he deals with the dating climate of 2022.
"Don't get me started on the filters of 2022," Robinson said. "People post pictures on dating sites that don't remotely look like them—old pictures too, like from a decade ago. Come on! Some people should have a master's degree in foolery! I've tried the apps … Tinder, Match, Bumble, and Hinge, but no luck. I am looking for a life partner, not a fling."
Smith says the problem with dating sites is that people have so many different intentions, and those intentions don't always line up as one would hope.
"It's interesting because many people utilize dating sites in hopes of meeting 'the one," Smith said. "However, we live in a hook-up society/culture at the moment, and this makes it difficult to find meaningful relationships."
Robinson says he thinks the most significant issue of successfully dating in 2022 goes back to social media.
"People want instant gratification, and that's not what a meaningful relationship is built on," Robinson said. "People think we can make a lasting relationship in a 30-minute process! Well, life and relationships are not microwavable meals!"
Smith echoes Robinson's feelings.
"We GEN-Xers have this tendency to refer to the current generations as very entitled, and I definitely think that includes dating and relationships," Smith said. "I don't think that stops with the most current generations, though. Many of us dating in our 40s and 50s seem to also have the same mindset. We want instant gratification in every way. I think today's daters tend to have the 'next best thing' mindset. If something isn't exactly what we want, doesn't instantly work, or we happen to see something that looks like it might be better, we tend to move on very quickly… hence the term 'ghosting.' In a world where we can literally have everything we want delivered to our door, and usually within a couple of hours to a couple of days, why would we ever want to have to spend weeks, months, or years making a relationship work?"
Robinson says sites like Instagram and Facebook make it even worse.
"It's all smoke and mirrors - people only post what they want the world to see so that you may like someone based on their profile, then meet them in person, and it's nothing like what you expected," said Robinson. "This goes both ways - it's just as challenging for women dating as it is for men dating."
Smith agrees that social media platforms are a slippery slope.
"People see everyone's best life on Instagram and Facebook," Smith said. "Most people aren't airing out their dirty laundry on social media. This gives the perception that everyone's life is perfect and, if theirs is not, there must truly be greener grass somewhere else. There is a lot of truth to the statement 'the grass is greener where you water it!"
Because of all these factors, Robinson says ultimately, we live in a culture that treats relationships like a pair of pants.
"Oh, this one has a problem - let's move into the next," said Robinson. "Singles live in a society that has planted the seeds that perfection is what we should strive for - and it simply does not exist. See the problem? It's hard to find authentic people in a curated world."
Robinson says another big thing he notices - nobody wants to talk on the phone anymore or take the time to invest in another.
"People want to text to make it convenient for them," Robinson said. "They text you what they want you to know when they want you to know it. Talking on the phone requires undivided attention. And with people's attention span being 10 seconds, it seems, forget the old-fashioned way of spending your evening talking to a girl to try and get to know them or allowing them to do the same. That's too much 'work' for an already over-scheduled society."
Smith says it's ironic that in 2022, we struggle with communication.
"I think COVID and technology have decreased people's ability to communicate in a way that typically is used to develop strong relationships," said Smith. "Though we have the tools to actually be able to date in better ways now than we did in the 90s, many people prefer to utilize texting over actual phone conversations or even video conversations."
Robinson says he may feel discouraged in the dating world, but he still very much believes in chivalry, even though it is not as prevalent as it was a decade or two ago.
"No one is actually courting a mate anymore," said Robinson. "Perhaps because dating in 2022 is also so expensive - another issue. I try to do Starbucks or a hike for the very first date, something casual and fun. This allows me an opportunity to see if a woman and I have any chemistry at all before dropping 200 bucks on dinner and a movie."
Robinson and a group of his single buddies are hosting a 'Speed Dating & Karaoke Gala' next month, on March 11th!
"We all got so frustrated with the dating scene here; we decided to get proactive and hold an event for the city," Robinson said. "It will be open to the public and held at the SOIREE gallery on Lorna Road, in Hoover. People can get tickets simply by heading to Eventbrite."
If Robinson has learned anything in 24 years of dating, he says it's not to ignore the red flags.
"Don't try to turn them into red roses," Robinson said. "A flag is a flag, so listen to your gut instincts. We are all flawed humans - it just comes down to finding someone that accepts their own flaws and accepts your flaws too. At the end of the day, I know I am comfortable in my own skin and genuine, so I am looking for a woman comfortable in her own skin and genuine too."
To connect with the author of this story, or to comment, email [email protected].