With abortion on the minds of many in light of the recent Supreme Court leak regarding Roe v. Wade, gubernatorial candidate Lindy Blanchard wants to remind voters what Gov. Kay Ivey did during COVID lockdowns: "She could have shut down abortion clinics… and she didn't."
Visiting Conecuh County Republicans during their monthly meeting, Blanchard discussed her experience as Ambassador to Slovenia.
"Being ambassador and serving abroad correlates with being a governor," she said.
While in Slovenia, Blanchard worked with local officials on items like energy and nuclear issues, and she also got a firsthand look at a socialist government in action, seeing people basically handing over 50% of everything to the government.
Blanchard wants Alabamians to know she wouldn't allow any lockdowns as governor. 
"I'm totally against any COVID mandates. Period," Blanchard said.
The former ambassador said she has three things she would work on during her first week in office should she be elected:
"I'll rip the rug right out from under Common Core, repeal the gas tax increase pushed by Ivey and repeal the tax on groceries," said Blanchard.
When asked why she thought Ivey was a no-show at the gubernatorial debate, Blanchard said it was simple: "She has no answers."
Blanchard had the crowd seeing double, as she was accompanied by her identical twin sister Cindy.
"We're mirror twins. I'm left-handed, she's right-handed. I'm left brain, she's right."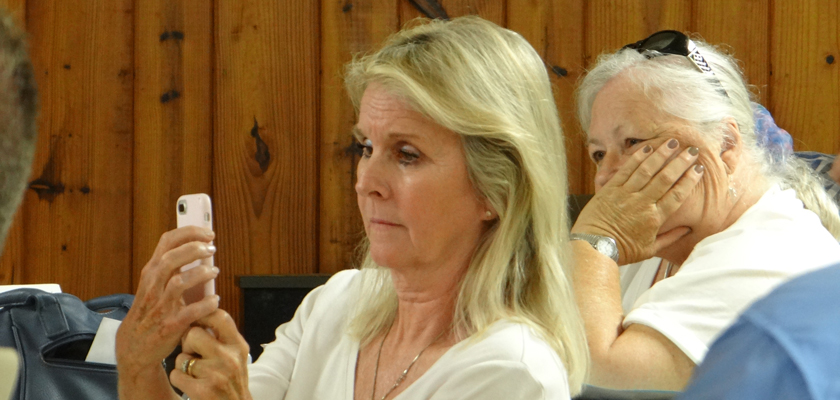 Still, they have that mysterious twin "connection" going, as both showed up wearing nearly identical outfits.
Blanchard, Lew Burdette, Stacy Lee George, Ivey, Tim James, Donald Trent Jones, Dean Odle, Dave Thomas and Dean Young are all running in the Republican primary on May 24.
The winner of the GOP primary will face the winner of the Alabama Democratic primary in the Nov. 8 general election.
To connect with the author of this story, or to comment, email news@1819news.com. 
Don't miss out! Subscribe to our newsletter and get our top stories every weekday morning.