The St. Clair County Courthouse was packed Thursday for the St. Clair County Republican Party meeting, where three candidates showed up to speak and to take questions.
U.S. Senate candidate and retired U.S. Army helicopter pilot Mike Durant, Rep. Wes Allen, who is a former Probate Judge now running for Secretary of State, and State Auditor candidate Rep. Andrew Sorrell addressed the group.
Allen spoke first. He thanked the group for working to secure conservative votes in the county, saying he understands the job because he is the chair of the Pike County Republican Party himself.
Since he announced his candidacy on May 7, 2021, Allen said he has heard from a lot of people who are concerned about elections in Alabama. He said as Secretary of State, he would work to keep the state's elections secure.
"Just have faith, the election is coming up and we are going to correct some wrongs," Allen said.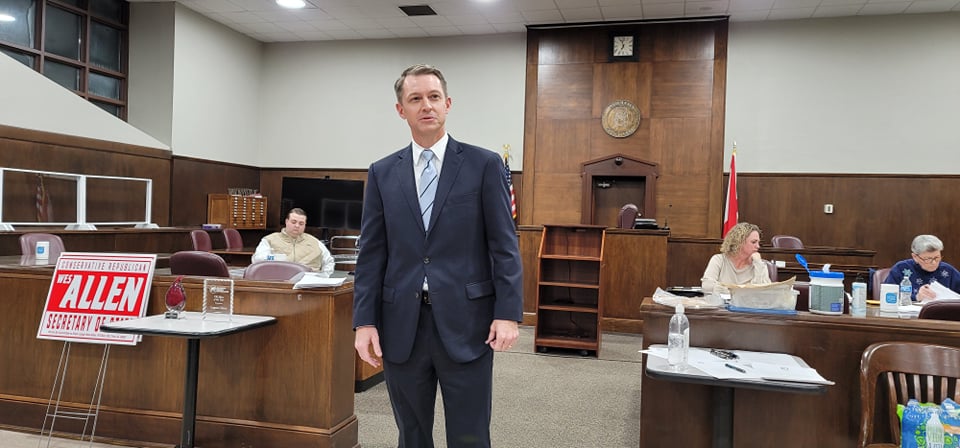 Allen, who lives in Troy, served for nearly 10 years as Probate Judge before running for the Alabama House of Representatives.
"It was a joy to serve at that local level," said Allen. "The best thing we can do is elect Conservatives on a local level."
He said he would bring experience and passion to the Secretary of State's office.
"I want to take that experience as a former Probate Judge and now state legislature to make sure that we have good, strong elections," Allen said.
Allen sponsored the bill to ban curbside voting in the last regular session. The bill was passed and signed into law. He also wants to prevent election officials from being able to accept money from private, non-government businesses or organizations. He said he wants to stop "Zuckerberg" type donations. The issue arose after it was discovered that Mark Zuckerberg, the co-founder of Facebook, donated $400 million to election offices.
"We want to make sure we take care of that," said Allen. "That should not be happening."
Allen is running for Secretary of State against Ed Packard, who has worked for the Secretary of State's Office for 24 years.
Durant spoke next, telling his story about challenges he faced in life and in the military. Although he felt he would never be able to be a helicopter pilot, in his younger years, Durant said he figured out a loophole by joining the U.S. Army.
His experiences in the military and frustrations with Washington have led him to a Senate run. He has been campaigning across the state since announcing his candidacy.
"I always start these remarks with the phrase that is familiar to many, many people and that is, 'Leave no man behind," said Durant. "For those who haven't served, it's a movie line, for those who have served, it's who we are."
Durant authored the book "In The Company of Heroes" as a follow-up to the movie "Black Hawk Down." Durant was the lone survivor in Somalia when two Black Hawk helicopters went down. He was taken prisoner of war, was beaten and was held for 11 days.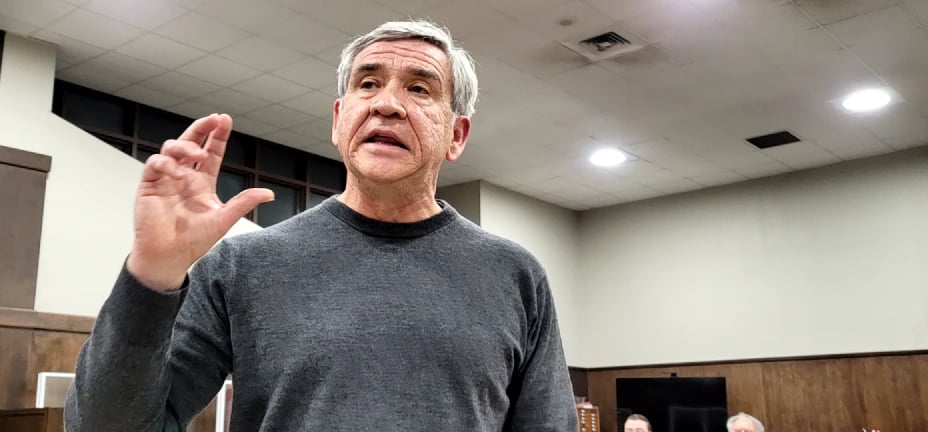 Now retired, Durant said it's hard for him to watch leaders in Washington who seem to forget sacrifices that have been made.
"What I bring to the table is actual, real-world things," Durant said.
Durant said as a business owner, it is also more than frustrating for him to watch the government attempt to force COVID-19 vaccinations.
"I'm going to have to fire people who want to work. We've got enough people who don't want to work."
Durant said he is pro-life, he supports law enforcement and he wants to protect the Second Amendment.
"I am the conservative Republican that can win this race," Durant said.
Durant faces a competitive Republican primary field that includes: Jake Schafer, former Business Council President and CEO Katie Boyd Britt, Congressman Mo Brooks (R-AL05), and Karla Dupriest.
State Rep. Andrew Sorrell (R-Muscle Shoals) is running for State Auditor in the 2022 election, and he addressed the St. Clair County Republicans last.
Current State Auditor Jim Zeigler (R) is term-limited from running for reelection so this will be an open seat. Other candidates for the position are Pastor Stan Cooke, former State Sen. Rusty Glover, and Florence attorney Brent Woodall.
Sorrell said after learning the State Auditor's position was weak, he decided he wanted to change that and bring some responsibility back to the position. The legislature stripped the State Auditor position of its primary role in the 1940s. Since they could not abolish the constitutional office without a vote of the people, the position was relegated to just doing property inventories and no audits. The State Auditor also nominates one of the three persons to the County Boards of Registrars in every county, except Jefferson County.
A member of the audience asked Sorrell what the first thing he will do is if he is elected.
"The first thing I'm going to do if I'm elected Auditor is I'm going to personally do some inventory audits. I want to learn how to do the job. Then, once I have the current duties and responsibilities under wraps and know what I'm doing, then I'm going to go work with, hopefully, colleagues in the legislature, to strengthen the auditor's office."
Sorrell is currently sponsoring so-called "Constitutional Carry" legislation, which would allow Alabamians to carry their concealed handguns without getting a pistol permit from their local sheriff. He predicted that a Constitutional Carry bill will be brought before the legislature in February. He thinks this year it will be passed.
Correction: This story has been edited to show that Allen already sponsored a bill to end curbside voting and that bill was approved and signed into law in 2021. He also clarified that he wants election officials, not candidates to be prevented from accepting "Zuckerberg" type donations.
To connect with the author of this story, or to comment, email [email protected].