U.S. Senatorial candidate Mike Durant conceded on Tuesday night during the Republican primary election after falling behind opponents Katie Britt and Mo Brooks.
Durant held a watch party at the Stovehouse Event Center in Huntsville. Before the final results came in, he said he was feeling good. 
"It's in God's hands," Durant said. "We like the way we ran the race. We ran it clean. Told the truth. Can't say that about everybody else. And we'll see if the voters can see through it.
Durant later took the stage to thank his family and staff for their support and to announce the end of his campaign.
"It's kind of a sad ending," Durant said. "...I tried to run a campaign that people told me they wanted me to run - honesty and integrity, somebody they could trust, somebody you want to go to Washington to try to do something different - and unfortunately, it didn't work. But I don't feel bad about it."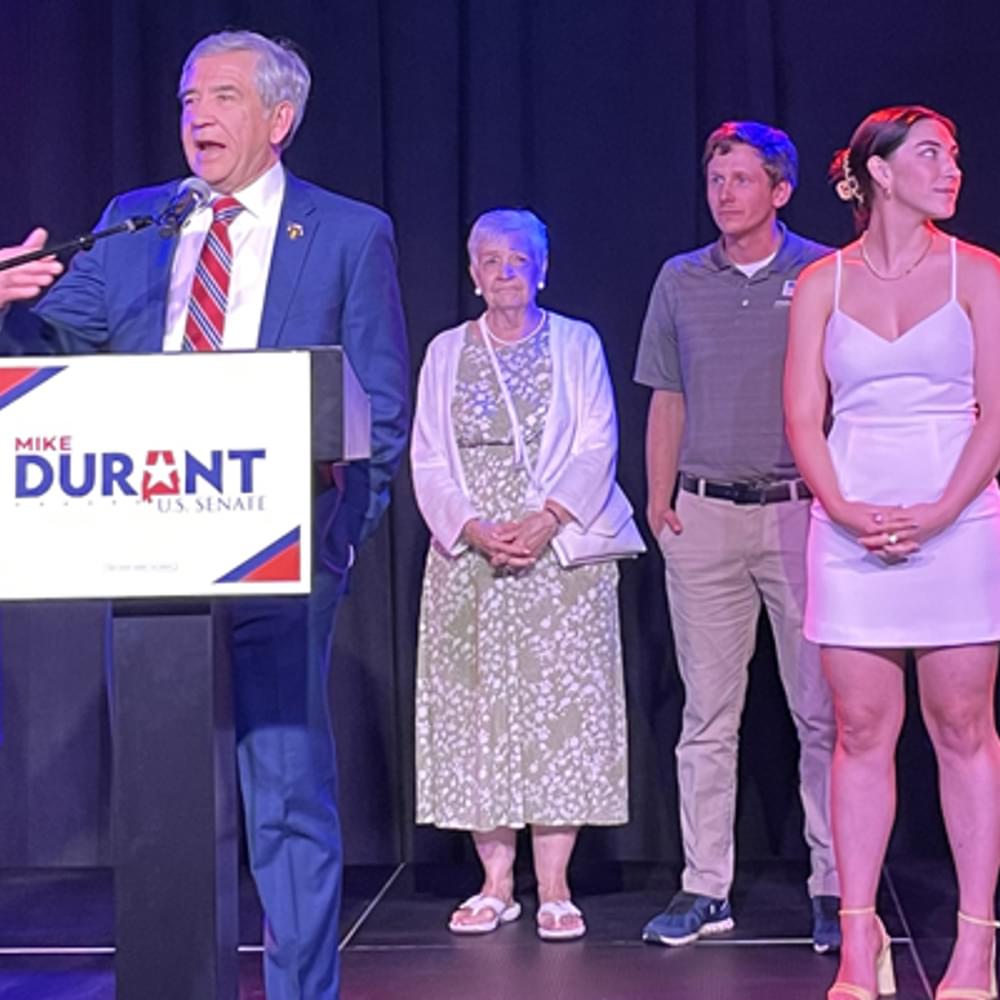 Durant said he is "one and done" and will not be running again.
"I'll support anyone out there who I believe has the kind of heart and integrity that I have to try to make a difference for this country because you can't stand here and complain about what's going on in Washington D.C. and cast your vote for somebody who's part of the establishment," Durant said.
Durant said Monday he would "absolutely support" Brooks against Britt in a run-off election if he were to not make it. Durant did not officially come out in support of Brooks following his concession.
Durant is known for his involvement in the "Black Hawk Down" incident while serving as a pilot for the Army. During this incident in 1993, Durant was held prisoner following a raid in Somalia. In 2003, he published a book about his experience in the Army:  "In the Company of Heroes."
Durant was also the founder of an engineering company in Hunstville, Alabama, called Pinnacle Solutions, which provides engineering services for the Navy, Marine Corps, NASA and others.
Durant was the subject of many controversies throughout the campaign, including one surrounding a speech he gave in 2011 which has received criticism for some remarks about disarming the population. 
On April 4, on "Rightside Radio," hosted by Phil Williams, Durant claimed the remarks were "mischaracterized."
Britt fell short 4.8% of taking home the Republican nomination, receiving 45.2% of the vote and winning all but five counties, which went to Brooks. Brooks came in second with 28.7% and Durant in third at 23.3%.
Britt will face Brooks in the runoff on June 21. The winner of this election will face Democratic nominee Will Boyd for the seat of retiring U.S. Sen. Richard Shelby, who has served in his position since 1986.
To connect with the author of this story, or to comment, email will.blakely@1819news.com. 
Don't miss out! Subscribe to our newsletter and get our top stories every weekday morning.