One Alabama embalmer will perform his job in silence no longer. Richard Hirschmann has been the impetus for recent disturbing pathology reports of abnormal blood clots found and removed by embalmers from the corpses they embalmed. Hirschmann claims this pattern has only emerged in his line of work since the onset of COVID-19 and the implementation of the COVID-19 vaccines.
Hirschmann lives in the southeastern part of Alabama and has practiced there as a private contractor for the past 20-plus years. The embalmer said he started to notice this unusual substance in his work in the summer of 2021.
"It wasn't until May or June of last year that I started to say, 'something is really different about the blood' and then later in September, I took my first picture, since I couldn't come out with just one piece of evidence because what if it's just a fluke?" Hirschmann said. "Now, I have been gathering evidence and I have pictures of over 100 cases. And it's not stopping. It's not slowing down."
Hirschmann said even though the spread of the COVID virus has diminished in Alabama, he's still seeing cases of these blood clots, even in those who never contracted COVID-19 or died from it. He said his gut feeling is to factor in the COVID-19 vaccine as a possible cause since about half of Alabamians did get those shots.
"I am not a doctor or a scientist. I am an embalmer who is just trying to report what I am seeing," Hirschmann said. "If these strange clots are the cause of the ailments leading to these people's ultimate death, and it is found out to be vaccine-related, then the death rate for the vaccine would be astronomical. But these deaths are not being reported that way, they are being attributed to cancer, stroke, heart attacks or other causes instead.
"Whether the vaccine, the COVID-19 virus, or other medications are causing it, I don't know. That is above my paygrade to determine what is exactly causing these clots. I'm just saying, 'please look into this.' If we don't look, we will never know and more people will suffer."
1819 News first made contact with Hirschmann about this story back in March. He was working with a Birmingham radiologist, Dr. Phillip Triantos, to get these blood clot samples analyzed and their basic molecular structure determined. Triantos said he contacted four different labs or doctors within the area to analyze the samples he had from Hirschmann.
"I did get turned down by two of the largest pathology groups here in Birmingham [not wanting] to explore these samples at all," Triantos said.
Triantos said he doesn't have confidence that the other two doctors gave any more attention to the samples beyond a quick glance through a standard microscope.
"Of the two who did take the samples, one doctor is a dermatologist," Triantos said. "He didn't see anything but fibrous tissue. Of course, his experience is limited. He is familiar with dermatological samples but is not an expert in anatomical samples. He did not use any special stains or microscopes.
"The other was a pathologist who got a sample, but he didn't see a whole lot through a regular microscope either and didn't take it any further. There wasn't a whole lot of investigation into this."
Since the process in Alabama seemed to hit a brick wall, Hirschmann decided to take his findings to other labs and pathologists out of state. Now two different lab reports are getting national news coverage of their findings. Hirschmann said he had sent samples to both of those labs as well as three others that have yet to make their findings public.
Cole Diagnostics
Dr. Ryan Cole founded Cole Diagnostics. His recent report was featured on World Net Daily, Steve Kirsch on Substack, Liberty Counsel, and Just the News. Cole has done multiple interviews since the onset of COVID-19, in which he promoted other alternative means of treating the virus, such as Vitamin D intake, Ivermectin or Hydroxychloroquine. More recently, Cole has been sounding the alarm on what his independent lab in Idaho, the largest in that state, has been noticing when it comes to cancer cases and cancer resurgence since the release of the COVID-19 vaccine.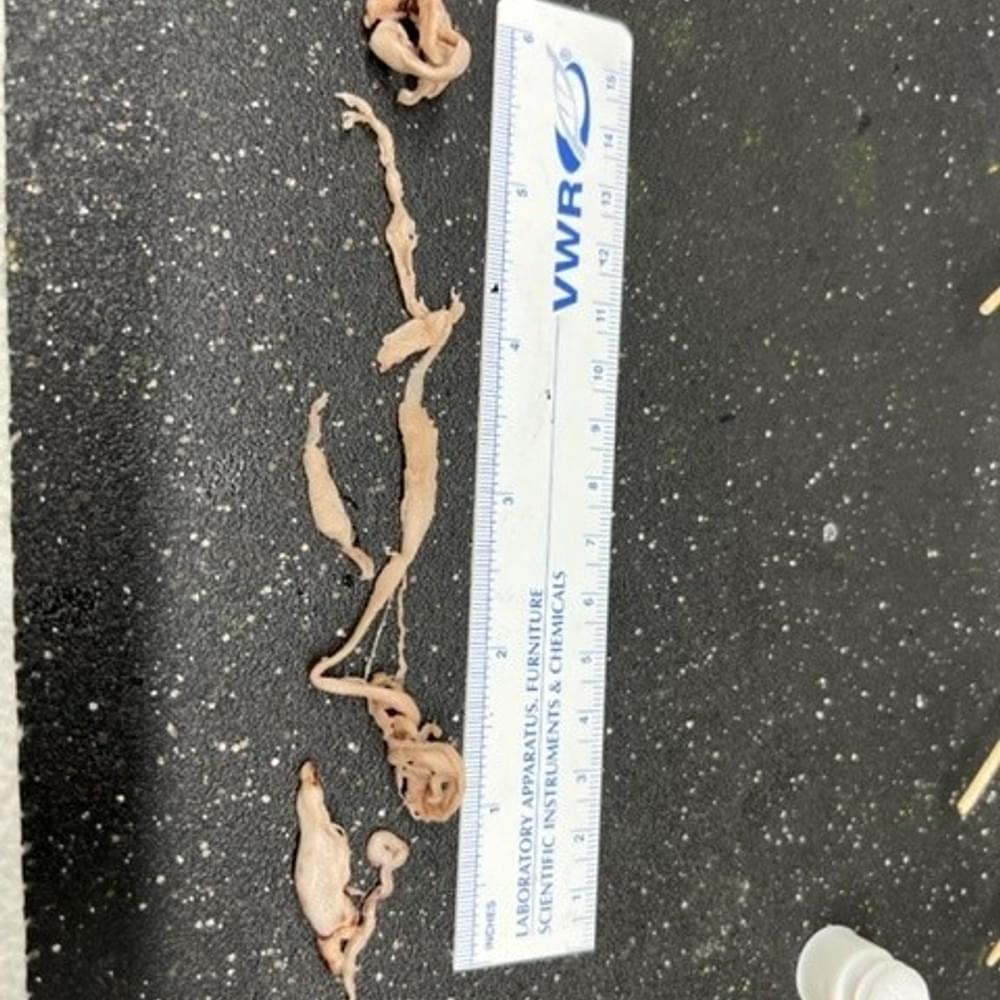 Now this same lab is reporting the unusual blood clots it examined are primarily made up of protein cells, and this protein production is brought on by spike proteins the body is forced to make, either by infection from the COVID-19 virus, or getting the mRNA vaccine.
Cole believes the greater harm by far seems to be done by the vaccine since the mRNA injection forces the body to produce the spike proteins for a minimum of eight weeks after injection, whereas someone with the virus could halt that production within the body by simply taking Ivermectin or some other early treatment.
In his analysis of these clots, Cole also refers to the studies of South African doctor Resia Pretorius in isolating how the spike protein, whether from COVID or the vaccine, has been a primary cause of clotting and platelet dysfunction.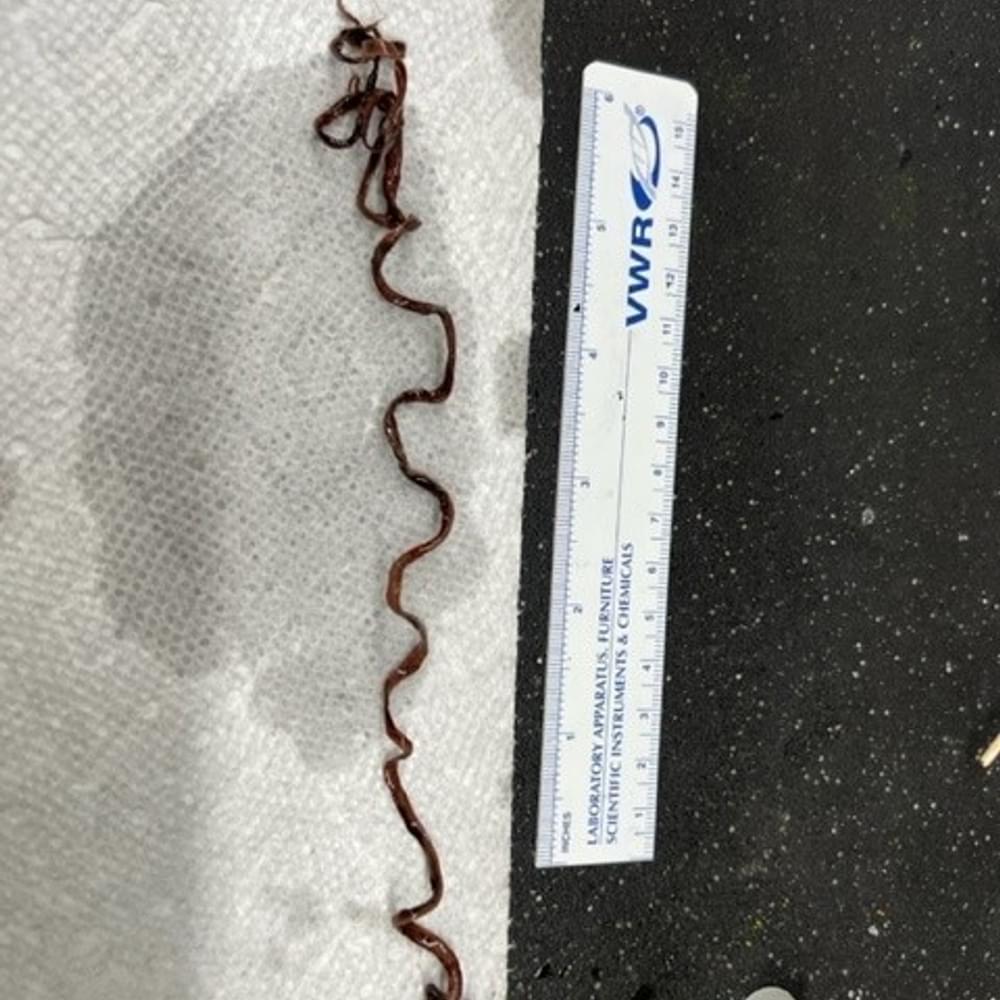 When asked about his part in supplying Cole Diagnostics with sample blood clots, Hirschmann said he can neither confirm nor deny that Cole's analysis comes from what he sent. In recent interviews, Cole has acknowledged that other embalmers from other states have found these unusual clots as well and sent samples.
Another lab that has released its findings from the specimens provided by Hirschmann is run by Mike Adams, the founder of Natural News Website. Adams does confirm those samples are from Hirschmann. His report shows highly magnified pictures of these clots and concludes that there is nothing like this ever before found in a decedent who has natural clotting occur from point of death and onwards.
Magnifications used here at 20x, 50x, 100x, 200x and 500x: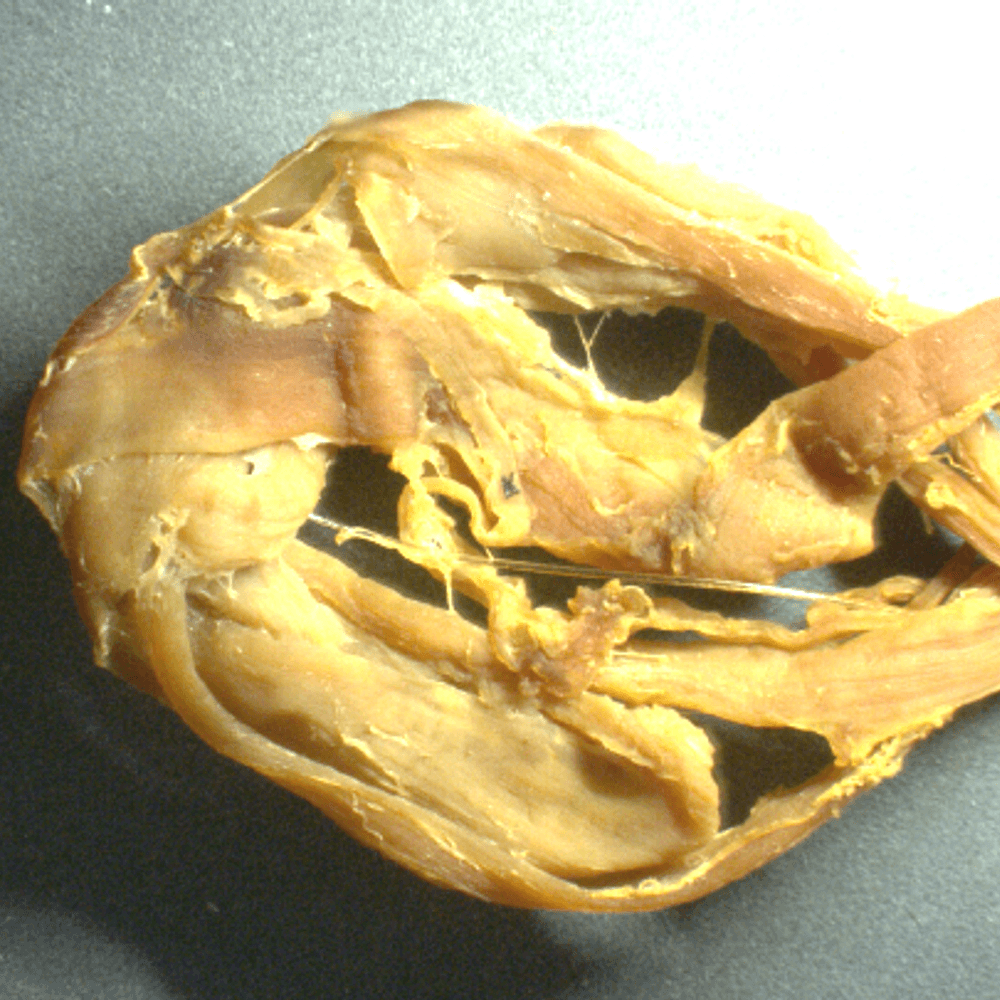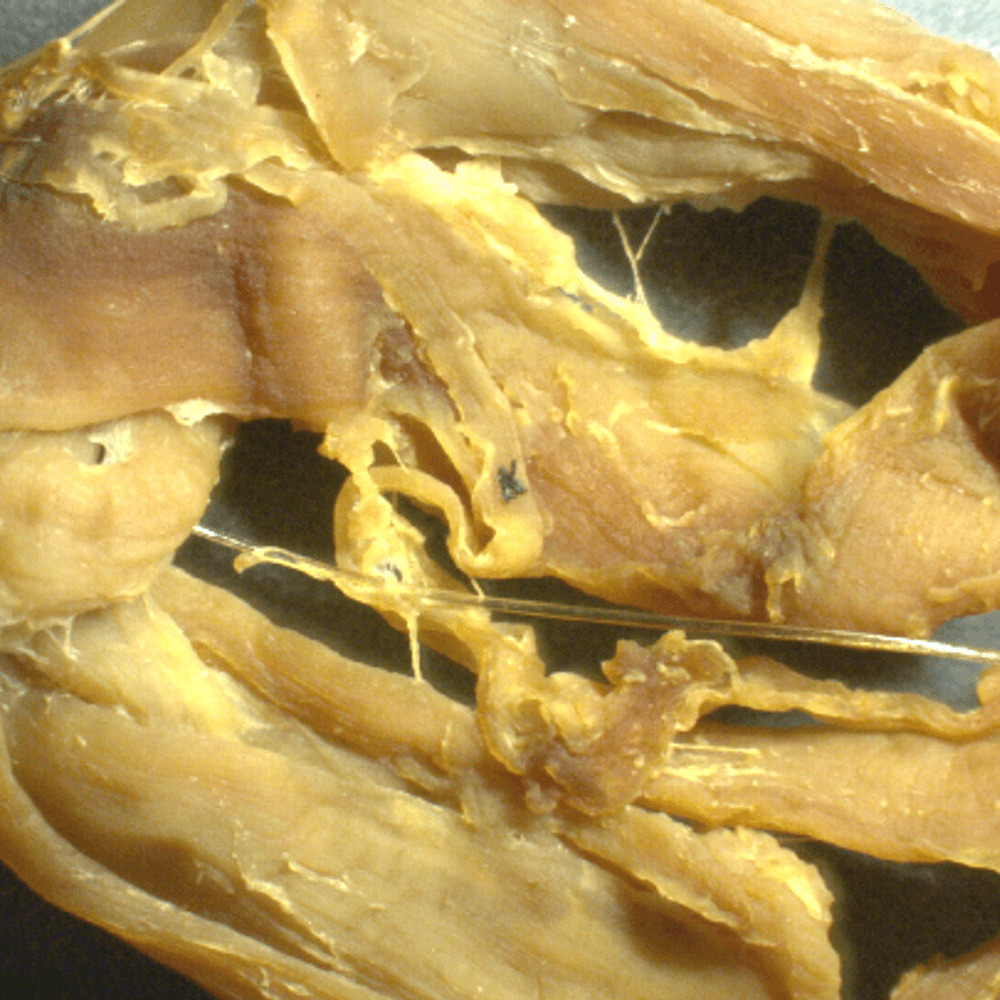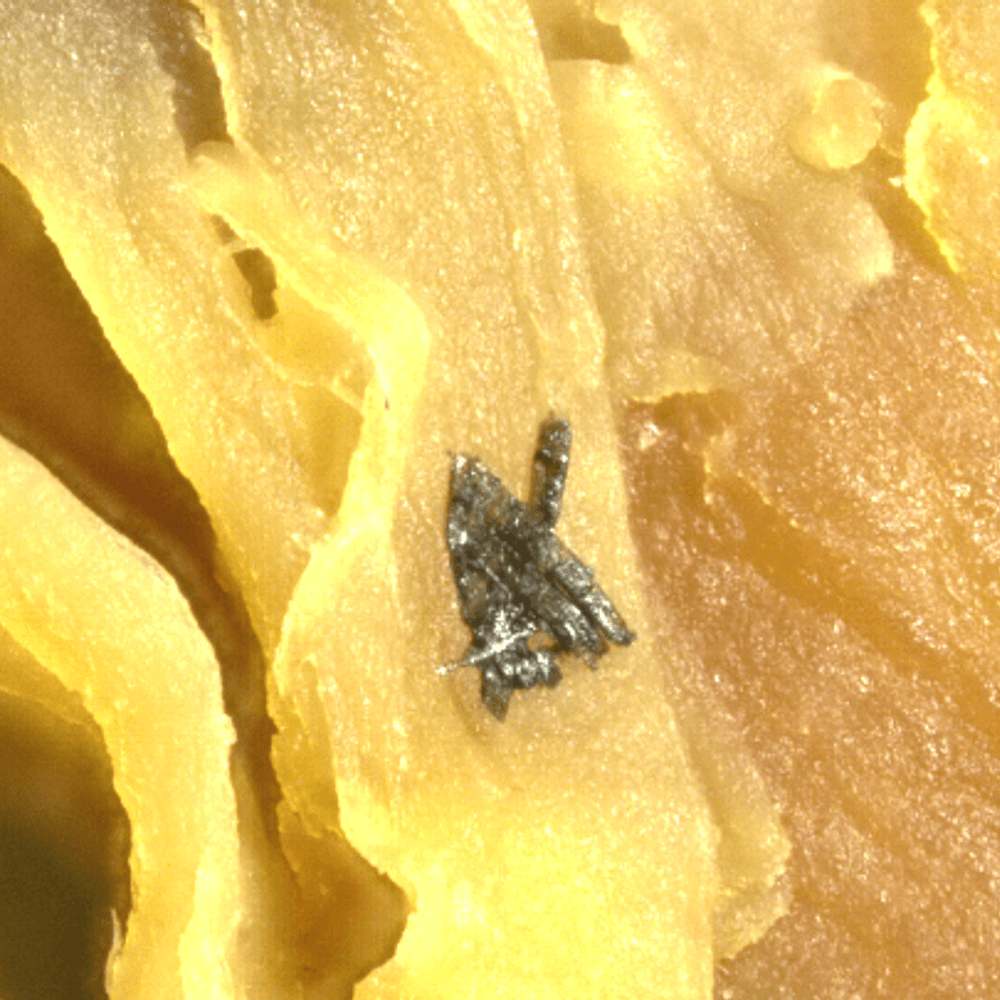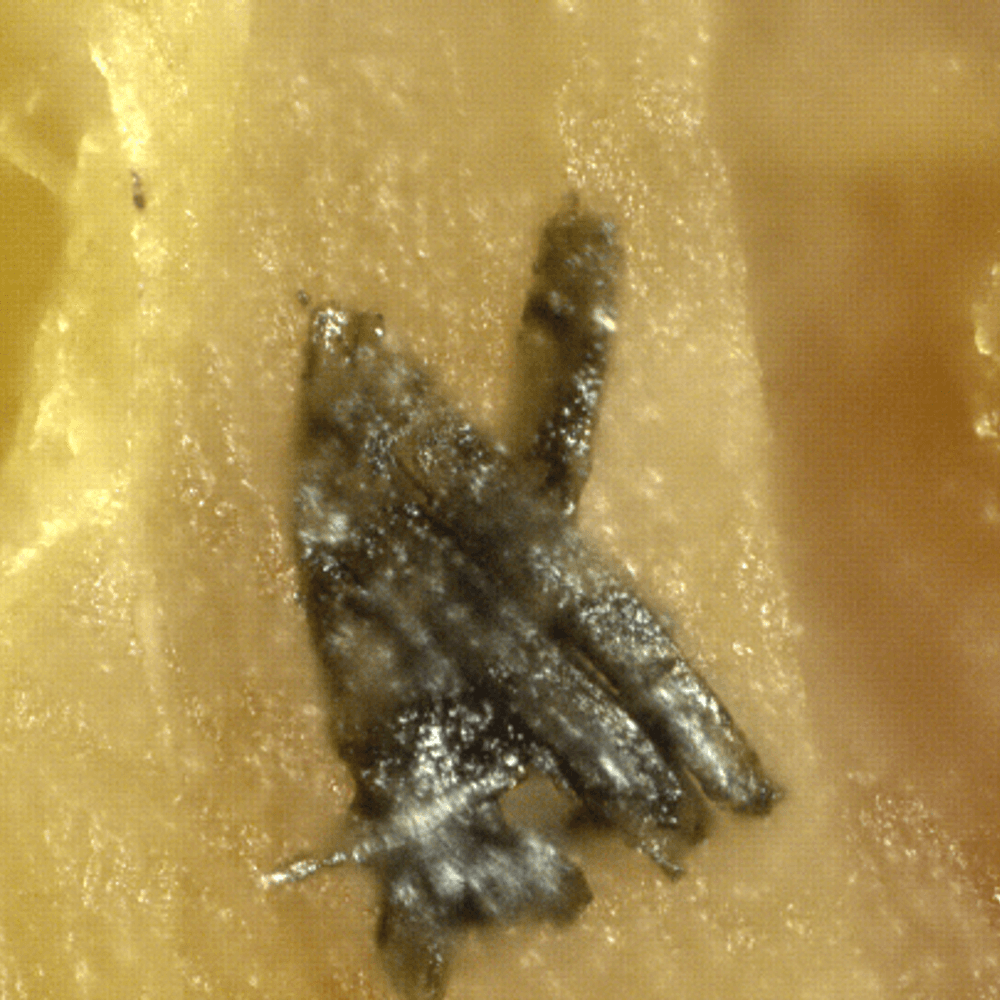 When asked about the reports that came from Mike Adams of Natural News, Dr. Triantos weighed in on the subject and said it appears to be a legitimate and quality examination of the samples provided to them by Hirschmann.
"Well, I thought it was legitimate and truthful. I am a radiologist who has been engaged in this COVID issue and treatment of the virus since it started," said Triantos. "I would not have a problem with the (Mike Adams) lab and its results."
Triantos also said the metal substance that is magnified on the Natural News site is consistent with what he and a biochemist discovered when they put the vaccine vial substance under a more powerful microscope.
"I took and looked at the substance with a biochemist here in Birmingham. We analyzed multiple vaccine vials of J&J and Moderna vaccine," Triantos said. "We looked under a dark field microscope with 1200X power, and we saw so much debris in it, and things that looked like metallic flecks. Looking at these postmortem fibrous tissues, it kinda looks like what I was looking at in the microscope of the dang vaccine."
Hirschmann said that few colleagues here in the state are willing to go public with what they find because they are fearful of repercussions from within the medical and funeral services industry.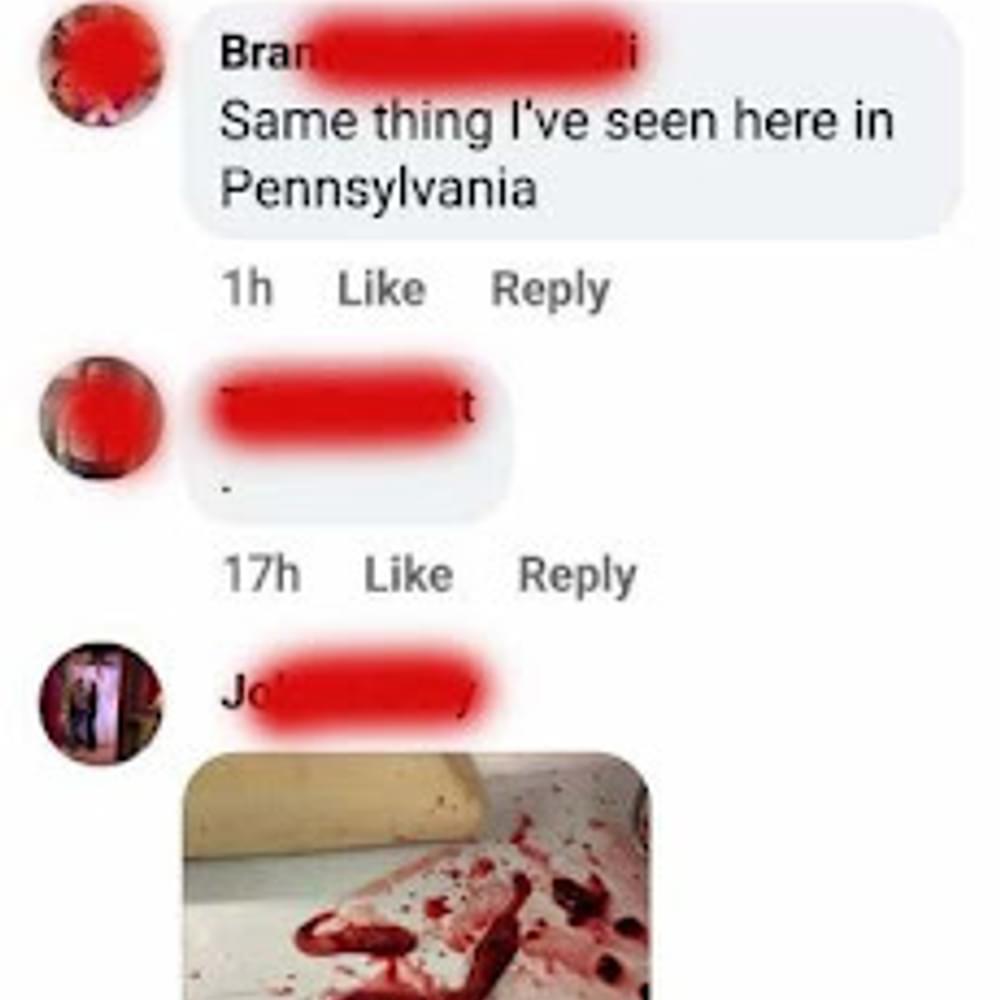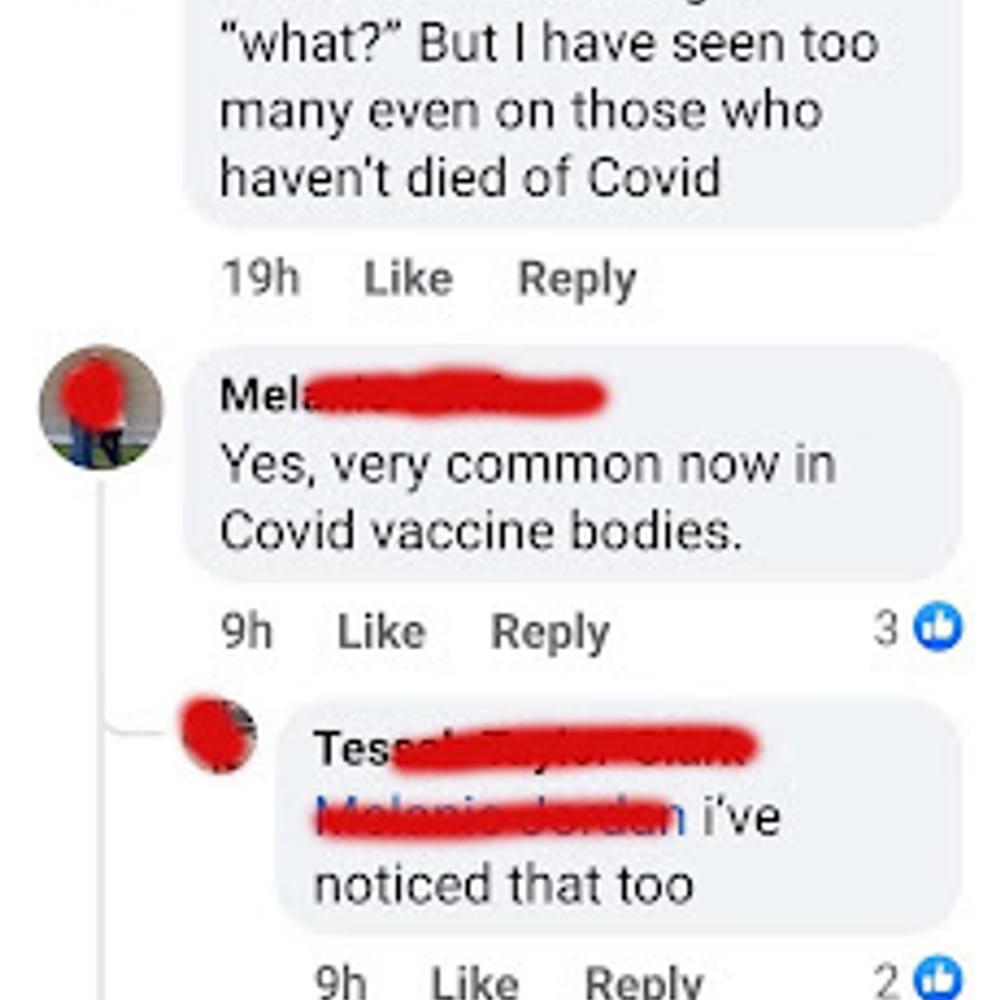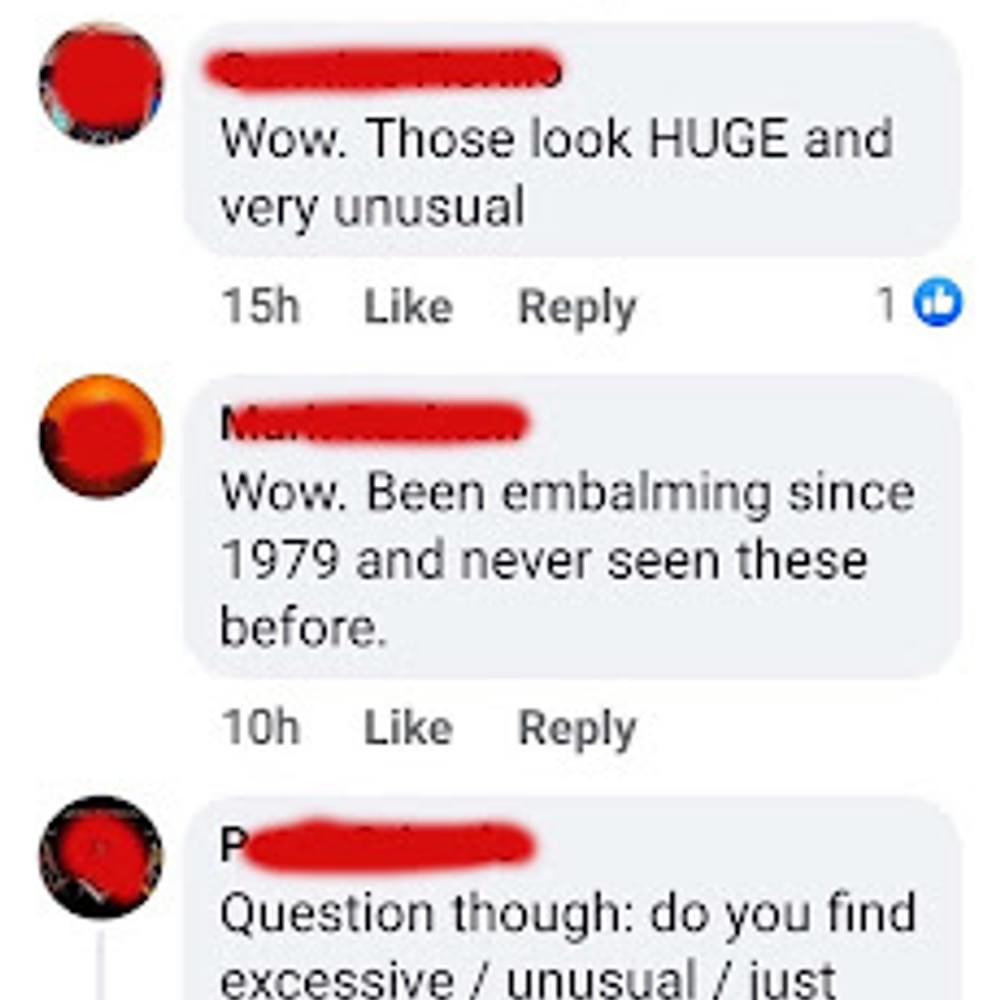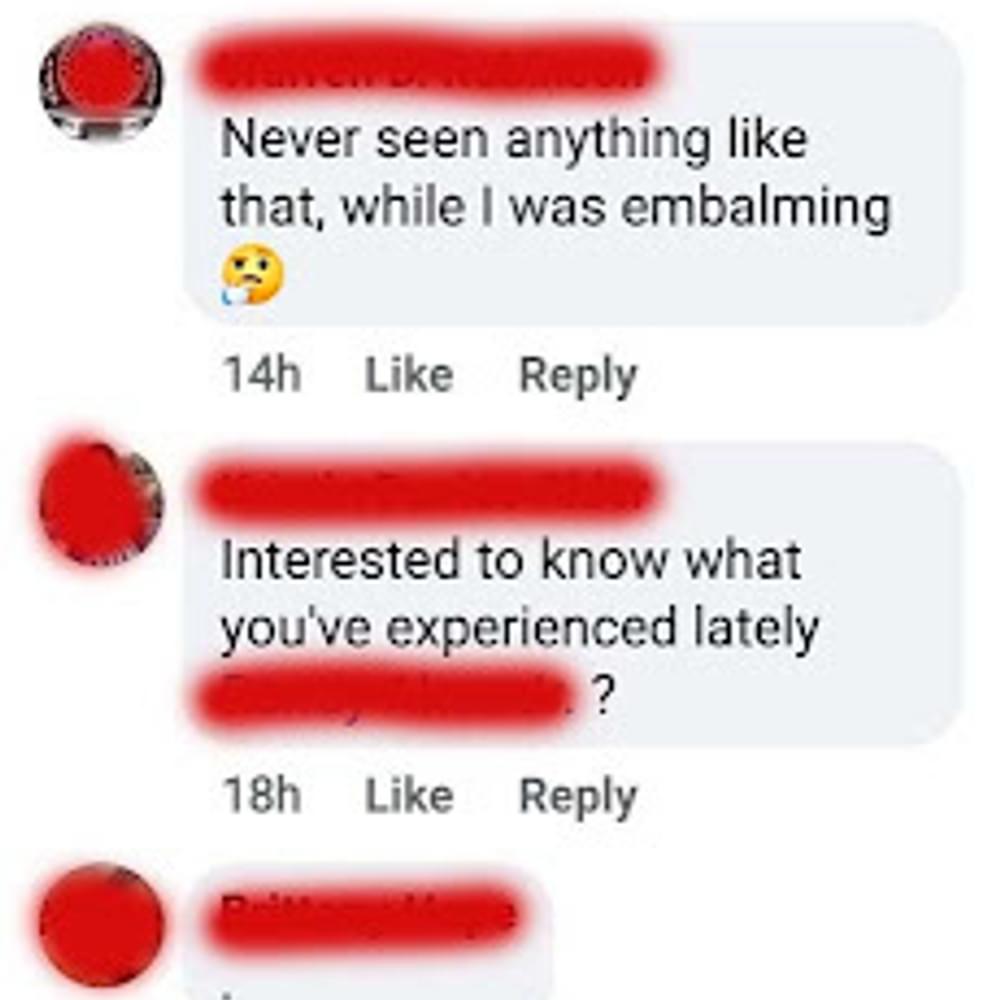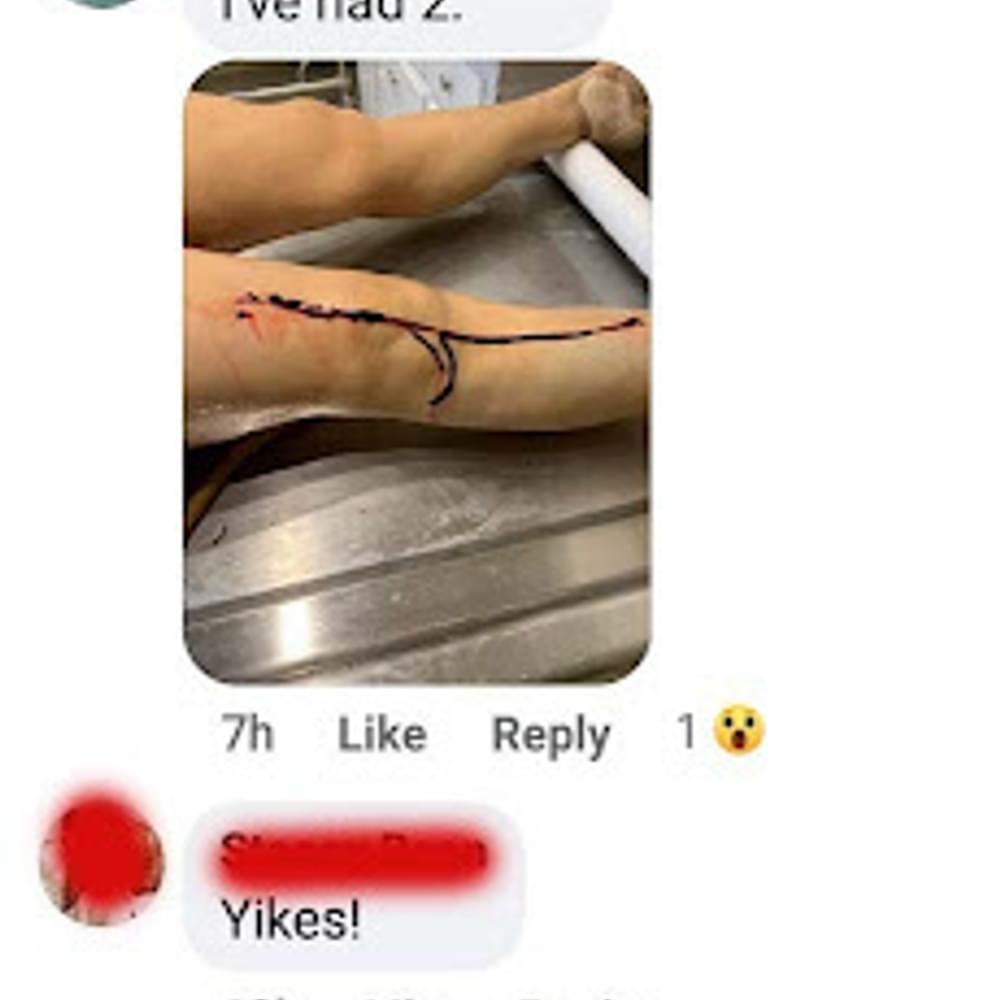 "I have embalmed cancer patients for decades and never seen these wormy structures in their dad-gum blood," said Hirschmann. "There are other embalmers on private Facebook chatrooms who confirm what I am seeing but have to be careful if they draw bad publicity or controversy to their employer and funeral home. The difference with me is I am an independent contractor. Everyone I work for would have to shut me off. My only concern is the Alabama Board of Funeral Services might take my license. That would end my career, but then I will start blabbing worse than I've ever blabbed before."
Wallace Hooker, in Indiana, agrees with Hirschmann as a colleague in the embalming industry. Hooker is a funeral director for the independent Family and Friends Funeral Home in Wingate, Indiana with over 30 years experience.
Hooker serves on the advisory board of Worsham College of Mortuary Science, is a member of the BIE (British Institute of Embalmers) and board member of the North American Division. He also travels around the nation providing lectures to other embalmers on perfecting the process and navigating unusual problems. Hooker confirmed an increase in strange blood clots in the past two years, not just witnessed by himself but by other morticians from across the nation who send him photographs.
"I have lectured four times so far this year," Hooker said. "I am asking questions and showing pictures of these clots in my Powerpoint, and routinely, everywhere I lecture, people say they are seeing these clots, and have not seen them prior to COVID."
Between his lectures and social media presence on a private Facebook chat room, Hooker has the eyes and ears of well over 10,000 other embalmers in the country. He has gone so far as to solicit them to send any pics of troublesome and strange blood clots they encounter.
"Big corporations have a "no phone" rule in the prep room, so no photos can be taken there," said Hooker. "I understand and respect that, but I also respect other embalmers sending me the pics from their prep room of the clots they are seeing, helping us try to find answers. How on God's green earth can anyone argue with trying to find answers? If a person wants to refuse to accept what we are seeing, refuse to look for answers, they are part of the problem not the solution.
"I've been at it a little over 30 years. What I think is happening here, is that Big Pharma and the medical profession is now playing 'cover your ass.' They know there is a problem. These clots are not forming as a result of laying in a cooler for too long. Doctors are worried about lawsuits, after they pushed for vaccinations, and people are starting to now see what was not shared in the beginning about the side effects. And we [the embalmers] are seeing the side effects.
"Don't tell me because I'm seeing things, I'm wrong if you are not the one in the prep room."
Back in March, 1819 News reached out to Darren Dunn of Services Corporations International at their Birmingham hub. Dunn is the managing embalmer of a facility that processes the highest volume of cases in the state. Dunn said the increase in coagulation and strange blood clots during embalming has become noticeable and undeniable to him and others working there. That change first started around the time that the COVID-19 virus erupted in the state. He says it has not slowed down in frequency since 2020.
Dennis Russell works as an embalmer in St. Clair County and says he does not see any uptick in strange blood clots. We spoke with him in June of 2022. Russell also works as the St. Clair County Coroner and when asked if other embalmers in that county have tried to bring to his attention any strange clotting cases, Russell said no, not at all.
Worth noting from the two testimonials above are the COVID case rates being the same between the two counties but the vaccination rate has a 20-30% discrepancy with Jefferson County (where Dunn works) having the higher rate.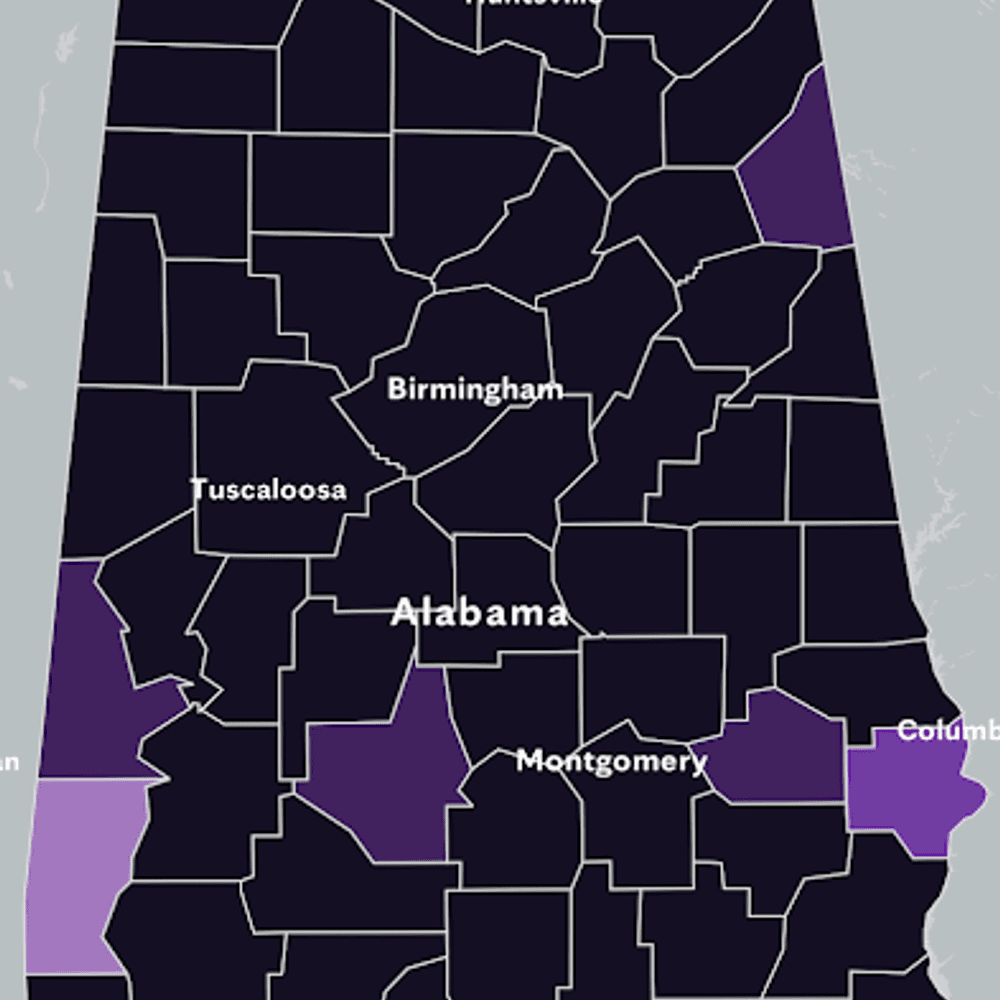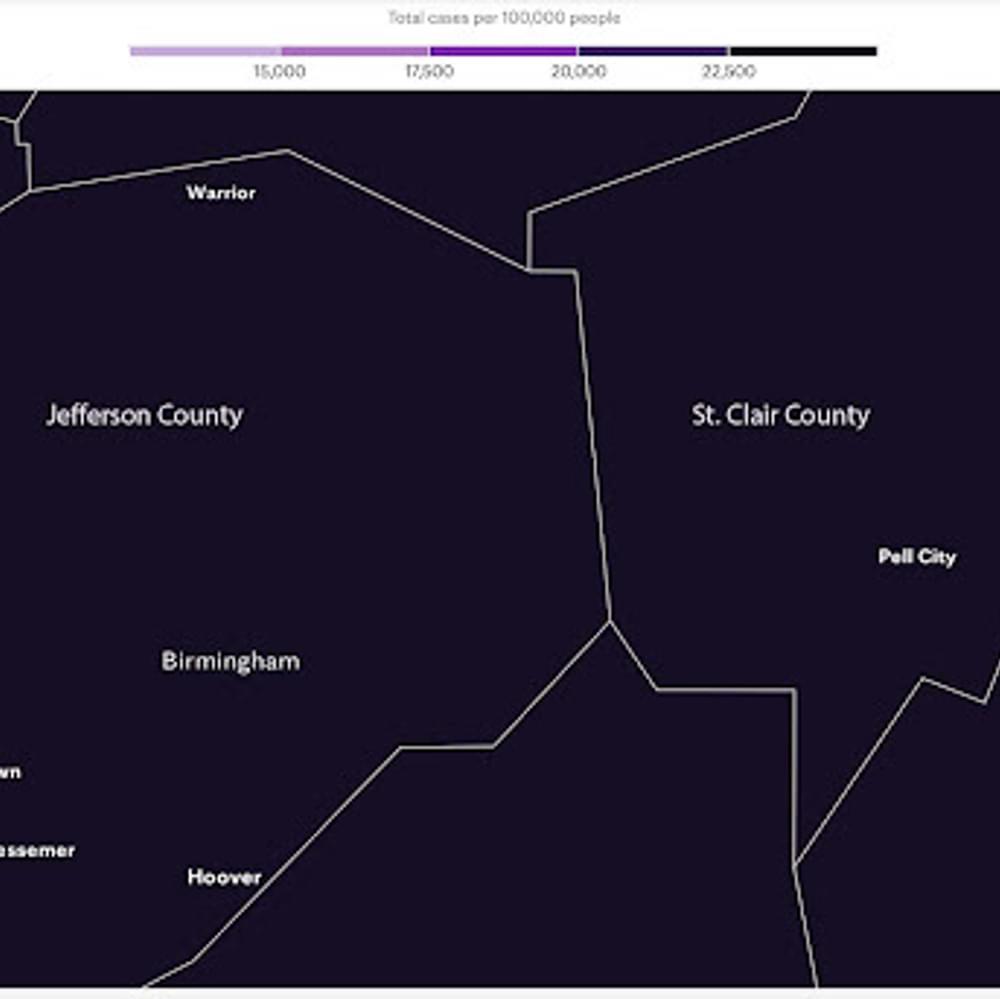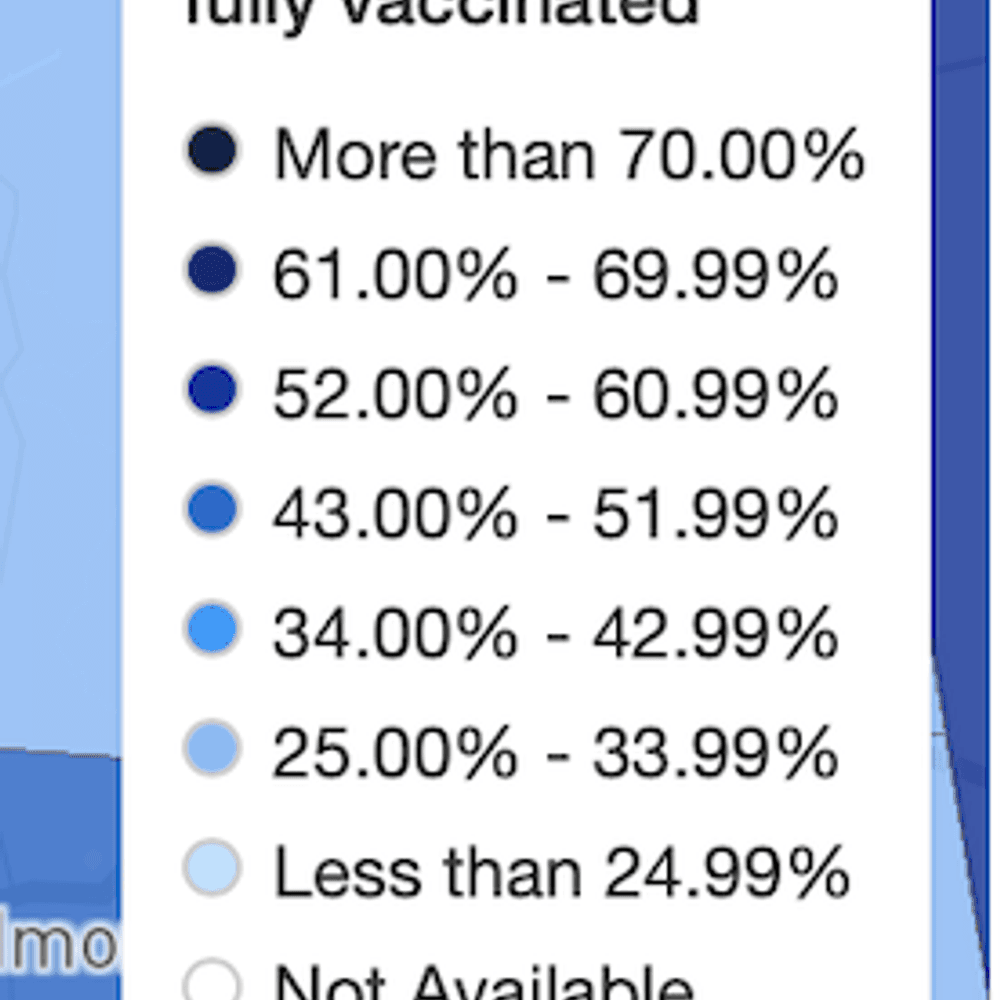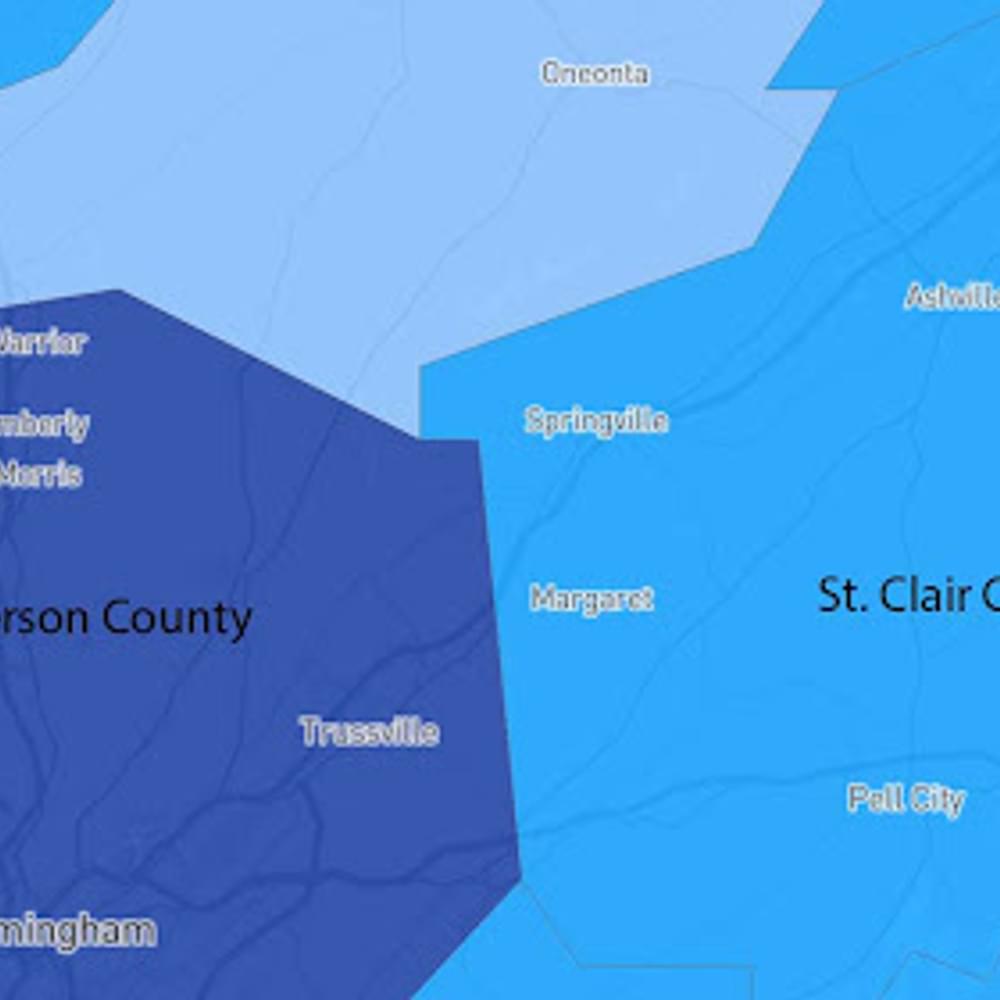 1819 News took time back in April to call, at random, funeral homes here in Alabama. After actually getting ahold of embalmers on the phone in Auburn, Bessemer, McCalla to ask about unusual clots, three said they haven't noticed anything unusual, and haven't been looking for anything unusual either.
An embalmer in Montgomery said he hasn't seen any unusual blood clots unless that person has been on a ventilator before death. This embalmer has only been at the job for a year.
A Huntsville embalmer said there have been some weird cases with clots but nothing that rises above the usual, in his opinion.
Twelve other funeral homes across the state were called with a request to talk to someone who can answer an embalming question. Name and number were taken down, but no return call on the issue.
As of this week in July, the Alabama Department of Public Health did respond to an inquiry on whether county coroners or embalmers are contacting the department about these blood clots in decedents. ADPH replied:
The Alabama Department of Public Health (ADPH) has not been informed of any trends related to this issue.

Thank you.

Karen Landers, M.D.

Chief Medical Officer
Hirschmann said he just can't let this issue go based on what he continues to see even two years after COVID and the COVID vaccine. This is to him a matter of life and death. Richard's job deals only with the dead end side of an underlying medical problem. However, he believes that doctors on the life side of their patients could better treat them if aware of this clotting reality and taking proactive measures.
"I've had so many doctors say to me Richard if you had not provided these photographs, we doctors would have no idea this was in their bodies," Hirschmann said. "Because once the patient is out of our hands and care, we are moving on to the next one."
Triantos credits Hirschmann and his embalming evidence as a direct cause for change in diagnostics at the medical center where he works in Birmingham. The possibility of slow-forming blood clots as an underlying cause in certain cases is now factored in and tested for by two doctors on staff, a neurologist and a head and neck specialist. Triantos said a patient coming for care with signs of numbness or lightheadedness will have their arteries and veins scanned with a duplex ultrasound immediately, especially if those patients are also experiencing signs of Long COVID or a vaccine injury. Anticoagulants are the next step in treatment if evidence of clotting is found.
Hirschmann said that without people in his industry communicating this unusual pattern to the medical community, and without doctors showing medical integrity to find the root cause of these blood clots and then pursue proactive treatment, the underlying problem will remain undiagnosed and further loss of life will needlessly happen.
"People say there's no scientific evidence," Hirschmann said. "Yeah well, there's no evidence because they aren't willing to LOOK.
"These clots are different and we need to get to the bottom of what is causing it because if we don't there is no telling how many more people will suffer. I know something isn't right.
"I am concerned for humanity."
To connect with the author of this story, or to comment, email [email protected].
Don't miss out! Subscribe to our newsletter and get our top stories every weekday morning.