Since 1953, the Huntsville City Council has been asked eight times to increase water rates, according to Huntsville Utilities president and CEO Wes Kelley. Now, it's being asked to raise the rates again to meet the city's growing demand.
"We kept seeing growth happen at a rapid pace in Huntsville and at a pace that wasn't slowing down," Kelley told the council. "So when we saw that, we realized we needed to understand what do we need to do now so that we don't make short-sighted investments."
On Thursday, Kelley and Kevin Mullins with Garver Engineering presented to the city council Huntsville Utilities' 20-year water master plan.
To help fund the master plan and keep up with the area's residential and business growth, Huntsville Utilities has proposed raising the residential water rater from $1.33 to $1.80 per 1,000 gallons for the first 3,000 gallons. The next 3,000 gallons would go up to $2.31 per 1,000 gallons, then $2.59 for 9,000 gallons and $4.06 for over 15,000 gallons.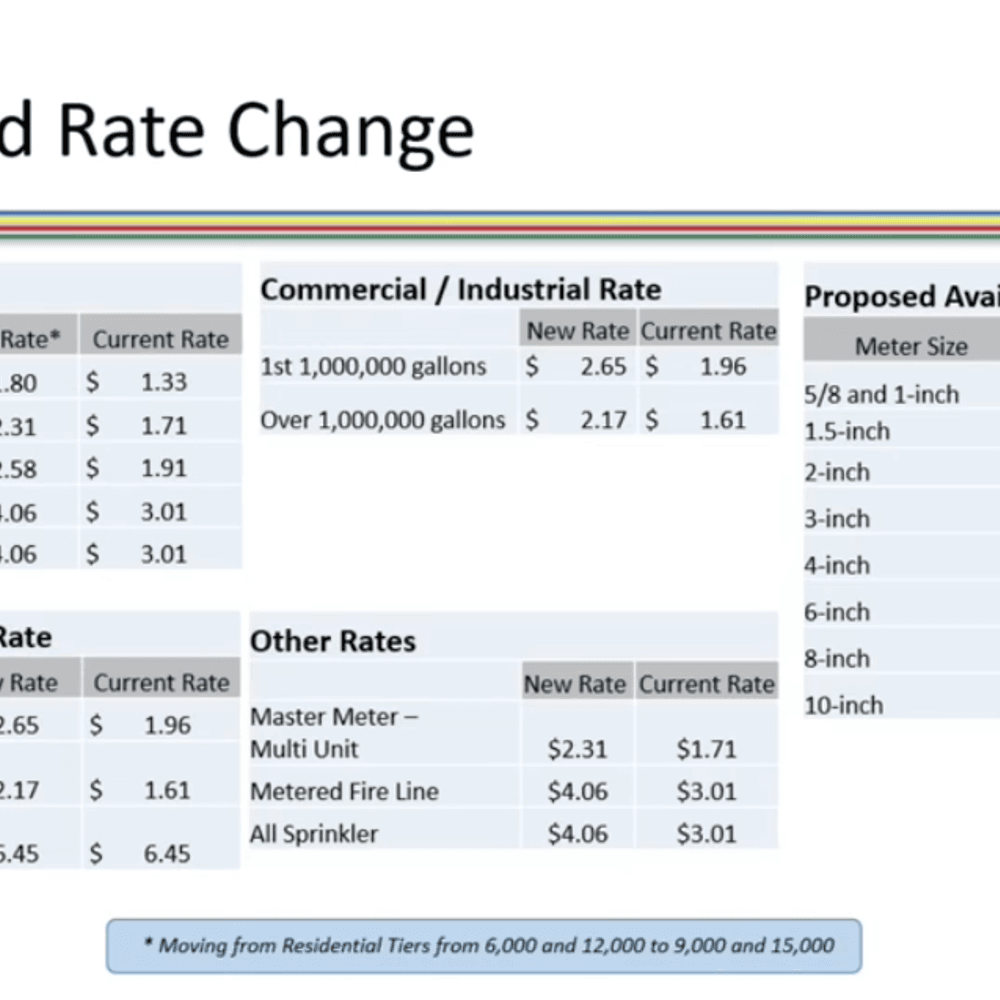 The total cost of the capital improvements in the plan, which includes new plant production, adding four new pump stations and storage tanks and significantly upgrading existing plants and infrastructure, comes to an estimated $218,091,932, Mullins said.
That breaks down to $87,537,500 for plant production, $70,270,000 for improvements in the Western area, $20,710,432 for improvements in the North and Central areas, and $39,574,000 for improvements in the eastern area.
"That's exclusive of that 480 miles of cast iron [water pipe] replacement that is planned for replacing and the pump station upgrades for those north-based pump stations that will be visited individually," Mullins said.
Huntsville's metro area population as of 2022 was 428,112 and is expected to reach 715,326 in 2042, according to Mullins. That would add 78.5 million gallons to the average daily demand on top of the 44 million gallons currently needed on an average day. Currently, Huntsville Utilities is permitted to produce a maximum of 129 million gallons per day, Kelley said.
"Plans are one thing, but what you need tomorrow sometimes looks different than what you need 20 years from now," Kelley said. "...We don't want to outlive or outgrow our infrastructure. Many of our assets were built during Huntsville's boom period of the 60s and 70s. They require attention today."
The city council plans to vote on the proposal at an upcoming council meeting next month.
To connect with the author of this story or to comment, email daniel.taylor@1819news.com.
Don't miss out! Subscribe to our newsletter and get our top stories every weekday morning.