Some people assume incorrectly the name Frederick Douglass Republicans refers to a minority sub-group of the GOP or that it is a name of an organization, a foundation, or a club. Neither is the case. It is a movement, and it has nothing to do with racial separation.
Catching the attention of tens of thousands of Americans since 2008, regardless of their skin color, Frederick Douglass Republican is a political perspective and a rallying call to defend our God-given rights. Anyone may become a Frederick Douglass Republican because it is not about COLOR; it is about VALUES.
An all-inclusive political philosophy, Frederick Douglass Republican is based on the 11 Life-Empowering Values of America's greatest liberty messenger, Frederick Douglass. Leveraging these 11 Life-Empowering Values prevents confrontation and creates common ground and unity. They are (1) Respect for the U.S. Constitution, (2) Respect for Life, (3) Belief in the Limited Power of Government, (4) Belief in Personal Responsibility, (5) Economic Prosperity, (6) Education-School Choice, (7) Women's Rights, (8) The Right to Keep and Bear Arms, (9) Free Speech, (10) Religious Liberty and (11) Immigration.
Resonating with many Americans, Douglass' 11 Life-Empowering Values are the best solution to ignite America's passion for liberty because these values are from a former slave who cannot be out-victimized, even today. To secure the blessings of liberty, we must leverage Douglass' 11 Life-Empowering Values and his literary legacy. There is no better way.
Frederick Douglass Republicans are everyday citizens of this great nation who realize that America is not perfect, but we take pride in what it means to be an American. We are not afraid to stand up against tyranny.
Frederick Douglass Republicans are concerned that government is gaining too much power ─ seizing our God-given right for self-rule.
Frederick Douglass Republicans are not bound by race, color, creed or religion. We come together as a united front ─ committed to restoring America to its founding principles.
Frederick Douglass Republicans support only those politicians who make the plight of the poor a legislative priority by creating an economic environment that promotes employment and entrepreneurial opportunities.
As Frederick Douglass Republicans, we embrace and employ the Frederick Douglass Republican Engagement Strategy ─ the single most effective persuasive messaging model for sharing conservative values with all Americans. We understand the words "conservative" and "Republican" are synonyms for "racist". When these words are said, the listener is no longer listening because the one using them has already admitted they are racist.
Even the Godfather of Conservative Talk Radio, Rush Limbaugh, informed Conservatives to stop using the word! And so, we identify ourselves politically as Frederick Douglass Republicans in lieu of calling ourselves "conservatives".
The Frederick Douglass Republican Engagement Strategy empowers and equips Conservatives with the confidence, knowledge and skills to trump the race card. It is the offensive strategy for conservatism. Compromising our conservative principles is not the answer. Instead, what is needed is a fresh approach to connect with people ─ the Frederick Douglass Republican Engagement Strategy™.
As admirers of Frederick Douglass, whom we all hold in very high esteem, we view him as the concrete expression of the American Dream Story ─ a universal model of how the American Dream can be achieved by anyone. Moreover, Douglass is the bridge over the racial and class warfare abyss that has been purposely created by Marxist-Liberals.
Some questions have no answers, and the Left has, without doubt, no answer for Frederick Douglass. They never will. I contend that if we want to defend liberty and defeat Marxism, we must embrace and become Frederick Douglass Republicans.
Since this is Black History Month, I would be remiss if I did not briefly mention something about it. Dr. Carter G. Woodson, the Father of Black History, is the second African-American to earn a PhD from Harvard University ─ the first being W.E.B. Du Bois.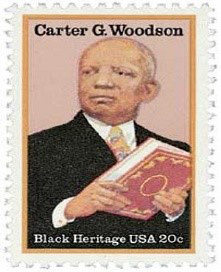 In 1926, Dr. Woodson launched Negro History Week ─ the forerunner of today's Black History Month. He chose the second week of February to be Negro History Week because it corresponded with the birthday of two iconic individuals to the Black community. One was Abraham Lincoln on February 12 and the other one was, you guessed it, Frederick Douglass on February 14.
Negro History Week became so popular it was later expanded into Black History Month. Surprisingly, however, many people actually believe Black History Month is celebrated in the month of February because it is the shortest month of the year.
In the words of radio broadcaster, Paul Harvey, "And now you know the rest of the story."
A former member of President Trump's Coalition Advisory Board, KCarl Smith is the President and CEO of KCarl Consulting Group, empowering freedom advocates with the confidence, knowledge and skills to trump the race card. His column appears every Thursday in 1819 News. To contact KCarl or request him for a speaking engagement go to http://kcarlinc.com/bookingsandfees . The views and opinions expressed here are those of the author and do not necessarily reflect the policy or position of 1819 News. To comment, please send an email with your name and contact information to [email protected].