This story has been updated
When 19-year-old Landen Williams stood next to Dr. Jordan Vaughn to look at an X-ray of his lungs, he and his family had been in a year-long health nightmare. The teen had contracted what appeared to be a mild case of COVID in April 2021, and as a young athlete, he recovered from the symptoms within a matter of days. But a month later, while active at a summer camp, Landen discovered something terribly wrong.
He recalled, "I went to the dorm after some activities at the camp. My heart was racing. I was jittery all over. I could not catch a breath. Previously I was healthy and working out every day. It was like my life. I enjoyed it. I was thinking, 'Was it something I ate?' I was going over everything I did. Then my youth pastor came into the room and ended up taking me to the hospital."
Lying on an emergency room gurney gasping for air was the start of this young man's grueling and perplexing journey. The days to follow consisted of paramedics in the house, going to primary care doctors and specialists, and as his mother, Jill, explained, "Having every test, poke and prod you can think of."
During those summer months of 2021, the Williams family hit the most maddening point of all in the examination room of a cardiologist who concluded that Landen's fatigue and stabbing chest pains were "all in his head," and he was experiencing an "anxiety" attack.
Jill describes what happened, saying, "I'm the type of person who when I am upset I cry, I don't retaliate. So when the doctor said this, I told myself not to cry, but then I looked up at my son Landen sitting on the table with tears flowing down his face. I stood up and called out the doctor's name and said, 'You have insulted us. If this was your son, you would be finding out what is wrong. You would be researching this. You have NO idea what this child has gone through.'"
"We walked out," she added. "He tried to apologize on our way out, and I said, 'We know how you feel. You are fired.'"
That visit offered zero solutions and even more discouragement.
By the fall of 2021, the Williams family had a partial breakthrough in identifying where Landen's fatigue and breathing problems could possibly be coming from. Jill says this came during another doctor visit.
"We came across a Chelsea doctor, Dr. Peyton Daugherty, who said that Landen could be a 'long-hauler' from COVID. So, we all began researching how to address this problem, including the doctor's own wife, because this condition was all new to everyone," Jill explained.
During that online research, Landen spotted a new treatment offered in Germany and Cyprus. Dr. Beate Jeager in Mulheim, Germany has used a treatment called HELP Apheresis for 30 years for cardiac patients to clean the blood and filter plaque, cholesterol, viral debris, etc.
Two-thirds of those receiving the treatment saw a 70-80% improvement in their vascular system. Jeager had since started using this treatment for those with long-haul COVID.
The success of this clinic had also created a waiting list of six to 12 months.
Jill Williams signed her son up with the full expectation that a solution would be found before then, her son would be better, and there would be no need for the trip or treatment. But months continued with no change to Landen's fatigue and constricted breathing, especially after any physical exertion. In the next 12 months from the episode at camp, Jill would see a night and day difference in her son.
"My son was the most healthy and energetic young man I had ever seen. But then he went into this malaise," she outlined. "Landen looked at me one day and said, 'Mom, you know how after you've been sick, and you start craving things?' And I said, 'Sure, honey, tell me what you want, and I will fix it.' He said, 'Mom, I am craving oxygen. I just want someone to stuff it down my throat.'"
Desperate to help their son, the Williams family looked into oxygen tanks and blood filtration treatments already offered here in the United States to give Landen relief before his trip to Cyprus. The German doctor's treatment and machinery have not been FDA approved for use in the United States, so the family had to look for options that dealt with human blood to a lesser degree of medical intervention. Jill says they found a group in Birmingham that did blood oxygenation and ozonation and signed her son up to see if it would help.
Landen and Jill sat in the room at Sparrow Health and Performance Alternative clinic with a line hooked up to his arm to take blood out of his body, put it through the EBO2 filtration system, and then back into his other arm.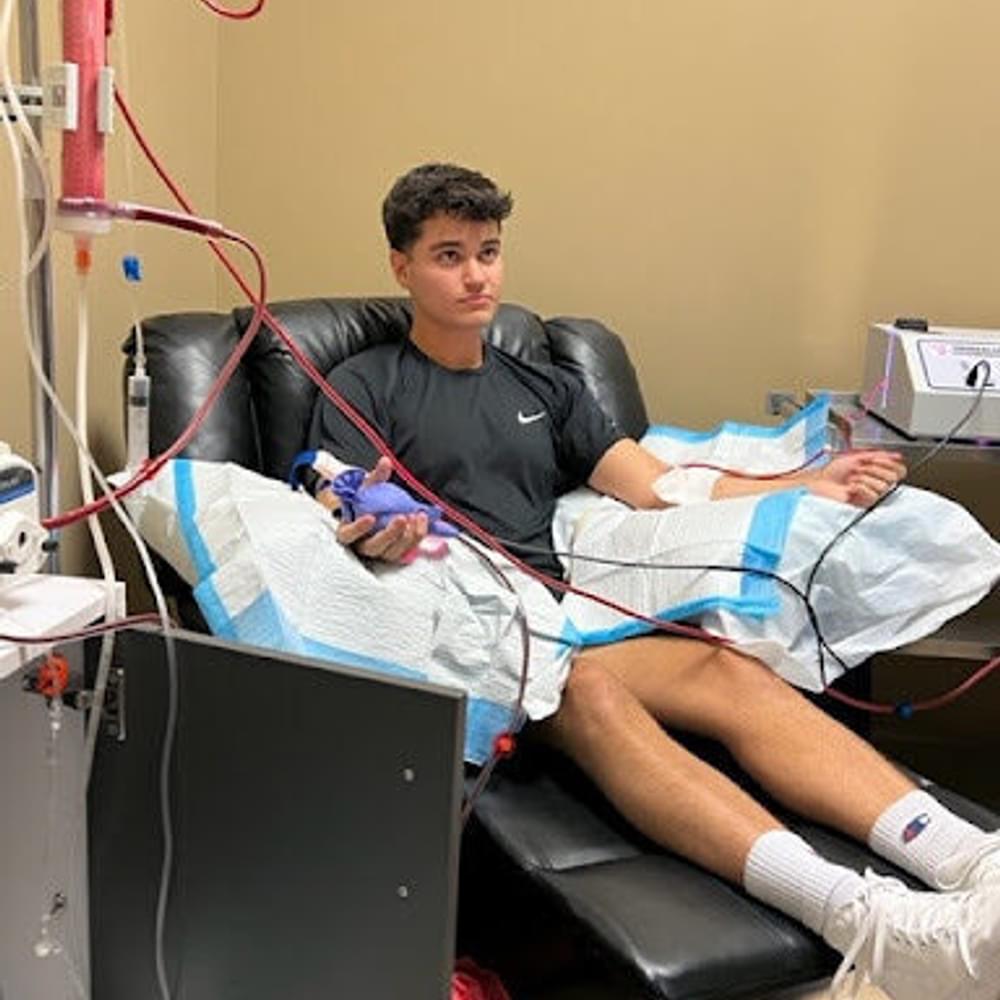 During that process, a massive blood clot came out into the tube. The nurse gasped when she saw it. Jill managed to grab her phone and capture a picture before it disappeared into the equipment.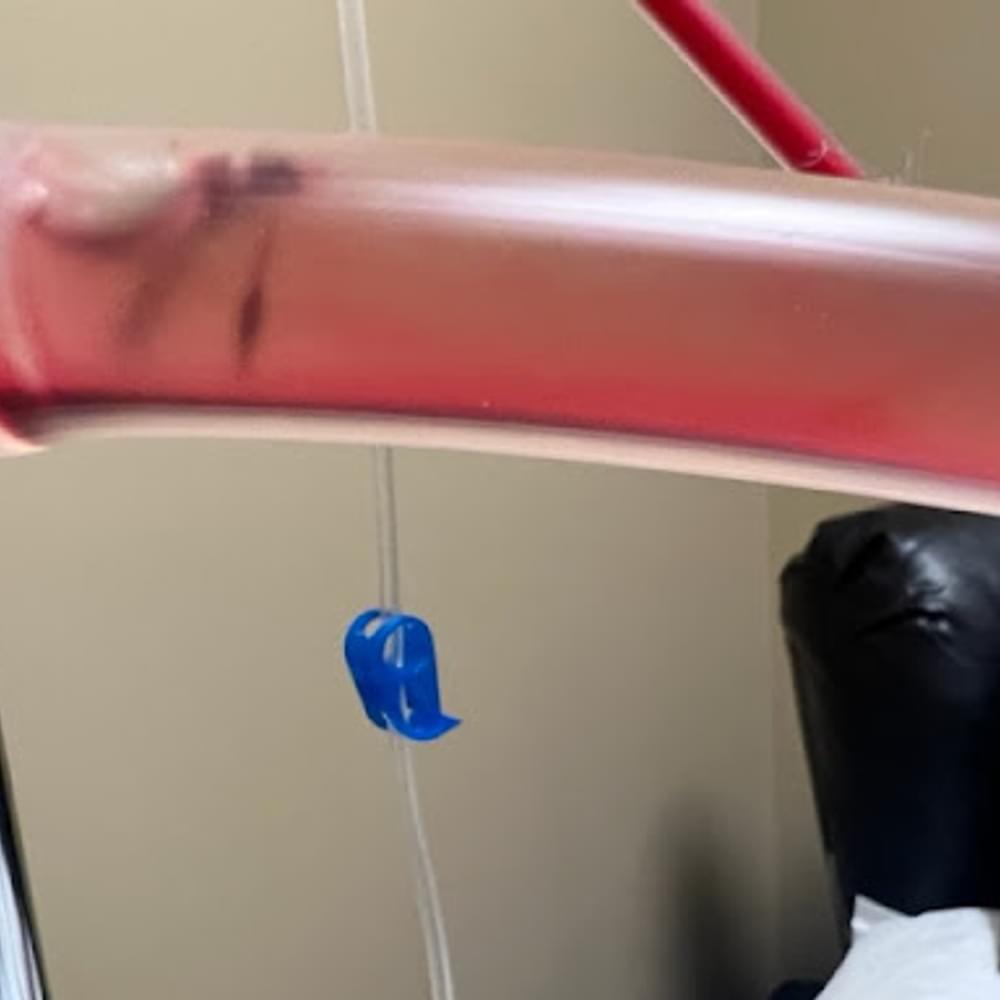 "It was really odd, looked like it had legs, really weird," Jill said. "But doctors say COVID clots are much different than regular clots. It's like a ball of yarn all tied together and inside the tight, tight clot is viral debris, inflammation and all kinds of bacteria. They are like rubber bands and very, very hard to dissolve."
This treatment now revealed that Landen not only had a micro clot issue but macro clotting in his body. The clinic advocated for immediate anticoagulants. The family then learned about Med Help's CEO Vaughn and his effort to treat the cardiovascular systems of COVID patients in Alabama, so they set up an appointment.
Landen woke up on the day of his appointment nervous, and deservedly so.
"Because at that point, I was so sick of doctors," he outlined. "So I got up that morning and was so nervous, I prayed, 'Please God help, I'm tired of seeing all these doctors, and they can't find anything.'"
The visit with Vaughn was one year to the day from when Landen was told by another doctor it was "all in his head." This time, the Williams family would look at yet another X-ray of Landen's lungs and then hear Vaughn say, "Your lungs don't look good at all. They look like crap. No wonder you can't breathe."
Vaughn has been dealing with COVID complications and COVID vaccine injuries since both first emerged in Alabama at Med Help clinics. He knew what to look for where other doctors did not because Vaughn had been assiduously reading and researching during the onslaught of COVID-19 to find real ways to immediately help his patients rather than send them to a hospital to be put on a ventilator and hospital drug protocol such as Remdesivir. Vaughn credits the work of a researcher in South Africa for first finding the effects of COVID on the human blood and cardiovascular system.
In June 2020, three months into the height of COVID-19 cases, South African Dr. Jaco Laubscher found that most of the issues with this disease are vascular, not respiratory. Laubscher noted that treatment of COVID-19 as a viral pneumonia was not working and doctors needed to rethink it. He even posted a video for physicians dealing with COVID-19 titled "Stop Barking Up The Wrong Tree."
Laubscher asked another South African doctor, Dr. Resia Pretorius, to look at the blood cells, and she found structural changes in those cells and unusual micro clotting. So, Laubscher started putting people on anticoagulants, and they all improved.
"Note that shortly after Laubscher did this, our own U.S. government began to codify the disease and create payment structures to treat this as viral pneumonia, not as a cardiovascular issue," Vaughn stated.
Vaughn did not discover these South African studies and implement the findings from Laubschner until a year later, in the summer of 2021. When he did treat patients here in Alabama, he found that those sickest from long COVID symptoms improved when they were given anticoagulants of dual anti-platelets and direct oral anticoagulants.
Vaughn is also collaborating with Pretorius in South Africa in identifying the effects of these micro clots through X-ray analysis rather than the fluorescent microscope that Pretorius used in her original study. That is how Vaughn evaluated the Landen Williams case in one visit through an X-ray.
Since that visit just five weeks ago, Landen began a drug regimen of triple anticoagulants. Landen says it is the only treatment that has moved him in the right direction. Even though the drugs have impacted his energy levels, his lungs are now at least 50% or more clear.
"The triple anticoagulants have helped me," he stated. "They do impact everyone differently, so for me, they really took everything out of me, worse than long COVID. Sometimes it gets worse before it gets better."
Vaughn has also approved the trip to Cyprus and will use Landen's further blood treatment as a trial study into the matter.
Landen's battle to regain his health is certainly not over, but what has been learned so far, he earnestly wants to get out to others in a similar situation. The teen has been part of a "Long COVID Forum" on the Reddit website, where he has heard horror stories of others his age committing suicide over this medical condition's mysterious and debilitating nature.
Landen advised, "There are 13 million people going through this, people are depressed, they are being told by doctors it's all in their head, they are being told that it's anxiety. We've been gaslit by doctors, but now we are finally getting answers, the truth is coming out, and it's just a great thing to see."
Suffering is like the teacher that no young student ever wants to see on their classroom schedule, yet this young man has learned more about himself under duress in a way that takes years of life experience to acquire.
"When you are not able to do something for an extended amount time, it really gets to you mentally," he continued. "I'm a Christian, and that has really helped me, but even so, the devil can still attack your mind, and that is the first he will attack. If he can get to the mind- so goes the body. I really have had to work on myself mentally because you start thinking negative thoughts like, 'I will never get better. This is my new normal.' You do have to capture your thoughts in the moment and say, 'OK, I am not dying' (because it does feel like it at the time). Help is coming. We have learned so much over the past year. There is help coming."
READ MORE: 'Concerned for humanity': Alabama embalmer discovers strange clots in people since release of COVID vaccine
Landen has also spent a lot of time looking for his own health solutions. Before the coronavirus emerged on the global stage, the 18-year-old certainly had no idea what a spike protein was. Now, Landen identifies that spike protein as the culprit in his clotting problems. Vaughn and other doctors confirmed this, and Landen wants to warn anyone suffering from long-haul COVID to avoid the vaccine.
"The COVID vaccine only makes it worse," he asserted. "You do not want to get vaccinated if you have long-haul COVID. I'm not vaccinated, and we now know the spike protein from catching the COVID virus is what caused my micro clots. Most people don't react like I did, but some do. So getting a vaccine and injecting more spike protein is only going to make it worse."
His mother says many people who have learned of Landen's situation have reached out to them with stories of recovering from the long COVID condition only to be convinced by a doctor to get the vaccine and then experience even more detriment to their health.
Vaughn explained to the family that is because the mRNA injection forces the body to produce the spike protein for an indefinite amount of time, unlike the limited time the virus is in the human body through sickness and is overcome by natural antibodies. Doctors treating a patient's symptoms of long COVID find it even more challenging to medically overcome the ongoing production of pathogenic and clot-forming spike proteins that the mRNA shot has initiated in that patient's vascular system.
"I know the vaccine is very controversial to discuss, but thank God we did not get him vaccinated," Jill stated. "The doctors told us Landen's condition with these micro clots would be far worse if we did."
Faith dramatically influences how the Williams family has handled this ongoing medical crisis.
According to Jill, "Our prayer from the very beginning is that our son is here for such a time as this, that his medical trial will help other people who are sick and don't know what it is."
Whenever I have gone through trials in life, I have sought the Lord in the Word of God because that is His love letter to us. And the Lord has led us to Isaiah 43.
"Do not fear, for I have redeemed you: I have called you by your name: you are mine. When you pass through the waters, I will be with you, and the rivers will not overwhelm you. When you walk through the fire, you will not be scorched, and the flame will not burn you. For I am the Lord your God, the Holy One of Israel, and your Savior."
The Williams family is scheduled to leave at the end of September to fly to Larnaca, Cyprus.
They would very much appreciate your prayers.
UPDATE 10/7:
In a statement to 1819 News, Jill Williams said as follows:
Wednesday was our first treatment. It lasted 3 hours and then they gave him an IV cocktail as they call it (vitamin I V). 

He did great until the last 10 min at which his sugar dropped. This can happen. They were watching for it. They gave him some juice and crackers. He was a little wobbly and I had fixed supper the night before so we could heat and eat quickly as soon as we arrived at our flat. They say you lose 2500 calories during the HELP Apheresis.  Thursday and today, but he has felt better than expected. They said he could be down for 3 days but he is just tired and had some heart palpitations which is normal for Covid. They did warn us not to be alarmed if he had more after Aphaeresis. He is braver than I. They use Huge steel needles because it helps for faster blood! His dark circles under his eyes are much better. They did say that it can take 4-6 months to fully recover after HELP Aphaeresis. We are very hopeful.
To connect with the author of this story, or to comment, email [email protected].
Don't miss out! Subscribe to our newsletter and get our top stories every weekday morning.