Gubernatorial candidate Lew Burdette made a campaign stop at the March meeting of the Republican Women of North Shelby County on Tuesday, March 8. The lunch meeting was held at the Inverness Country Club with a crowd overflowing into an adjacent room.

Campaigning on the need for change, Burdette joins a crowded field of 14 candidates, including nine Republicans, running for Alabama Governor in 2022.

Speaking to 1819 News before the meeting, Burdette highlighted his business experience and emphasized it again during his speech calling himself a "defender of small business."

"When I'm Governor, small businesses will never be closed again and they will never be called non-essential again," Burdette said speaking of pandemic restrictions in the state.

"My position is that we stand for freedom," said Burdette. "We're smart enough to make decisions for ourselves on how to protect ourselves and not close small business. Burdette said 87% of small businesses were hurt during the pandemic because of forced closure.
"How is it any common sense that Walmart, Lowe's, Home Depot could stay open but small business couldn't?" Burdette asked.

Burdette talked about learning Alabama values while beginning his career working in his father's family-owned grocery store. He served as COO for Alabama-based retailer Books-a-Million from 1985 to 1998 before leaving to start a Christian bookstore in Birmingham. Since 2002, Burdette has served as President of King's Home, a nonprofit based in Chelsea that serves women and children seeking relief from a variety of circumstances including domestic violence and homelessness.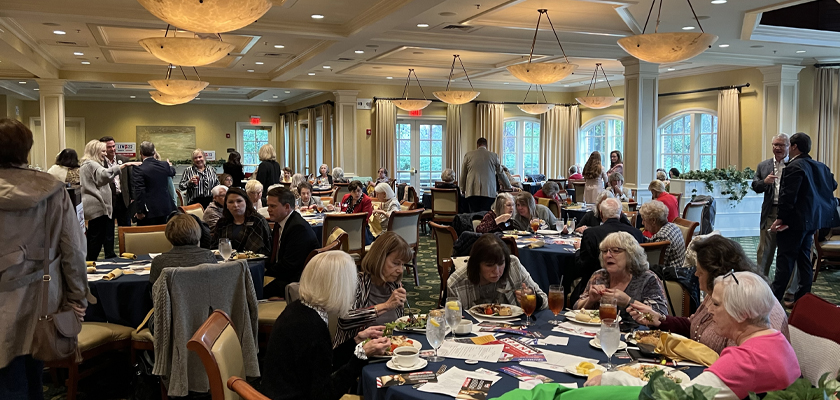 Burdette said Alabama needs people with business experience, instead of lifetime politicians, to move the state forward. He said he would place priority on issues where the state traditionally trails the country.

"My top priorities are going to be to immediately attack where we are at the bottom," Burdette said. "Let me remind you, we are at the bottom of education. How are we 52nd in math and 47th in education overall?"
Later in his speech, he emphasized again how education must be a top priority in Alabama.

He cited other statistics including low rankings in healthcare and mental health. Burdette said Alabama ranks the worst in the nation in suicide rates among veterans.

"Bottom rankings like this not just the last four years but my entire lifetime," said Burdette. "Our entire lifetimes we have been at the bottom of these kinds of rankings."

"We love football in our state. We dearly love our football. If any of our coaches performed like politicians in Montgomery, would they have a job at the end of the season? We all know the answer to that question."

Burdette said Alabamians would not tolerate low rankings in football and shouldn't accept them elsewhere.

"Yet, there is one category where we rank at the top. Sadly, that's corruption," said Burdette "We're the fourth most politically corrupt state in America. As a lifetime Alabamian, that breaks my heart."

Burdette said Alabama is one of five states allowing unlimited campaign contributions in statewide races. He cited the need for campaign finance reform in the state.

"We've got hundreds of thousands of dollars flowing into statewide campaigns from wealthy individuals, big corporations and mostly through PACs that we haven't ever heard of and don't know where they come from," Burdette said. "That has got to stop. So, I put a stake in the ground. I self-imposed a $10,000 limit on our campaign because I wasn't going to take that unlimited money."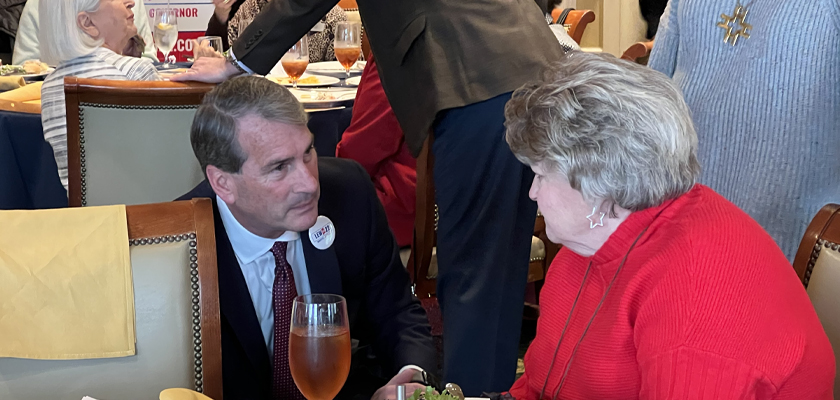 Burdette said unlimited donations serve to buy favor and influence and he blamed that for Alabama's low rankings.

"It's a legalized payoff system and it's got to stop," Burdette said. "We've got to have campaign finance reform in Montgomery and we have to restore trust."

Burdette spoke against the statewide increase in gas taxes, saying they hurt average Alabamians and small businesses.

"That gas tax just keeps going up forever," Burdette said. "Did you realize not only is it a 56% increase but it never stops? What is the common sense in having a tax that never stops? [It] increases one cent every two years forever."

Burdette said Alabama needs true conservatives who support the United States Constitution.

"Of course, I'm for the First Amendment," Burdette said. "Of course, I am for the Second Amendment. Read my story, I'm a victim of gun violence."
Burdette was kidnapped as a teenager and was stabbed, shot and left for dead in the bottom of a well.
Burdette took questions from the audience for the last few minutes of the meeting where he got a chance to reiterate his stance on corruption and campaign finance reform. He also touched upon the issue of term limits.

"It was never meant to be a lifetime job," Burdette said, speaking of political office. "We've got to have a whole new group of us going down to Montgomery who will not accept anything but change in the way things have been done decade after decade."

On the issue of an education lottery, Burdette said he was not a fan of the idea but he understands the arguments in favor of a lottery.

"I understand the arguments," said Burdette. "It doesn't make any common sense that folks can just drive next door and buy a lottery ticket."
Burdette said he was not in favor of expanding casino gambling operations in the state but was open to discussion on an education lottery.

"I would listen to that only if it went 100% strictly for education," Burdette said. "In Georgia, I think it's worked to some extent. It has to be strict. We cannot allow politicians in Montgomery to take money willy nilly."

When asked about bringing more manufacturing jobs to Alabama, Burdette said the state has done a good job but is failing to educate the workforce.

"I met with Mayor Battle in Huntsville about a month ago. He said 'Lew, we've got 400 jobs at Mazda paying 50 or $60,000 a year. Most of our applicants can't read past the third-grade level and can't complete the application.'"

Burdette said the state cannot keep attracting higher-paying jobs without improving education.

Asked about sex trafficking, Burdette cited his experience with King's Home and said the state could do a better job working with nonprofits on the issue.

"Alabama, between Birmingham and Atlanta, is the most trafficked corridor in the United States," Burdette said. "State government is not going to solve every problem but we can work with our nonprofits in a more meaningful way. I think we can have a public-private partnership to bring real, meaningful change. You've got to have people in the trenches and support law enforcement in these areas."

Other Republican candidates running against Gov. Kay Ivey are Tim James, Stacy Lee George, Dave Thomas, Donald Trent Jones, Dean Odle, Dean Young and Lindy Blanchard.
The Republican primary is May 24, 2022.
To connect with the author of this story, or to comment, email news@1819News.com.