MONTGOMERY — A legislative committee on reapportionment approved a new congressional map in an attempt to comply with a court order on redistricting in June.
The U.S. Supreme Court upheld with a 5-4 vote in June a lower court's decision to require the Alabama Legislature to redraw their congressional districts passed in 2021 to include a second largely or majority-black congressional district.
Alabama's seventh congressional district is currently the only majority-black congressional district in Alabama. It is held by U.S. Rep. Terri Sewell (D-Birmingham). The Community of Interest Plan increases the second congressional district's black voting age population from 31.86% to 42.53%. That district is currently represented by U.S. Rep. Barry Moore (R-Enterprise).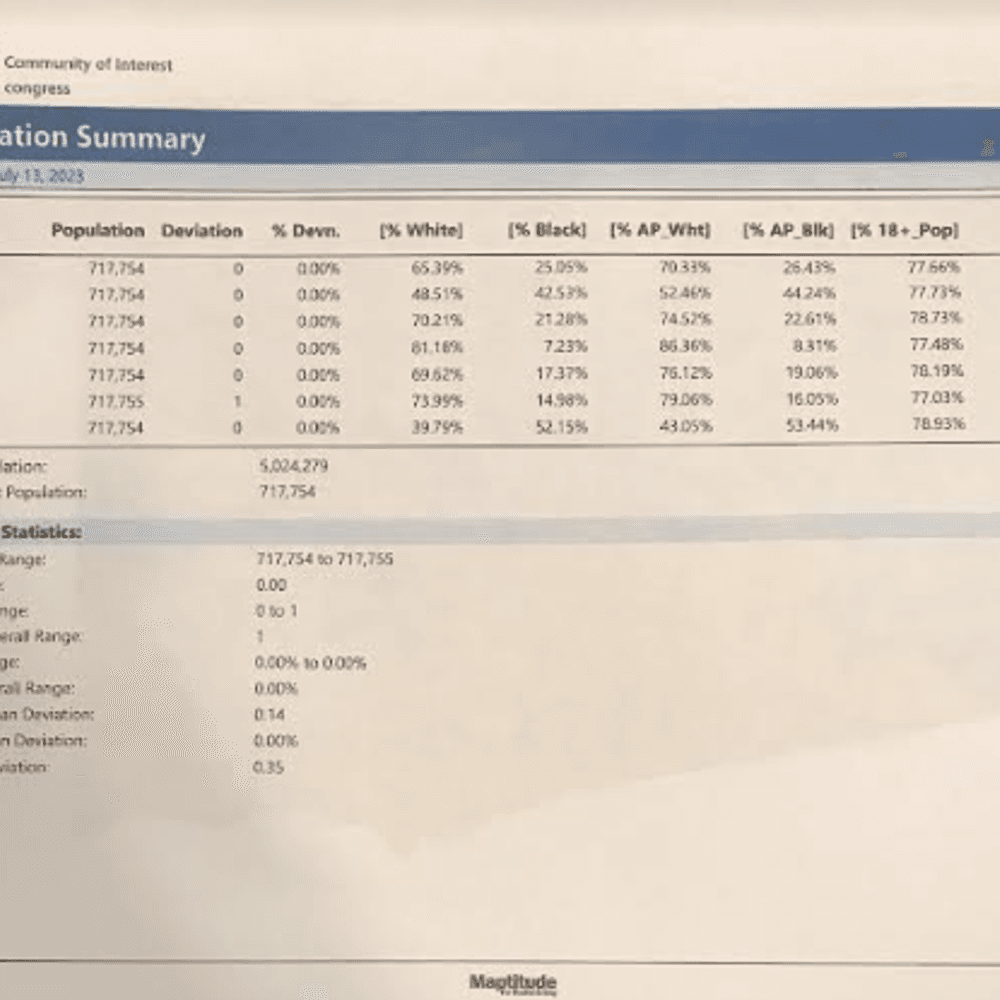 The House and Senate began the special session on redistricting on Monday afternoon, with multiple pieces of legislation involving redistricting and other issues being filed in both chambers.
"I'm frustrated that we're here," State Senate Pro Tem Greg Reed (R-Jasper) told reporters on Monday. "I feel like that the legislature did a good job in '21 the process of doing what the people of Alabama had asked us to do. I felt like we moved forward with that in an appropriate way and everyone seemed to be satisfied with it. I know that the process has moved through the three-judge panel and into the Supreme Court and they've given an order that we need to redo the maps so here we are. Doesn't mean that we're excited about it, but we are going to do our job."
Reed said, 'The goal is to satisfy the court's order."
"We're here because the court said, 'come and redo the process' so we're here with their information and instruction doing exactly what we've been ordered to do," Reed said.
Multiple redistricting plans, including the Community of Interest Plan sponsored by State Rep. Chris Pringle (R-Mobile) and State Sen. Steve Livingston (R-Scottsboro) and other plans backed by Democrats are scheduled to be heard in the House State Government Committee at 10 a.m. today.
House Speaker Nathaniel Ledbetter (R-Rainsville) said of the Community of Interest Plan, "I feel like it's fair and equitable, and we'll see how it goes going forward.
"The thing about it is, if you look at the numbers, I think the models will show that it could go either way probably so I think all that the courts asked for was a fair chance and I certainly think that that map does it," Ledbetter said. "I don't think there's any question about that as a matter of fact. I feel good about where it's at."
Multiple bills unrelated to redistricting were filed in both the House and Senate on Monday. Two bills were filed to reroute a $5 million appropriation to the Alabama Department of Archives & History (ADAH) made by the legislature earlier this year to alternative recipients.
State Rep. Ernie Yarbrough (R-Trinity) filed legislation that would instead send the appropriation to the Department of Human Resources "to be expended to provide financial assistance to residents for costs associated with in-state adoptions." A bill by State Sen. Chris Elliott (R-Josephine) would send the $5 million to the University of South Alabama to be expended for the Stokes School of Marine and Environmental Sciences for facilities, renovations, and research equipment.
The Governor calls special sessions and their agendas in Alabama. Governor Ivey called for the legislature to focus solely on redistricting in the current special session. Legislators can file bills on other topics but require two-thirds to pass instead of a simple majority under normal circumstances.
"I think that has been a topic that is of significant concern," Reed said. "I think you've got members that feel like that the Department of Archives were a little outside their scope in some of the things that they've done but I don't know we'll have to see."
Other bills on topics unrelated to redistricting include a supplemental appropriation for $10 million to the Alabama Department of Mental Health and allowing retired state police officers to temporarily become school resource officers or correctional officers without suspension of their retirement payments.
Ledbetter said, "the reason we're here is for the redistricting."
"Before we do anything, we're going to do it. That's the number one priority," Ledbetter said. "We've got some other issues we may look at. We talked a little bit about it today in caucus. When we come back out, we'll kind of see how they do and if we've got the numbers to move it. As Speaker, I'm usually not the one that wants to take anything that's not in the call, but I think there's a couple of these bills that could be imperative and would be very beneficial to the people of this state."
To connect with the author of this story or to comment, email caleb.taylor@1819News.com.
Don't miss out! Subscribe to our newsletter and get our top stories every weekday morning.