MONTGOMERY — House Minority Leader Anthony Daniels (D-Huntsville) is considering a run for Congress in 2024 in the newly created 2nd congressional district.
The seat is currently held by U.S. Rep. Barry Moore (R-Enterprise). However, the district was drastically remade by a federal court recently and is now much more winnable for a Democratic candidate. Moore's hometown was moved into the 1st congressional district under the new map for 2024. Moore could still possibly run for re-election due to there being no residency requirement to serve in Congress. Moore hasn't said yet what his plans are for 2024.
The district now stretches down into most of Mobile, up to Washington County, and over to the Alabama-Georgia border in Russell and Barbour Counties.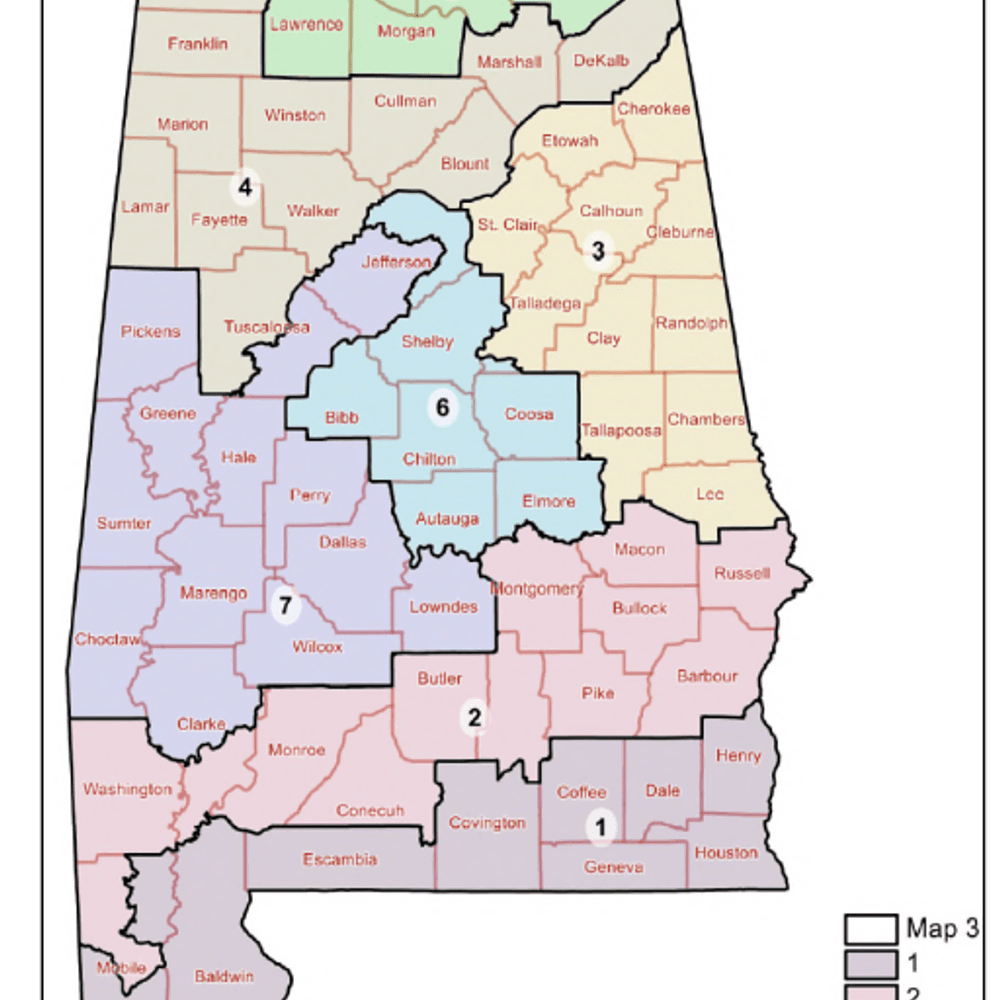 Daniels, a Huntsville resident, told 1819 News in an interview on Wednesday at the Alabama House Democratic Caucus's Pro-Growth Policy Conference in Montgomery he was considering running for Congress in the 2nd congressional district. Huntsville isn't in the 2nd congressional district. However, Daniels was raised by his grandparents in Midway in Bullock County in the 2nd congressional district. He graduated from Bullock County High School.
"At the end of the day, we have people that are currently in office that we don't know where they live. At the end of the day, if we limit representation based on lines and whether or not a person can actually do something to really have a positive impact on the entire district, that's my home. When I ran for office in Huntsville, the same thing was said to me in Huntsville, 'Well, he's not from here. We need somebody that's local.' Guess what? They gave me a chance, and right now they don't want me to leave. Everybody knows that I look to leaders that have delivered to their district and that's how I operate as a politician. At the end of the day, tell me another candidate that has roots to Union Springs or any rural area in the district that's talking about running. There's not a candidate out there that has the understanding and the knowledge and the experiences that I've had growing up in Bullock County. Bullock County has as of a year or two ago the second-highest increase in poverty in the United States of America. Do you think I like seeing those statistics? No, not at all. Looking at all those rural communities that are in a similar category, I'm not going to stand for that," Daniels said. "A district that is rural and urban deserves a person that understands rural and urban. I haven't made a final decision, but I will tell you that I am strongly considering it. I'm considering it so strongly to where here soon I don't care who gets in the race. I'm not limiting my ability to make a decision based on who gets in, who gets out. Not at this point. That's over. That was three months ago."
Daniels said he planned to make a decision either way by the beginning of November or possibly sooner. Montgomery Mayor Steven Reed, a Democrat, has also been mentioned in news reports as considering a run for the seat. Former State Sen. Dick Brewbaker (R-Montgomery) is considering seeking the Republican nomination.
Daniels mentioned legislation passed into law he sponsored relating to microbreweries, eliminating the state income tax on overtime pay, and creating the Alabama School of Cyber Technology and Engineering as examples from his state legislative work that have helped the 2nd congressional district.
"There have been folks that have been trying to recruit me for this for at least three months since the conversations began," he said. "I just really hadn't seriously thought about it or considered it until here recently within really the last week or so. Been getting a lot of calls from my hometown down in Union Springs. I do a lot down there even today. I was there yesterday working to try to get a Boys & Girls Club established in Bullock County and doing other things. I've been doing a lot of activities down there, working with the former superintendent and others. That's my home, and I have family throughout the area. It's been very encouraging to really receive calls from people throughout the district. Whether it's folks in Troy, Phenix City, Eufaula, (and) Clayton. Midway is where I grew up…small town guy. You really don't hear any candidates looking at running from rural areas. I'm a rural guy. I've had a pretty decently successful career, but it was all because of the people that really raised me. Growing up in the church in Midway and the values that my grandparents instilled in me, and so I do have a heart for home. Even in my current legislative seat I've been doing a lot to really be helpful to those communities urban and rural that are within the district."
"I'm not ruling it out," Daniels continued. "I have had some conversations. There are some people I need to talk to that I mentioned that I would stay out of the primary that wanted me to sit on the sidelines in the primary because they felt that I would have a lot of influence in the primary, but I did not tell them I wouldn't be running. In all fairness to them, I do want to have the conversation with them. I'm still meeting with folks," Daniels said. "I think I do have something to offer at the end of the day. You've seen my work in the Alabama Legislature, working with people on both sides of the aisle where there is common ground. When there's issues that we clearly are not in agreement with, I stay the course on my beliefs. That's just basically how it is. At the end of the day, there are a lot of people that talk about representing this group or that group but you know I've always just tried to represent everybody it doesn't matter who it is, and so I just try to keep an open mind."
To connect with the author of this story or to comment, email [email protected].
Don't miss out! Subscribe to our newsletter and get our top stories every weekday morning.