Craig Monger's 1819 News investigative piece on pastor, business owner, and Smiths Station Mayor F.L. "Bubba" Copeland is disturbing on so many levels. Secret lives are the subject of many a true crime yarn or "Discovery ID" docuseries, so many are anesthetized to those who appear one way, but act in another.
But Copeland's story is not just about a man who assumed the alter ego of "Brittini Blaire Summerlin," a curvy blonde. It's also about the fact that he posed as this alter ego online in order to post on underground and pornographic sites; that he posted disturbing photos of children in his community, encouraging them to transition; and that he targeted women in the town by posting their photos on porn sites and writing about them in erotic fiction.
Any busy freelance writer barely has time to post articles and market through social media. Yet there was Copeland – the senior pastor of First Baptist Church of Phenix City, the mayor of Smiths Station, and thriving business owner – who somehow had time to live a very full second life posing as a transgender woman.
"Copeland posted regularly on Reddit but also operated a private Instagram account on which he encouraged contact," Monger reported. Copeland also claimed that only his wife knew about this practice and that it was, "'A hobby I do to relieve stress. I have a lot of stress, and I'm not medically transitioning. It's just a bit of a character I'm playing. … I don't go out and seek solicitation or anything like that.'"
Monger also wrote that Copeland "repeatedly referred to his activity as akin to dress-up and cosplay."
Copeland claimed no one in the community or his congregation knew, and that he did not want his secret revealed. It seems Copeland never heard the mantra of Alcoholics Anonymous: You're only as sick as your secrets.
This online second life is evidence that Copeland was a very sick man.
Like a viral infection, Copeland spread his sickness to others, encouraging a lifestyle that, according to the tenets of his Baptist faith, is neither recognized nor approved. So, whether you are on board with the whole LGBTQ+ agenda or not, the level of deception and deceit alone is frightening.
It is also wrong.
1819 News performed responsible journalism in exposing Copeland and the destruction he chose to leave in his wake. Sadly, instead of facing these shameful facts, confessing and repenting to his congregation and the community, Copeland lied, claiming he was the victim of an internet attack, later shooting himself.
Please know that this article is not a condemnation of anyone in the LGBTQ lifestyle or those struggling to move away from it. It is also not a calling out of anyone who has committed suicide or is contemplating it. Indeed, I offer nothing but compassion and prayers along with hope that you can find people who will help you struggle and work through your issues out in the open.
Instead, this is a condemnation of a person who purportedly preached the gospel as a "man of God," yet whose hidden life was the antithesis of what he claimed he believed and taught others to believe.
Copeland's choices brought harm to the people he was supposed to protect. Copeland chose to take on very public roles and positions of trust within the community, perhaps even with the aim of stalking women to support his predilections and fetishes.
This is wrong, no matter who does it. The people of First Baptist and Smiths Station are no doubt in shock, but too many, including the women affected by Copeland's false life, are way too circumspect.
That's not the case with the legacy media, though, nor the LGBTQ+ community. They are already making Copeland out to be a victim of "outing," a poster child for the "erosion of trans rights" as this AP headline suggests: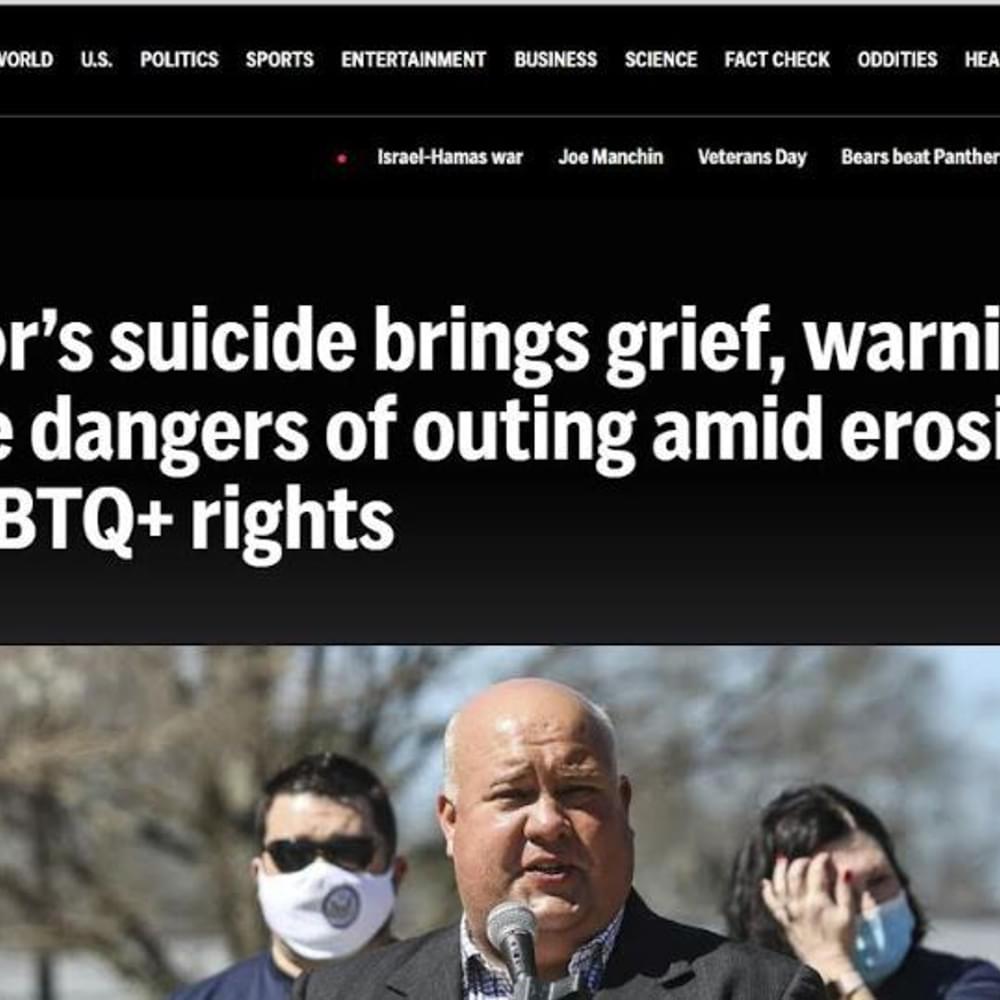 NPR's headline, meanwhile, places the blame on Copeland being outed as a "cross-dresser," and even interviewed a so-called expert on the dangers this can have on one's psyche: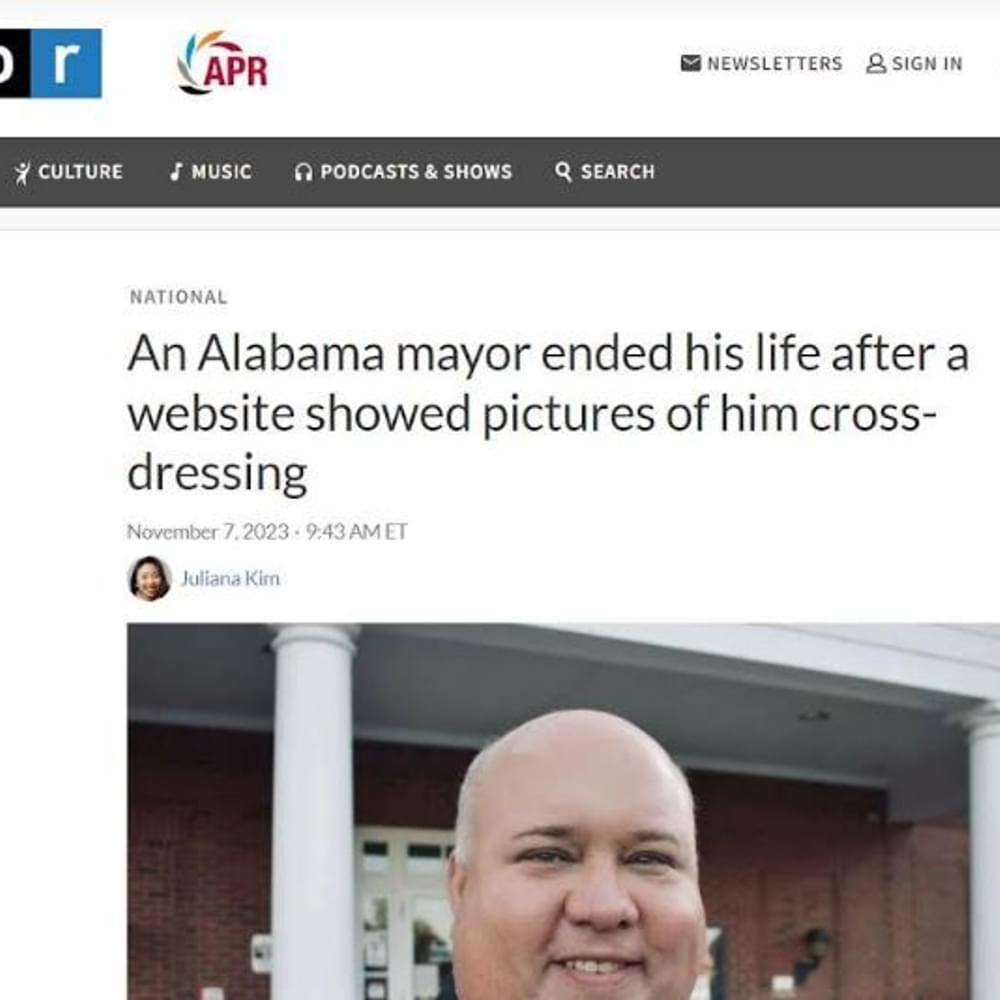 Where's the mention that Copeland chose to deceive a community and church that trusted him, or that he chose to expose women and children in his community to danger?
So, let's not get it twisted – Copeland is not a "victim" of LGBTQ hate or outing. Copeland created victims.
Rosaria Butterfield, a former lesbian and LGBTQ activist who turned her life over to Jesus, now uses her testimony to speak to a culture turned upside down by sexuality and gender agendas. In a recent interview for her book, "5 Lies of Our Anti-Christian Age," Butterfield said:
"Transgenderism is the sin of envy. Envy is rottenness to the bones. Transgenderism is a violation of the 10th commandment. You're not to covet your neighbor's wife and you're not to covet your neighbor's sexual anatomy. The antidote, scripturally speaking, is contentment, which is not resignation, it is a powerful thing."
According to 1819 News' reports, Copeland admitted to cross-dressing since his youth. Based on Butterfield's comments, he did not learn the biblical principle of contentment, and that fact morphed into the poison spreading through a community today.
"This idea that the seeds of the Gospel are in the Garden are important because it suggests that God creates man and woman in his image with a pattern for a purpose," Butterfield went on to say. "God doesn't create a bridge to nowhere. ... [To deny male and female is] 'a rejection of the creation ordinance.'"
Bubba Copeland's problems were not caused by being shamed or outed as LGBTQ. Bubba Copeland's sins were his envy and covetousness. Cain murdered his brother Abel over those sins, and Copeland murdered the sense of security and innocence of women, children, and an entire church and community. Then he murdered himself, completing his rejection of God's laws and the creation ordinance.
Jennifer Oliver O'Connell, As the Girl Turns, is an investigative journalist, author, opinion analyst, and contributor to 1819 News, Redstate, and other publications. Jennifer writes on Politics and Pop Culture, with occasional detours into Reinvention, Yoga, and Food. You can read more about Jennifer's world at her As the Girl Turns website. You can also follow her on Facebook, Twitter, and Telegram.
The views and opinions expressed here are those of the author and do not necessarily reflect the policy or position of 1819 News. To comment, please send an email with your name and contact information to [email protected].
Don't miss out! Subscribe to our newsletter and get our top stories every weekday morning.